School News
AP Exam Study Sessions: Throughout April the FHS Advanced Scholars Program (ASP) is sponsoring AP Exam study sessions!!! These study sessions are a good way to get a little extra preparation for your AP exams. Please see the Study Sessions Calendar on the ASP website and mark your personal calendars to take advantage of these opportunities! Go to the ASP website to learn about this and other opportunities sponsored by ASP. We are also starting to post some information on Facebook (Franklin ASP Program) and Instagram (@aspfranklin).
Many families have heard the news of the passing of Ellie Landis, who was a friend and classmate of many current Franklin students during their time at Mt. Tabor Middle School and Glencoe Elementary. Those who are interested in attending Ellie's Celebration of Life are invited to join. Sunday, April 30th at 3:00 p.m. at St. Mary's Academy (1615 SW 5th Avenue, Portland). Ellie's obituary can be read online: http://portlandoregonian.or.newsmemory.com/publink.php?shareid=20afdd930
Congratulations to our Franklin Strong winners for the month!
From left to right:
Benson Bui- nominated by Marty Perez
Truc Ngo- nominated by Craig Johnston
Ashley Saechao- nominated by Clark Webster
Jessica Yu- nominated by Dave Sherden (Not pictured)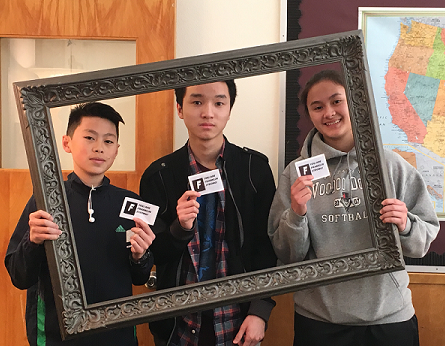 PTSA/Volunteer News
Principal roundtable BEFORE the PTSA General Meeting, May 7, 6:15pm: Join Principal Valder for a discussion about the move into our new building and the 2017-2018 budget cuts and what they will mean for our growing school population. Snacks will be available. There will be a 10 minute break between this and the PTSA General Meeting (see below). This meeting will replace the Principal Update portion of our General Meeting.
Last PTSA General Meeting of the Year, May 10: We have invited all the PPS School Board candidates to our last general meeting of the school year to answer questions and let you know why they deserve your vote. Here is a list of who is coming (so far):
· Zone 5 (Northeast Portland surrounding Grant High): Scott Bailey and Virginia La Forte
We will also be voting on next year's PTSA Board and budget. You can read the minute from our March general meeting here.
Last chance to nominate an Educator of the Month for this year! Please submit nominations for Educator of the Month. This can be anyone who works at FHS and has touched a student's life this year. Educators are incredibly touched and inspired by these nominations, so please consider nominating someone today. You just have to email vicepresfhsptsa@gmail.com with the name of who you want to nominate and a short paragraph about why. We randomly draw names the week before our General Meeting.
Parent Volunteers Needed For Grad Night: Parents, help send off the FHS Class of 2017 in style by helping out at Grad Night, an all-night, alcohol- and drug-free party held after Commencement. This year's party is at the Mittleman Jewish Community Center the night of Tuesday, June 6, into the morning of Wednesday, June 7. Shifts are:
8-11 p.m.
11 p.m.-2 a.m.
2 a.m.-5 a.m.
To sign up or get more information, please email Grad Night chair Chris Myers, at gradnightfhs@gmail.com
Fundraising
Plant Sale Success!! The plant sale was very successful – the PTSA treasury is $980 larger for our efforts. Thanks to Clifford Carlsen and Lisa Zuniga, for use of their driveway, and to all who contributed plants, publicity, setting up, selling and cleaning up. Also a huge thanks to our plant sale co-chairs: Lucy Baker and Maye Thompson (who has lovingly led the plant sale for many years and will "retire" as her son graduates from FHS).
Still Room in some really FUN buy-in parties: Don't miss out on the chance to have some fun with fellow Franklin supporters. For full descriptions and to purchase tickets please go to http://franklin.schoolauction.net/2017/homepages/show:
10th Annual Texas Hold'Em Poker Tourney: Friday, May 5, 2017, 6:30pm, $50 per person, 21 and older only
Tailgate Party: Friday, September 15, 2017, 5pm – 7pm, Kick-off @ 7:3pm, $40 per person, 21 and older only
Rocklandia: Saturday, September 23, 2017, Doors open at 7pm & Music starts at 8pm, $25 per person, 21 and older only
Library
Verselandia April 27 7pm at the Schnitzer Theatre: Cheer on Lily and Seth (our FHS Slam winners) Tickets on sale NOW .http://www.portland5.com/arlene-schnitzer-concert-hall/events/2017-verselandia $10 for General Admission. (See the report on our FHS Slam and all the great pics on the FHS Toolbox HERE. Stay tuned for the video.)
Senior Library Clearance: Library Notices with charges and books out and details for end of school year library clearance are being mailed home mid April. Seniors will return materials (not needed for finals), and pay their charges on May 23 & May 24 (as scheduled with their gov't/econ classes). Unneeded materials can be returned and charges paid sooner if preferred. Slide show with detailed instructions is HERE. Students must be cleared to receive graduation tickets and diploma.
Testing Dates
Franklin 2016/17 Testing Dates (Updated 1/21/17): Franklin will be offering a variety of testing during the spring of 2017. Information about the different tests can be found here. Opt out information and forms for the SBAC, ELPA, and OAKS tests are available here.
SBAC Math Computer Adaptive, approximate test time 2 hours, APRIL 17-24 in Algebra/Geometry classes and MAY 15-22 in all other math classes
SBAC Math Performance Task, approximate test time 1 hour, APRIL 25-28 in junior Science classes
AP Testing (test time varies), MAY 1-12 in sites across the district. AP test dates/times.
Community Events
NAMI Writing Contest for teens: NAMI Multnomah is coordinating a literature contest for students 13 to 19 years old dealing with a personal mental health story - either their own story or the story of how a loved one's mental health story has impacted them. See attached flyer. The personal story may be an essay, a poem, a short play or any other written form. It should not exceed 1,000 words. Due date May 21, 2017.
Summer Hosting Opportunity for Families from Franklin High School: Host a student from France, Spain, or Japan for 2 - 4 weeks in July, August, or September and build connections across the world through friendship! The international students are coming to share cultures, practice English, and become part of an American family. Some students will be taking English classes from 9am to 5pm, M-F, at Portland State, while others will be immersed in their host families' daily lives and will not have any scheduled program obligations. Students bring their own spending money and are covered by comprehensive medical and accident insurance. Families receive orientation materials, 24/7 support, and a small hosting stipend. ANDEO is a local nonprofit that has been connecting families and students since 1981. Hosting is a wonderful way to learn about another culture first-hand while creating fun summer memories with a new friend. Apply at http://go.andeo.org/hostfamilyapplication or contact Emily Greenblatt at emily@andeo.info or 503-274-1776 for more info. www.andeo.org
Athletics
New Men's Basketball Coach: Franklin High School would like to introduce Scott Aker as the New Head Men's Basketball Coach. Coach Aker comes to us from Wilson High School where he has been the head coach for 19 years. He got his start at FHS as a head coach from 1991-1998. We are thrilled to have Coach Scott Aker back home and taking over the head basketball position for the Quakers.
Spring Schedules: The spring schedules move daily and by the hour. We have games being moved in all sports. Please check with your son or daughter as we will do the best we can to provide information on the osaa.org website but after 1:00 PM it is basically up to the officials and coaches to make decisions on if the game will be played at the site.
Baseball schedules: Baseball players and families just a reminder that due to weather we may need to start scheduling games April 15, 2017 (Saturday's). We understand that this is Easter weekend, but we make need to make this and every Saturday after a playable day to get games in on time before the cutoff date. Any questions please feel free to call me at 503-916-5140 ext. 81043
Track & Field Team Picture, May 1: This seasons Track & Field Double Team Picture taking day is scheduled for Monday, May 1st at FRAN/MAR bleachers. HIGH SCHOOL @ 3:40 ( Traveling coaches we will wait as long as possible for the team shoot. 4:05 pm); MIDDLE SCHOOL @ 5:10 (Coach Block we will try and get you in as well). Please remind all athletes to bring Uniforms , Warm-ups or Hoodies. Let us hope Winter is over by then! Super Day, FHS T&F Coach Jim Hennessy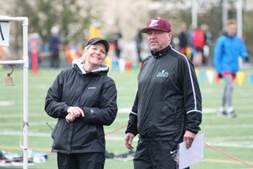 Weekly Schedule
FHS ATHLETIC SCHEDULE for the weeks of 4/24/2017-4/29/2017

DAY/DATE

FHS TEAM/LEVEL

OPPOSING TEAM

SITE

START

DISMISS

COMMENTS

MONDAY

MENS GOLF

FRANKLIN

ROSE CITY

3:00

4/24/2017

TUESDAY

VARSITY BASEBALL

FRANKLIN

BENSON (WALKER)

4:30

DISMISS 2:45

4/25/2017

TUESDAY

VARSITY SOFTBALL

FRANKLIN

LHS (HILL STADIUM #4)

7:00

4/25/2017

TUESDAY

JV SOFTBALL

FRANKLIN

LHS (HILL STADIUM # 4)

5:00

4/25/2017

TUESDAY

MENS TENNIS

FRANKLIN

RHS (COLUMBIA)

4:15

4/25/2017

TUESDAY

WOMENS TENNIS

ROOSEVELT

FRANKLIN (CLINTON)

4:15

DISMISS 3:00

4/25/2017

WEDNESDAY

VARSITY BASEBALL

BENSON

FRANKLIN

4:30

DISMISS 3:00

4/26/2017

WEDNESDAY

WOMENS GOLF

FRANKLIN

EASTMORELAND

1:00

4/26/2017

WEDNESDAY

MENS GOLF

FRANKLIN

QUAIL VALLEY

10:00

4/26/2017

WEDNESDAY

VARSITY SOFTBALL

FRANKLIN

CHS (WOODSTOCK)

4:00

4/26/2017

WEDNESDAY

JV SOFTBALL

FRANKLIN

CHS (WOODSTOCK)

4:00

4/26/2017

THURSDAY

FRANKLIN TRACK JV

FRANKLIN

WILSON

4:00

4/27/2017

THURSDAY

MENS TENNIS

WILSON

FRANKLIN (CLITNON

4:15

DISMISS 3:00

4/27/2017

THURSDAY

WOMENS TENNIS

FRANKLIN

WILSON (GABRIEL)

4:15

4/27/2017

FRIDAY

VARSITY BASEBALL

FRANKLIN

BENSON (BUCKMAN)

4:30

4/28/2017

FRIDAY

FRANKLIN TRACK

DEAN NICE

GRESHAM

2:00

DISMISS 12

BUS LEAVES 12:15

4/28/2019

FRIDAY

FRANKLIN TRACK

JESUIT RELAYS

JESUIT

4/28/2017

FRIDAY

VARSITY SOFTBALL

BENSON

FRANKLIN (LENTS)

4:00

4/28/2017
We run general items in the Bulletin for 3 weeks unless there is a good reason to run them longer. To submit an item email: commfhsptsa@gmail.com by 4pm Thursday. Find past issues of the Bulletin on the Principal's Message tab of the FHS website.
THERE'S A LOT GOING ON AT FRANKLIN ~ MAKE SURE TO CHECK OUT OUR SCHOOL WEBSITE AND OUR SCHOOL AND PTSA FACEBOOK PAGES FOR THE LATEST INFORMATION:
www.pps.k12.or.us/schools/franklin
www.facebook.com/PPSFranklinHighSchool
www.facebook.com/FranklinHighPTSA