School News
AP Exam Study Sessions: Throughout April the FHS Advanced Scholars Program (ASP) is sponsoring AP Exam study sessions!!! These study sessions are a good way to get a little extra preparation for your AP exams. Please see the Study Sessions Calendar on the ASP website and mark your personal calendars to take advantage of these opportunities! Go to the ASP website to learn about this and other opportunities sponsored by ASP. We are also starting to post some information on Facebook (Franklin ASP Program) and Instagram (@aspfranklin).
AP Testing Sites: Please note that AP testing is happening at a variety of sites this year. The district has created a helpful guide to getting to the test sites. Please review it before test day and see your ASP mentor, your AP teacher, or Jill in the main office with questions about getting to your test site.
FHS Photography Exhibit, Hawthorne Fred Meyer: The Franklin Foundations of Photography classes have taken over the cafe at the Hawthorne Fred Meyer. Stop by and check out the great work from our students!
PTSA/Volunteer News
FHS PTSA Needs YOU! The FHS PTSA Board is looking for some new faces to replace outgoing Board members. We meet once a month as a Board and five times a year at our General Meetings. We would love to find a job that fits into your life and skill-set. Interested? Contact Susie at presfhsptsa@gmail.com.
The PTSA Plant Sale, April15: Come support the FHS PTSA and find some deals on plants for spring planting! The plant sale happens Saturday April 15th at the Carlsen/Zuniga residence, 1341 SE 55th Ave, from 9 AM to 3 PM. Also, we are happily accepting donations of plants and yard art. Call Maye Thompson at (503) 232-6167 or mayedoug@spiritone.com to arrange drop-off of your donations.
Fundraising
Pastini fundraiser April 10&11: No need to plan dinner for Monday & Tuesday, April 10th and 11th, because Pastini is holding a fundraiser for Franklin's PTSA! 50% of the proceeds for BOTH DAYS (lunch, dinner and take-out) at the SE 20th & Division will be donated back to the PTSA. You must tell them you're with Franklin when you order to get the donation!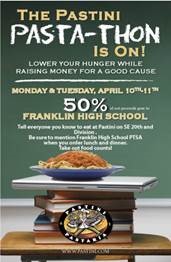 Still Room in some really FUN buy-in parties: Don't miss out on the chance to have some fun with fellow Franklin supporters. For full descriptions and to purchase tickets please go to http://franklin.schoolauction.net/2017/homepages/show:
10th Annual Texas Hold'Em Poker Tourney: Friday, May 5, 2017, 6:30pm, $50 per person, 21 and older only
Tailgate Party: Friday, September 15, 2017, 5pm – 7pm, Kick-off @ 7:3pm, $40 per person, 21 and older only
Rocklandia: Saturday, September 23, 2017, Doors open at 7pm & Music starts at 8pm, $25 per person, 21 and older only
Library
Author Event: Siddhartha Mukharjee, Emperor of All Maladies author, is speaking on April 11 7:30-9pm at the Schnitzer. FHS has 50 free tix and transportation. (We will leave Franklin at 6:20 and return at 9:30). Permission slips are in the library and are due by March 24. If parents wish to join or chaperone, please email sjchilds@pps.net. For more information and permission slip- check the FHS TOOLBOX.
Free Slam Workshop, Saturday April 1, 1-3pm: Literary Arts is hosting a free slam workshop, open to ALL HIGH SCHOOL STUDENTS, 925 SW Washington.
Senior Library Clearance: Library Notices with charges and books out and details for end of school year library clearance are being mailed home over Spring Break. Seniors will return materials (not needed for finals), and pay their charges on May 23 & May 24 (as scheduled with their gov't/econ classes). Unneeded materials can be returned and charges paid sooner if preferred. Slide show with detailed instructions is HERE.
FHS Slam 2017, April 13, 6pm: Join us in the FHS Library for this amazing event. Snacks, tears, laughter, and inspiration provided FREE. See brave students doing great art! Join our FACEBOOK EVENT! Watch FHS Slam 2016 or Buy Tickets to Verselandia! Here. What's it all about? Listen to FHS students Django and Lily at Verselandia 2016 on OPB The Archive Project on April 1 at 9pm. Or see clips HERE. Parents and
FHS Students Featured in this great write-up by Literary Arts, sponsors of our author visit with Matthew Desmond. At this link are a few more of pictures of the visit. The story HERE tells it all. If you missed Literary Arts' write up of our Michael Lewis visit last month- check that out HERE. Stay tuned for which amazing authors we will have visit next year.
Testing Dates
Franklin 2016/17 Testing Dates (Updated 1/21/17): Franklin will be offering a variety of testing during the spring of 2017. Information about the different tests can be found here. Opt out information and forms for the SBAC, ELPA, and OAKS tests are available here.
SBAC English Language Arts Performance Task, approximate test time 3 hours, APRIL 3-13 in junior English Language Arts classes
SBAC Math Computer Adaptive, approximate test time 2 hours, APRIL 17-24 in Algebra/Geometry classes and MAY 15-22 in all other math classes
SBAC Math Performance Task, approximate test time 1 hour, APRIL 25-28 in junior Science classes
AP Testing (test time varies), MAY 1-12 in sites across the district. AP test dates/times.
Community Events
League of Women Voters PPS School Board Candidates Forum, April 11, 7pm: The League of Women Voters of Portland is planning a forum for PPS Board candidates on April 11, 2017 at 7:00 PM in the Board Room of the Multnomah County Building. All are welcome.
OR Writing Festival May 6: Do you like to write and want to share your work with others? The OR Writing Festival will take place on May 6, 2017 from 8 AM-3 PM at PSU. There is a $35 fee, but TAG identified students will have the fee waived. You will need to be able to get yourselves to and from the event. If you are interested, the form (due no later than March 10) can be picked up from the following:
Forms will need to be put in Anna York's box in the office no later than 3/10 at lunchtime. Money (if needed) will be collected later. Questions? Contact Anna York ayork@pps.net
Athletics
Spring Break FHS Athletic Game/Practice Schedule
BASEBALL: VARSITY March 26-30 Crater Tourney Central Point, Oregon. JV NO Practice, go get some cuts on your own.
GOLF: MEN'S No Practice, go play on your own. WOMEN'S No Practice, go play on your own.
TENNIS: MEN'S Practice Monday thru Friday Clinton Park 2:30-4:30. WOMEN'S No Practice, play on your own.
SOFTBALL: VARSITY March 26-29 North Medford Tourney Medford, Oregon. JV No Practice, go find batting cages and get some swings.
TRACK: Unofficial /Optional practice at the FHS/MHS Track during spring break starting March 27th - 31st M.-F. @ 10:00 am - 12:00 pm
FHS Athlete Safety Plans
2017 Fhs Softball Safety Plan: 3:35-Before practice/games starts we always meet in the gym foyer to take roll and get gear. I will lock the locker room door after all of my girls are upstairs and accounted for. The teams will walk over to Lents Park together. After practices I will unlock the locker room door and supervise the girls' locker room until all of my girls are gone. Between our coaching staff, one coach will always stay on the grounds until the last player is picked up. If a player is going to walk/bike or take the bus home, the coach needs to have a letter from a parent/guardian on file. Practices will end at 5:30 and rides need to arrive by 5:35 to pick up players. Varsity also practices in the mornings from 6:00-7:30am. Players are not to arrive before 5:50am. I will also unlock/lock and supervise the locker rooms during that time. We don't have late practices so there will be no hanging around on school grounds waiting for practice to begin. If my players have early dismissal they can go to study hall and study or go to the library with their early dismissal cards. In the event of a lighting strike, the team will go and stand under the concession stand (which is covered) and wait 30 mins to return.
FHS Spring Track Safety Plan: First our track team safety plan is having Tom McCarthy M-TH supervise boys' locker room and Stephanie Lyda (training room) since I have no female coach on staff to supervise the girls. Jacob Michaels T&Th, Rob Jamieson M&W, John Lasley after jumpers are done, Ken Weinburg after PV is done and myself -F will supervise after practice locker rooms. Both Nick McCarthy M-TH and Gary Sletmoe -F will assist Tom with before practice supervision. All event coaches will make sure their event areas are cleaned up and equipment is put away. I will close up all equipment storage areas under the bleachers and lock them up. We will have no practice on the 5 Fridays we are away at Invites. FHS T&F Coach Jim Hennessy
Safety Plan For Franklin Womens Golf:
Practice transportation: On days that practice takes place at Eastmoreland GC, Coach (Mike Niece) will make sure that all team members know that they will provide their own form of transportation to the course, whether that be their own car, public transportation, or parents. Once practice ends, coach is to make sure that all team members have a safe route home.
Match transportation: On match days, if no van is available, Coach will arrange for the team members to take cabs to the golf course. Transportation home will either be through cabs, or through the player parents.
Vans: In the event that a van is available for practices or matches, Coach is to make sure that all team members are properly buckled, and know the correct exit procedure in the case of an emergency exit.
Practice safety: When practice is taking place at the golf course, team members will always be supervised by Coach Niece or by Assistant Coach Tess Miller at all times. If team members are broken into groups for practice purposes, one coach will be with each group. Whether practice is at the golf course, or in the wrestling room, it has been, and will always be stressed, that team members will stand a safe distance away from other team members as they swing the golf club. This also applies to when the team is playing golf on the golf course – never stand in front of the player who is hitting the ball.
Coach Niece will always have the team member's participation cards in his possession at all team activities, in order to be sure that each individual team members medical instructions are properly followed.
Team members and parents all have the Coach's contact information: Mike Niece, 503-869-2166, Mike.niece2@gmail.com; Tess Miller, 541-921-0147, Tess.miller22@gmail.com
Safety Plan – Men's and Women's Tennis:
First Aid Kit available on the court at all times
Completed Blue Card signed by parent for all athletes that include:

The name, phone number, and address of parents
Name of physician
Name and phone number of other person to contact

Cell Phone

Keep my cell phone available and on in case of emergency

Injury

Communicate all injuries to parents and Athletic Director
Fill out accident report and follow up on student's recovery

Permits

Have on hand all facilities permits

Practice

All students must leave the courts at the end of practice (4:00 to 5:15) when outdoor practice occurs

Indoor conditioning will take place in the building from 3:30 to 4:30
Grounds

Make sure grounds are safe at all times
When courts are wet we do not play
Student must go to restroom accompanied by another student when using Clinton Park facilities.
Franklin Baseball:
Practice Days: Field: Meet in the dugouts at 3:40; Gym: Meet in the Gym at 3:40
Travel Game Days: Meet inside the baseball locker room at 8 min after designated dismissal time from class.
Game Days: Meet in 3rd base dugout at 3:20
Franklin Boys Tennis Safety Plans: Boy's golf safety plan for practice and matches. Practices at the course will be supervised from the start of practice 3:45 until dismissed (times vary). Practices at school will be supervised from the start of practice 3:30 until dismissed (times vary). The player must provide their own transportation to practice. Match days the players will be supervised from the time they are dismissed until they leave the school building.
Weekly Schedule
SUNDAY

VARSITY BB AND SB

FRANKLIN

MEDFORD/CRATER

N/A

BUS LEAVES @ 9:00 AM

3/26/2017

MONDAY

VARSITY BASEBALL

FRANKLIN

RIDGEVIEW (GPHS)

4:00

VANS

3/27/2017

MONDAY

VARSITY SOFTBALL

FRANKLIN

NMHS (MEDFORD)

2:00

VANS

3/27/2017

MONDAY

VARSITY SOFTBALL

FRANKLIN

SPRAGUE (MEDFORD)

4:00

VANS

3/27/2017

TUESDAY

VARSITY SOFTBALL

FRANKLIN

WSHS (MEDFORD)

4:00

VANS

3/28/2017

TUESDAY

VARSITY SOFTBALL

FRANKLIN

ROSEBURG (MEDFORD)

6:00

VANS

3/28/2017

TUESDAY

VARSITY BASEBALL

FRANKLIN

GPHS (GPHS)

1:00

VANS

3/28/2017

WEDNESDAY

TRACK

FRANKLIN

CANBY

TBA

PARENTS

3/29/2017

WEDNESDAY

VARSITY BASEBALL

FRANKLIN

NSHS (CRATER)

2:00

VANS

3/29/2017

WEDNESDAY

VARSITY SOFTBALL

FRANKLIN

RETURN HOME

N/A

BUS LEAVES @ 9:00 AM

3/29/2017

THURSDAY

VARSITY BASEBALL

FRANKLIN

LIBERTY (CRATER)

2:00

3/30/2017

THURSDAY

VARSITY BASEBALL

FRANKLIN

RETURN HOME

N/A

BUS LEAVES @ 5:30 pm

3/30/2017
We run general items in the Bulletin for 3 weeks unless there is a good reason to run them longer. To submit an item email: commfhsptsa@gmail.com by 4pm Thursday. Find past issues of the Bulletin on the Principal's Message tab of the FHS website.
THERE'S A LOT GOING ON AT FRANKLIN ~ MAKE SURE TO CHECK OUT OUR SCHOOL WEBSITE AND OUR SCHOOL AND PTSA FACEBOOK PAGES FOR THE LATEST INFORMATION:
www.pps.k12.or.us/schools/franklin
www.facebook.com/PPSFranklinHighSchool
www.facebook.com/FranklinHighPTSA