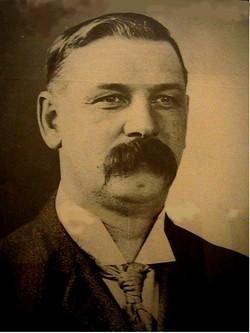 Daniel Alexander Grout was born in Canada, in St. Thomas, Ontario, on January 5, 1862. He went to public schools there and graduated from St. Thomas Normal School in 1884. After three terms as a teacher he became principal of schools in Sparta and Aldboro, Ontario. He came to Oregon in 1890 and graduated from the University of Oregon Law School.
Mr. Grout first served the Portland Schools as the principal of North Central School from 1892-1895. He was the principal of Atkinson School from 1895-1896 and was then made principal of Portland's largest grade school at the time, the Park School. He continued working at Park School until 1906 when he was made the first assistant superintendent Portland ever had. He was to have been the first principal of Washington High School, being built in 1906, but received the appointment to assistant superintendent before the school was completed. He became superintendent of schools in 1918 and held that office until he retired in 1926. He died on February 27, 1929.
Mr. Grout was the first superintendent to use the new administration building on Clackamas Street which opened in 1923. It was during his administration that the school district and the Department of Public Parks began to cooperate to give additional playground space to schools like we have here at Grout School. He emphasized the need for a wide field of instruction in our schools, and worked hard to increase classes such as Physical Education, Industrial Arts, Music, Science, and Drawing.
When you consider all that Daniel A. Grout did for the Portland Schools in the years he worked here, it is not surprising that when he retired because of illness in 1926 the Portland School Board decided to name a new school in his honor.
Since 1927 thousands of pupils have graduated from D.A. Grout Elementary School. Many have become leaders in our city and elsewhere, but all have given this school one of the finest reputations in Portland. They are proud to have attended this school with its rich ancestry and the mere mention of its name recalls wonderful memories for them.
The material for this paper was gathered by Mr. William Gallagher, Sixth Grade Teacher, Grout School. 12/18/64
Grout History