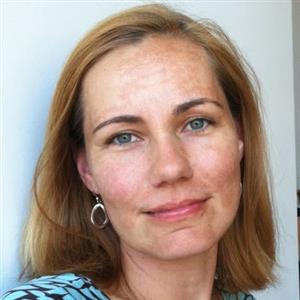 Ms. Kristina Brinton-Anderson was born and raised in Honolulu, Hawai'i. She has degrees from Reed College and from Portland State University. She has been teaching for 15 years. She enjoys reading, learning about new things, traveling, gardening, and playing with her husband and two young children.
---
Hi! My name is Kevin Jones. I was born and raised in Southwest Portland. For the past ten years I have worked as a para educator at Capitol Hill elementary school. I got my start in public education with the extra curricular after school program at Capitol Hill elementary school. After two years I went on to work for the Beaverton school district as an instructional assistant at Findley elementary school. In 2008 I was given the opportunity to come back to Capitol Hill as a para educator working with children in the self contained communication behavior room, learning center class room, and general education classrooms. I recently moved to Gresham and I am very excited to be part of the Bridger community! In my spare time I love spending my time having fun and being active with my family, anything outdoors. Watching the Blazers and Seahawks is also one of my all time favorite past times.
---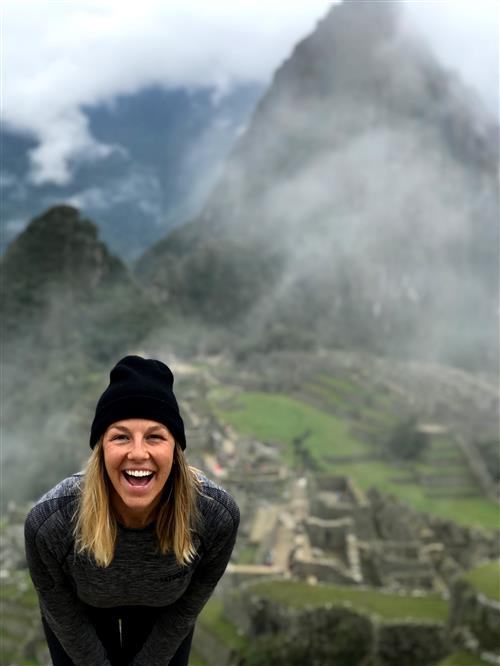 Hello Bridger! My name is Shelby Smythe, however, some of you may know me as Ms. Dietsch. I taught 1st grade at Bridger for 3 years prior to last year when I took a study leave of absence. Since then I have gotten married, hence the name change, and spent last school year traveling the world with my husband, exploring and learning about different cultures. I am so excited to be back in such an incredible community of students, families and educators. I love teaching and the energy the students bring to the classroom. First grade is a lot of fun and full of growth as we become readers, mathematicians, scientists, historians, authors, artists, and so much more! When I'm not teaching you can find me outside, camping, hiking, paddle boarding, surfing or snowboarding with my family and friends.
---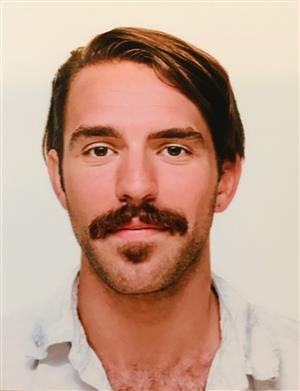 Alex Freeman is a bilingual educator who comes with years of teaching experience in and around Buenos Aires, Argentina. He values dialectic, student-centered, community, place-based and hands on learning that promotes shared experience and exploration. Fifth grade is a particularly interesting developmental and transitional period for Alex as he sees great opportunity for exploration of identity, celebration of cultural diversity and student leadership. In his free time Alex likes spending time with his family, gardening, cooking, riding his bike and reading.
Alex Freeman es un educador bilingüe quien viene con años de experiencia facilitando clases en Buenos Aires, Argentina y su alrededor. Valora pedagogía dialéctica centrada en el estudiante, la comunidad y el entorno inmediato que deja que los estudiantes aprenden desde la experiencia vivencial desde el compartir y explorar. Quinto grado es una etapa de desarrollo y transición particularmente interesante para Alex porque ve una gran oportunidad para explorar identidad, celebrar culturas diversas y facilitar liderazgo estudiantil. En su tiempo libre Alex disfruta tiempo con su familia, la huerta, cocinar andar en bicicleta y leer.
---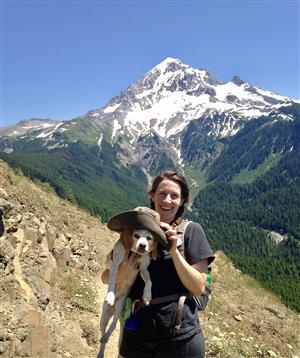 Hello! I'm Hannah Maurer and allow me to introduce myself a little. I was born and raised in the midwest in a small community called Bloomington, IL. I attended the University of Oregon (Go Ducks!) where I received a B.A. in Spanish and was a member of the Robert D. Clark Honors College. During and after college, I lived in Spain for 4 years where I taught K-12 in English immersion schools, traveled as much as I could and generally took advantage of all that Spain and Europe has to offer. After Spain I moved back to Portland where I received my Master's of Education at Portland State University and have worked at César Chávez K-8 for the past two years. When I am not teaching, I love spending as much time outdoors whether it be hiking, rock climbing, or snowboarding. I also love playing (I play the viola) and listening to music, reading, cooking and spending time with friends and family, especially Vega (pictured with me.)
¡Hola! Me encantaría presentarme. Soy de una pequeña comunidad llamada Bloomington en el estado de Illinois. Asistí a la Universidad de Oregon (Go Ducks!) donde recibí una B.A. en español y fue miembro del Robert D. Clark Honors College. Durante y después de la universidad, viví en España durante 4 años donde enseñé K-12 en escuelas de inmersión en inglés, viajé tanto como pude y generalmente aproveché todo lo que España y Europa tienen para ofrecer. Después de España volví a Portland donde recibí mi maestría en educación en la Universidad Estatal de Portland y he trabajado en la escuela César Chávez K-8 durante los últimos dos años. Cuando no estoy enseñando, me encanta pasar tiempo al aire libre, sea senderismo, escalada en roca o snowboard. También me encanta tocar (toco la viola) y escuchar música, leer, cocinar y pasar tiempo con amigos y familiares, especialmente con Vega (en la foto conmigo).
---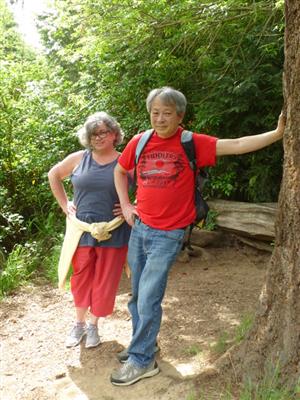 My name is Pam Nagashima and I will be an educational assistant in reading for grades 1 through 5. I did this at Arleta School three years ago, and for the last two years I have been working at Mt. Tabor Middle School helping students who were newcomers to the country. I have some idea how they must feel because I lived in Japan for 10 years and had to learn to live in a very different culture using a very different language. Other places I've lived have included growing up on the east coast and some time in California (more cultural adjustment…). Since moving to Portland, I became a tutor in the Orton-Gillingham method for dyslexia. In that same time frame my husband became, I'm pretty sure, the first Oregon state champion in Old Time Fiddling who is Japanese (see photo). When I'm not working with students, I make pottery, do lots of walking and swimming, and read voraciously.
---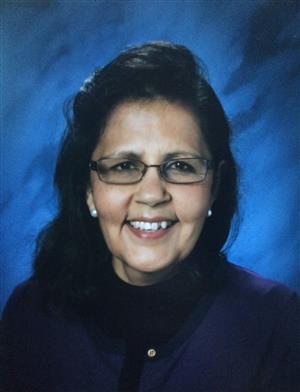 Hello Bridger Community! My name is Maria Mayoral, I am from Guadalajara, Mexico. I came to USA in 1992. I am married and have two adult boys. I'm been around PPS since my two sons started kindergarten in 1998 and now they have graduated from college. I was a parent volunteer and in 2006 I began working as an ESL EA. For me it is a pleasure to work with students and see them learn new things every day. I am very excited to be part of the Bridger Community. In my free time I love to make bead bracelets, and most importantly spend time with my husband and my sons.
Hola Comunidad de Bridger mi nombre es María Mayoral, yo soy de Guadalajara,México. Yo llegue a Estados Unidos en el año 1992. Yo estoy casada y tengo dos hijos adultos. Yo he estado alrededor de PPS desde que mis hijos comenzaron el kindergarten y ahora ellos ya se graduaron de la Universidad. Yo fui una madre voluntaria en la escuela y en el año 2006 comencé a trabajar como una EA por del Departamento de ESL. Para mí es un placer estar trabajando con los niños y verlos aprender nuevas cosas cada día. Yo estoy muy emocionada de ser parte de la Comunidad de Bridger. En mi tiempo libre me gusta hacer pulseras de chaquira y lo mas importante pasar tiempo con mi esposo y mis hijos.
---