COME TO DANIEL A. GROUT ELEMENTARY SCHOOL
AND SEE THE WORLD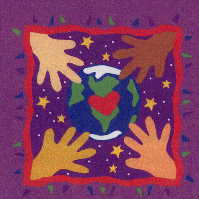 AN EXCELLENCE IN EDUCATION
AWARD-WINNING SCHOOL

Click here for a school program overview slide show or read about our program below.
OUR ACADEMIC PROGRAM
EDUCATING TOMORROW'S LEADERS WITH THE SKILLS AND ABILITY TO WORK WITH A DIVERSE POPULATION
School-wide literacy program with 90 minutes daily of small group instruction focusing on reading, writing, and speaking skills.
School-wide use of the Balanced Approach to Math program and Everyday Counts, an integrated math curriculum which connects visual displays with math concepts.
In-school theater program with a nationally recognized theater director who coaches students in the fine art of drama. Students write and produce original plays incorporating music, dance, and art.
Science-Star Base for fifth grade, Reed Biology Program, and Oaks Bottom Project.
Physical Education.
An Arts for Learning School where arts are integrated across the curriculum. This also includes assemblies, performances, and artist residencies.
English Language Learners -This program provides special help to students with a home language other than English in order to develop English language skills.
OUR LEARNING ENVIRONMENT
PROVIDING KNOWLEDGE OF THE WORLD THROUGH MATH, LITERACY, SCIENCE, AND THE ARTS.
Grout staff works closely with children and parents to develop an education program to fit the strengths and needs of each child. Parents are encouraged to volunteer in order to build home and school relationships and to provide attention and support. Major components of our learning environment are:
Cooperative learning, multiple intelligences, individual learning styles, cross grade level partner activities, character education, and various types of groupings are incorporated throughout the instructional day.
Community Outreach: Grout students and residents living in the Odd Fellow Retirement Center form a bridge between age and cultures. Ongoing activities include: written communications and newsletters, musical and drama presentations, lunches, and celebrations.
PTA and Site Council.
Portland Impact and Touchstone (on site social services and counseling).
S.M.A.R.T. (Start Making A Reader Today)-This program links volunteers rom the community with kindergarten through third graders for reading support.
Partnerships with Reed College, Lewis and Clark, and Portland State University.
OUR AFTER-SCHOOL ACTIVITIES
BUILDING COLLABORATION, COOPERATION, CITIZENSHIP, ENVIRONMENTAL AWARENESS,
AND CHARACTER.
S.U.N. (Schools Uniting Neighborhoods)/Community School Site-after school Parks and Recreation Programs right here at Grout.
Y.M.C.A. day care before and after school. On-Site and Off-Site 503-327-0007
The Children's Club- Off-Site day care 503-233-2246