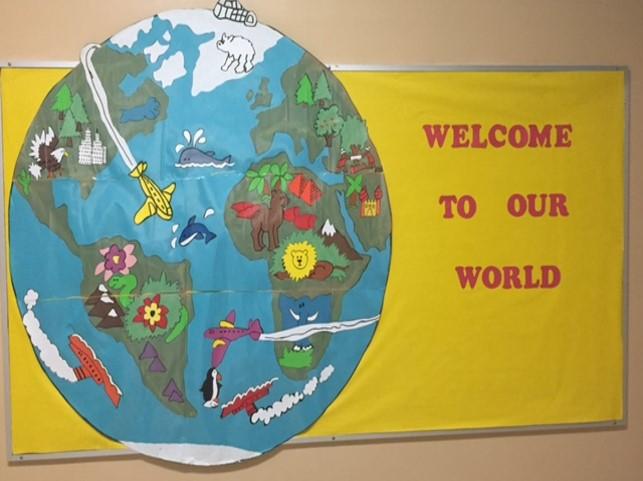 Connect to Kindergarten


Do you have, or know, a kindergartner coming to Buckman next year? You are invited to attend our Connect To Kindergarten informational meetings, coming soon.

If you are interested in enrolling at Buckman, but are not a neighborhood family, you will need to register for the Lottery through PPS Enrollment and Transfer. We are offering limited openings for Kindergarten, First and Third Grade.

If you are a Buckman Lottery Family with a sibling already enrolled in Buckman, you must still apply through the Lottery for your new kindergartner.

As a Lottery family, you MUST attend one of the Lottery Family Meetings. Your attendance at one of these meetings is part of your qualifying requirements necessary for your acceptance into our school through the lottery system.

Please call the school office if you have any questions.

Neighborhood Families:

Connect To Kindergarten

Tuesday, February 21, 2017 6:45 - 7:30pm

Thursday, March 23, 2017 6:45 - 7:30pm

Lottery Families:

Connect To Kindergarten/Open House

Attendance at one meeting is required

Wednesday, March 1, 2017 10:00 AM - 10:45am

Wednesday, March 1, 2017 6:45 - 7:30pm

The Lottery application dates for this year are:

February 8 through March 3.

After March 3, the lottery application process closes for non-neighborhood families, and they can no longer apply through this program for the 2017-2018 school year.

Dear Buckman Community,

We as a PTA board want to take a moment to remind folks of our mission as a PTA – to advocate for ALL children, ensuring that families and kids feel safe, included and empowered to have a positive school experience. Through the rest of the school year, we plan on partnering with the Buckman staff and administration to provide programming that meets the needs of our school community and allows for all voices to be heard and valued. If you have input or ideas, we would like to invite you to email the Buckman PTA and attend our bi-monthly meetings.

Our next PTA meeting is on Tuesday, February 7. As always, we will have pizza from 6–6:30 and conduct PTA business from 6:30–7. During this time we also hope that Buckman community members can talk to one another, express concerns and strategize how we can continue to spread the kindness and support we hope all families are receiving and that we expect for our children.

We look forward to seeing you in February!

The PTA Board


Exclusion Day is February 15! This is the date that all students must have completed their necessary immunizations. If their immunizations are not complete, STUDENTS WILL NOT BE ALLOWED TO ATTEND SCHOOL starting on Wednesday, February 15.

Multnomah Education Service District (MESD) is sending home letters for any students whose immunization records are incomplete or missing. The State of Oregon will send out letters starting February 1 alerting parents of a student's potential exclusion.

Do not ignore these letters!

If you receive a letter, action is required or your child will be excluded from school starting on February 15, 2017.

If you have questions, please contact School Nurse Cam Lam at 503-916-6230 or email her at clam@mesd.k12.or.us.

Fundraising/Auction Update

Good news! We're more a third of the way to our goal of raising $72,000 for the arts team, the library Media Specialist, and literacy support at Buckman next year!

This is a good position to be in with the auction, our biggest fundraiser of the year, still ahead on Saturday, May 13.

Never been to our school auction? It's really fun. We'll have tasty food, lots of drinks, silent and live auctions (with items small and large), and plenty of time to mix and mingle with other parents and teachers. And, new this year--childcare will be available on-site at Hinson Baptist Church.

Stay tuned for more. Tickets will go on sale after the Art Show & Sell!




Rogue Ales' Firkin Fest: March 4th


In other fundraising news, this year's edition of Rogue Ales' Firkin Fest is on for March 4. As with all things fundraising, we are in need of volunteers! This is a really fun way to get in a few hours of volunteering (4, in fact!) at what turned out to be a great success last year. If you are interested, sign up here. Please note that there is an additional form required; instructions are included on the sign-up page. Thank you!




Student Artists - Art Show & Sell

All Buckman students (and alumni) are invited to sell their work in the Art Show and Sell. You must sign up to receive an artist number. Pricing stickers/packet will be delivered to your student's classroom. Deadline to sign-up is: February 27. Students receive the same 70% of sales that professional artists receive Please contact Caroline Houser with any questions about student art at clinehouse@gmail.com.

da Vinci Info Sessions



The first of five information sessions was January 25, starting at 4pm. All dates and the process are outlined on da Vinci's webpage (several have changed). If you have friends interested in applying, let them know, or if your student has a sibling who will be applying, please come to one of the sessions posted. Even if you are a current da Vinci family, we want you to come with your prospective student for the information session.

Here are the complete da Vinci Info Sessions for the 2017 - 2018 school year:
January 25 - 4:00 - 5:30pm
February 3 - 9:00 - 10:30am (planning day, no school for students)
February 7 - 4-5pm Open House* 5-6pm Info Session; Open House on February 7 is the only time classrooms will be open to visit
February 15 - 4:00 - 5:30pm
March 6 - 4:00 - 5:30pm
For more information about PPS options for your child, visit the PPS School Choice website.


Yearbook Photos Needed!

Did you take photos of Buckman students enjoying the snow days or at the MLK Jr assembly? Please send those fun snow pictures along with any others to

yearbookbuckman@gmail.com

. Please identify the activity or event along with grade. We still need a lot of photos to help fill the yearbook.

Monthly Coffee Chat

Want to learn more about Buckman? Have a question or want to know about upcoming events and volunteer opportunities?

Please mark your calendars and join other families and Ms. Kosmala on the third Friday of the month for a monthly coffee chat. Connect with other parents and meet up with Ms. Kosmala for casual conversation and social time.

Coffee and breakfast snacks provided!

Buckman Library 8:45 - 9:30 AM

February 17

March 17

April 21

May 19

This is event is sponsored by the PTA.

Buckman Auction


SAVE THE DATE - The Buckman Auction 2017 will be held on May 13 at the Hinson Baptist Church (1137 SE 20th Ave) at 6pm. This is the Buckman Foundation's biggest fundraiser of the year, so be sure to mark your calendars so you don't miss it!




Dines Out - Wednesday, February 15


With a new month comes a new Dines Out, so plan on attending this month's iteration at EastBurn on Wednesday, February 15 from 6-9pm. Come see why EastBurn's grilled cheese was named among the top 25 in the country by Food & Wine Magazine! The Foundation will also double up by hosting our monthly Pub Night at EastBurn starting at 7pm. There is lots of exciting fundraising news from the Foundation as we look towards the end of the school year; find the sign and stop by to see how you can get involved.




Firken Fest - March 4


Speaking of upcoming events, we want to be sure everyone has March 4 down on their calendar for our annual Firken Fest fundraiser. This is a fun way to support one of our community partners while also raising funds for Buckman. Details coming soon!




Sign Up Your Student Artist for the 2017 Art Show and Sell!

All Buckman students (and alumni) are invited to sell their work in the Art Show and Sell. You must

sign up

to receive an artist number. Pricing stickers/packet will be delivered to the student's classroom.

Deadline to sign-up is: February 27

. Students receive the same 70% of sales that professional artists receive. Please contact Caroline Houser with any questions about student art at

clinehouse@gmail.com

.

The Auction Needs a Few More Volunteers to Help Out Now!




Planning for the Buckman Auction (May 13 at Hinson Church) is well underway, but we could use a few more volunteers now for these key areas: a Classroom Auction Projects Co-Coordinator to help out our current co-coordinator, folks to help make calls to businesses for Procurement donations, and people to help with Event Planning. Please contact Auction co-chair Jeff Burns, jeff@organicmodern.com, if interested in volunteering. Thank you!

Shave and a Haircut… for the Foundation


If you're looking to get stylish at the start of the New Year, consider Rooks Barbershop! Mention you are from Buckman and Rooks will generously donate 20% of your total to the Foundation. Stop by http://www.rooksbarbershop.com/ to book an appointment and check out different locations. The offer is valid until the end of the school year; they do kids cuts, too!

Money for Nothing

Please take a moment to sign up for these great (free) ways to raise funds for Buckman - and encourage friends, neighbors and grandparents too.

Fred Meyer Community Rewards

— This raised over $1200 for Buckman last year (imagine how many library books that bought!). It only takes a minute to sign up and give Buckman PTA a portion of Fred Meyer's charitable giving dollars. If you have a Rewards card, you still get to keep all of your household rewards and fuel points as usual.

AmazonSmile — This raised almost $200 for Buckman last year. If you

choose Buckman PTA

as your charity of choice, Amazon will donate 0.5% of the price of your eligible AmazonSmile purchases to our PTA.

Buckman Scrip

Help support Buckman by purchasing scrip! Every Tuesday morning during drop off our Scrip sales team will be available out in the main hall with some in stock scrip gift cards as well as order forms for any additional orders Buckman parents wish to make for items not in stock. Scrip is a great fundraising tool since families can use scrip for gas, groceries, and other household expenses. We have lots of grocery gift cards in stock such as Fred Meyers, New Seasons, Whole Foods, and Safeway.





We have retailers donating anywhere from 4%-26% of those gift cards to Buckman. Some examples of retailers we can order are Pizzicato, Starbucks, McMenamins, Washman, Home Depot, and Target. We will also have Chinook books and apps for sale for a limited time. We have an order form you can fill out beforehand which can be picked up in the office from the Scrip box order form drawer.





If you can't make it Tuesday mornings, these forms can be filled out and left with payment in our Scrip mailbox. Otherwise, come see us Tuesday morning during drop off to place your order or buy in stock items!

Do you have an hour a week to read to a student? SMART (Start Making A Reader Today) may be just the thing for you! We read to and with K - 3rd graders who need some extra help or need an ear to listen. You would only read at Buckman once a week for an hour on Tuesdays or Thursdays from mid-October to mid-May.

If you or someone you know (such as grandparents, friends, colleagues) is interested, please invite them to complete the online application at GetSmartOregon.org. Click on "Get Involved" and "Volunteer".

Questions, please call Christine Piggott, Buckman Site Coordinator, at 503-720-6301. Buckman students will thank you more than you know!!

Math in Action Challenges - Sign Up Now

Teacher Tamar Berk is announcing a new weekly math challenge for all grades K-5! Buckman is now enrolled in

www.mathinaction.org

, which is an educational resource that provides bi-weekly math challenges throughout the school year.

If your student is interested, please go to: http://www.mathinaction.org/buckman-elementary.html, download, solve the math problems, and put them in Ms. Berk's mailbox in the office. She will grade the math challenges and keep a record. (Or if there is a parent volunteer who can help, let her know!)

At the end of the year, students who complete at least 12 sets of challenges will get cool prizes and a certificate!

Please contact Tamar Berk with any questions at tberk@pps.net.


Emergency Clothing Needed

Cleaning your closets to make room for back-to-school clothes? Super! Please forward any student pants (generic sweatpants work great) to the office for those occasional wardrobe malfunctions.
Donations of new girls and boys underwear are also appreciated. Thank you for your support.


Medications at School

Please contact the office if your student will be receiving medications during school hours. Medicine can only be given to students after families complete the Authorization for Medication Administration by School Personnel form, which is also located in the office.

Please personally bring in the medications (with the original packaging) and completed form. Please note students are not allowed to transport medications to school themselves.

Thank you for your help and understanding.

Library News




4th & 5th Graders: Oregon Readers Choice Awards!


Want to be part of a vote that picks a state wide winner? Last week, 4th & 5th graders were introduced to the ORCA's. To vote, students must read at least 2 of the 8 books by mid-March. Ms. Rudnick will have a special surprise lunch for students who read all 8 books by April 4th! Here is the form, happy reading!




Volunteers Needed!


Please sign up HERE. Thank you for being part of this amazing community of learners (and readers!)
*If you would like to consistently volunteer for your student's weekly library time, that can be arranged!




Buckman Library Website Features...

Are you kids starting research projects? Want to use reliable databases rather than "just googling it?"

Check out the

"RESEARCH"

tab on the library website. Here you will find awesome sources of information, text to talk features, citations and images to use with copyright information built in!

Literacy Calendar


Make a new year's resolution with your budding reader. OLA has released their 2017 early literacy calendar. Give your student the gift of literacy year round!




Ms. Rudnick's Monthly Reading Challenge - February


February - Complete the challenge and win a prize or a free book!

SUN News




Winter Registration Information

Resource Referrals for Families Facing Immigration Challenges


Drop by the SUN office or contact Diane at (503)858-0230 if you know of families needing legal support, legal counsel, information on free help for clearing records, or sanctuary information.


Family Leadership Equity Team, Tuesday, February 28


Parents of students of color, students with disabilities, and other traditionally underserved populations have been meeting monthly to discuss student success, school climate, and family support. If you would like to be on the listserve to receive minutes of the meetings as well as notice of upcoming meetings, please contact Diane at dmeisenhelter@impactnw.org or Sada (school counselor) at sdewey@pps.net.




Family Dance-February 24


Get ready to come out and dance up a storm at an all ages dance February 24 at 6:30pm. Portland School of Rock youth musicians will be playing and setting the stage for folks to kick up their feet and see that young musicians really rock! This community-building event is in honor of healthy heart month, reminding us to take care of ourselves and get the daily aerobic exercise our bodies need to remain healthy. The event also honors two Buckman teachers who died at an early age from heart issues.




Online Registration Help

We received enough feedback about winter online registration to know that is probably not the system we want to use. However, we realize parents do want to have an online registration option. Are there any parents who might be willing to exchange childcare costs for helping us set up a simple online registration process that could link into paypal or some other simple online payment system? If so, please contact Diane at

dmeisenhelter@impactnw.org

as we'd love to have something in time for spring registration.


If you are beginning work on taxes and need receipts for amounts paid to Impact NW for classes, contact bmorris@impactnw.org at least two weeks before you need the receipt. Due to systems changes, Brittany is having to hand calculate receipts from the various registration systems so will need some time to prepare them.


Help Serve Homeless at Imago Dei and St. Francis




On cold winter nights when it is below freezing, Imago Dei, in partnership with Transition Projects, has been offering a space for the homeless to sleep. St. Francis has also been open as a warming center when needed. Gloves (especially men's sizes), blankets, hats, and warm socks or toiletries are very much appreciated if you'd like to drop items by the SUN office, we will make sure they get to homeless services. For more information on how to help, contact Diane at

dmeisenhelter@impactnw.org

.

SUN Volunteers


SUN is looking for volunteers to help tutor students, assist with homework club, and help out in classes. Please help us spread the word to high school or college students, service groups, churches, and the like. Contact jhannan@impactnw.org, the SUN volunteer coordinator.




Adult Yoga and Zumba


Adult yoga and zumba classes have begun. Yoga is free on Fridays at 6pm. Zumba is on Tuesdays at 6pm and the first lesson is free! After that you can either pay $5 per drop-in class or purchase a $20 card for five sessions ($4 is a very good deal!). Come have fun and get fit! Help us spread the word so we can keep the classes going.




SUN Payments

Please remember to submit your mid-month payments for SUN classes. Many parents have outstanding payments and our payroll is dependent on these funds. If you need to know your balance, contact

bmorris@impactnw.org

.