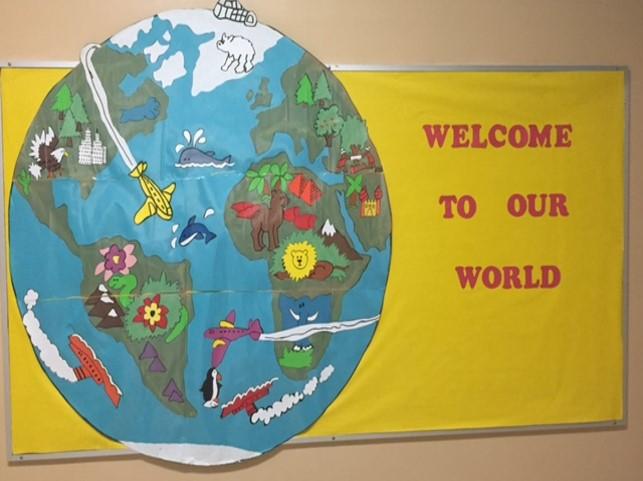 Connect to Kindergarten

Thursday March 23,2017 at 6:45 PM


Do you have, or know, a kindergartner coming to Buckman next year? You are invited to attend our Connect To Kindergarten informational meetings. The last Connect To Kindergarten will be Thursday, March 23, 2017 at 6:45 PM.


If you are a Buckman Lottery Family with a sibling already enrolled in Buckman, you must have already applied through the Lottery for your new kindergartner. Please talk to the office about additional requirements.


The Lottery is now closed. You can no longer apply through this program for the 2017-2018 school year.

Jump For Buckman

at G6 Airpark on April 6


Please join us for a school-wide Foundation fundraiser at G6 Airpark (10414 SE Washington St./Mall 205) on April 6 from 5-8pm. G6 will be donating 20% of all entrance fees for the entire night (groupons and other discounts cannot be combined with this fundraiser). What an easy way to support Buckman while your child burns off energy and has a fun time jumping with friends!

Cost: $12 for the first hour, $8 for each additional hour
Grip socks also need to be purchased for an additional $2 or if you already have G6 grip socks you may bring them.

Please go online and fill out a waiver prior to jumping. We look forward to seeing you there!


STEAM Fair - Volunteers Needed

Are you a scientist, software developer, engineer, contractor, musician, artist, or mathematician? Do you have skills (or have a passion for STEAM) and love to tinker? If so, we want you!

On April 13 at 6:30 pm, Buckman will host a Science, Technology, Engineering, Art, and Math (STEAM) night. More details about the amazing night will be posted soon.

Are you a graphic designer?

Please see

Melina

in the office. We will need lots of helpers during the event. A volunteer sign up sheet will be published soon. Stay tuned!

Our annual benefit auction will be held on Saturday, May 13 at 6pm. Early bird tickets are on sale now. Purchase and bid on gift certificates, entertainment packs, beverages, classroom projects, summer camps, getaways, and more. Childcare is limited, so sign up early! www.BuckmanAuction.org

Thanks to Orchard Supply, Precision Images, the Hinson, and White Pepper Catering for supporting our event!

Buckman is partnering with Atkinson Elementary for their April 15 Auction, from 5-10pm. We have 2 of 10 committed volunteers to help at their auction, and in trade will have 10 committed volunteers from their school at our auction. Contact auction@buckmanelementary.org to help.

Yearbook Photos Needed!


Keep sending photos in for the Buckman Yearbook. We need more from each grade and for the special performances that have happened and that are happening this month. Please send them to yearbookbuckman@gmail.com. 5th grade families: We especially need more photos to celebrate your students.

Monthly Coffee Chat

Want to learn more about Buckman? Have a question or want to know about upcoming events and volunteer opportunities?

Please mark your calendars and join other families and Ms. Kosmala on the third Friday of the month for a monthly coffee chat. Connect with other parents and meet up with Ms. Kosmala for casual conversation and social time.

Coffee and breakfast snacks provided!

Buckman Library 8:45 - 9:30 AM

April 21

May 19

This is event is sponsored by the PTA.

Shave and a Haircut… for the Foundation


If you're looking to get stylish at the start of the New Year, consider Rooks Barbershop! Mention you are from Buckman and Rooks will generously donate 20% of your total to the Foundation. Stop by http://www.rooksbarbershop.com/ to book an appointment and check out different locations. The offer is valid until the end of the school year; they do kids cuts, too!

Money for Nothing

Please take a moment to sign up for these great (free) ways to raise funds for Buckman - and encourage friends, neighbors and grandparents too.

Fred Meyer Community Rewards

— This raised over $1200 for Buckman last year (imagine how many library books that bought!). It only takes a minute to sign up and give Buckman PTA a portion of Fred Meyer's charitable giving dollars. If you have a Rewards card, you still get to keep all of your household rewards and fuel points as usual.

AmazonSmile — This raised almost $200 for Buckman last year. If you

choose Buckman PTA

as your charity of choice, Amazon will donate 0.5% of the price of your eligible AmazonSmile purchases to our PTA.

Buckman Scrip

Help support Buckman by purchasing scrip! Every Tuesday morning during drop off our Scrip sales team will be available out in the main hall with some in stock scrip gift cards as well as order forms for any additional orders Buckman parents wish to make for items not in stock. Scrip is a great fundraising tool since families can use scrip for gas, groceries, and other household expenses. We have lots of grocery gift cards in stock such as Fred Meyers, New Seasons, Whole Foods, and Safeway.





We have retailers donating anywhere from 4%-26% of those gift cards to Buckman. Some examples of retailers we can order are Pizzicato, Starbucks, McMenamins, Washman, Home Depot, and Target. We will also have Chinook books and apps for sale for a limited time. We have an order form you can fill out beforehand which can be picked up in the office from the Scrip box order form drawer.





If you can't make it Tuesday mornings, these forms can be filled out and left with payment in our Scrip mailbox. Otherwise, come see us Tuesday morning during drop off to place your order or buy in stock items!

Do you have an hour a week to read to a student? SMART (Start Making A Reader Today) may be just the thing for you! We read to and with K - 3rd graders who need some extra help or need an ear to listen. You would only read at Buckman once a week for an hour on Tuesdays or Thursdays from mid-October to mid-May.

If you or someone you know (such as grandparents, friends, colleagues) is interested, please invite them to complete the online application at GetSmartOregon.org. Click on "Get Involved" and "Volunteer".
Buckman students will thank you more than you know!!

Math in Action Challenges

Teacher Tamar Berk is announcing a new weekly math challenge for all grades K-5! Buckman is now enrolled in

www.mathinaction.org

, which is an educational resource that provides bi-weekly math challenges throughout the school year.

If your student is interested, please go to: http://www.mathinaction.org/buckman-elementary.html, download, solve the math problems, and put them in Ms. Berk's mailbox in the office. She will grade the math challenges and keep a record. (Or if there is a parent volunteer who can help, let her know!)

At the end of the year, students who complete at least 12 sets of challenges will get cool prizes and a certificate!

Please contact Tamar Berk with any questions at tberk@pps.net.


Emergency Clothing Needed

Cleaning your closets to make room for back-to-school clothes? Super! Please forward any student pants (generic sweatpants work great) to the office for those occasional wardrobe malfunctions.
Donations of new girls and boys underwear are also appreciated. Thank you for your support.


Medications at School

Please contact the office if your student will be receiving medications during school hours. Medicine can only be given to students after families complete the Authorization for Medication Administration by School Personnel form, which is also located in the office.

Please personally bring in the medications (with the original packaging) and completed form. Please note students are not allowed to transport medications to school themselves.

Thank you for your help and understanding.

Library News




Student Work in the Library


Check out what classes have been up to in the library.




Research Season


Need help finding reliable sources to beat the "fake news" out there? Check out our RESEARCH page and PATHFINDERS page on the Buckman Library Website.




Donations Needed:




Focused Hearing, Focused Minds

All K-5th graders use the library devices regularly and the sound can get a bit out of hand when we are creating digital stories, listening to books or educational movies. Please consider

donating

to help us raise the money to purchase headphones which will improve their focus and attention and have a special volume level to protect those growing ears.




Volunteers Needed!


Please sign up HERE. Thank you for being part of this amazing community of learners (and readers!)
*If you would like to consistently volunteer for your student's weekly library time, that can be arranged!




Buckman Library Website Features...

Are you kids starting research projects? Want to use reliable databases rather than "just googling it?"

Check out the

"RESEARCH"

tab on the library website. Here you will find awesome sources of information, text to talk features, citations and images to use with copyright information built in!

SUN News




Spring Sun Online Registration Ends March 27 and Classes Begin April 3

March 20-27 is online registration which is through Eventbrite and should hopefully be much easier than last term. Let us know if you have problems or questions by emailing bmorris@impactnw.org.


Resource Referrals for Families Facing Immigration Challenges


Drop by the SUN office or contact Diane at (503)858-0230 if you know of families needing legal support, legal counsel, information on free help for clearing records, knowing legal rights, sanctuary information and more.


Tax Receipts


If you are beginning work on taxes and need receipts for amounts paid to Impact NW, contact bmorris@impactnw.org at least two weeks before you need the receipt. Due to systems changes, Brittany is having to hand calculate receipts from the various registration systems so will need some time to prepare them.


Spring Break Camp

Register

online

for the remaining available spots for Motion Magic's Spring Break Camp.

SUN Volunteers


SUN is looking for volunteers to help tutor students, assist with homework club, and help out in classes. Please help us spread the word to high school or college students, service groups, churches, and the like. Contact jhannan@impactnw.org, the SUN volunteer coordinator.




Adult Yoga and Zumba


Adult yoga and zumba classes have begun. Yoga is free on Fridays at 6pm. Zumba is on Tuesdays at 6pm and the first lesson is free! After that you can either pay $5 per drop-in class or purchase a $20 card for five sessions ($4 is a very good deal!). Come have fun and get fit! Help us spread the word so we can keep the classes going.




SUN Payments

Please remember to submit your mid-month payments for SUN classes. Many parents have outstanding payments and our payroll is dependent on these funds. If you need to know your balance, contact

bmorris@impactnw.org

.