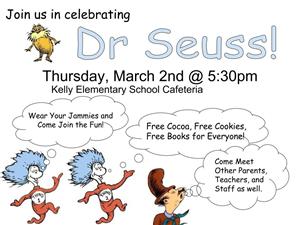 Week of 02/27: HAPPY DR. SEUSS WEEK!
Monday- "Fox in Socks" Day- Wear silly or miss-matched socks to school.
Tuesday- "Green Eggs and Ham" Day- Wear something green.
Wednesday- Wack Wednesday- Wear your clothes miss-matched or backward.
Thursday- Pajama Day- Wear pajamas or other comfy clothes that you wear to curl up and read. Stay in your pajamas all day and come join the fun at Family Reading Night.
Friday- "Cat in the Hat" Day- Wear your favorite hat.

T-Shirt Drawing Contest Deadline is March 1:
March 1st is the last day for students to submit drawings for our Cougar Cub Fun Run.

Reminder: Kelly Dismissal is at 3:00PM-
The end of the day is an important time for classroom teachers and students to reflect on the day and solidify learning. Please help us support this important time for teachers and students without interruptions to classrooms. If you do not have an emergency situation, you should wait until dismissal time, 3:00pm, to pick up your student. Thank you.

Kindergarten Registration: PPS Lottery Ends on March 3rd & Come in Now for Summer Options!
Do you have an incoming kindergartner or know an incoming kindergartner? It is never too early to register. Kelly School has two new options for incoming kindergarten students and summer school. If you or families you know are interested in Russian Immersion, please check out all the information, forms and dates on the PPD Enrollment & Transfer page: http://www.pps.net/Page/2343

Parking Patrol, PBOT and $900,000:
Our Kelly Community is working with PBOT to improve safety around our school. You will begin to see parking patrol giving warnings to drivers who park in no parking zones, double park, or make u-turns in front of Kelly school.

Come help PBOT decide how to spend $900,000 for safety improvements in the Franklin cluster.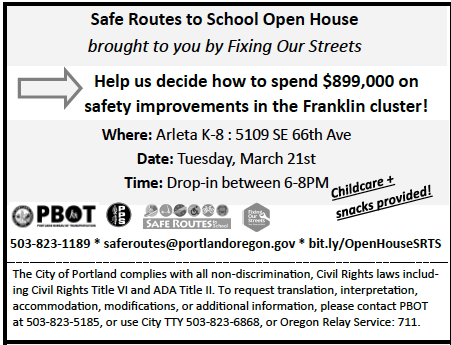 We Stand With You: Latino Network Resources
Our Kelly School community is an amazing and wonderful place for so many reasons but one of the biggest is that we all come together from all over the world at the corner of SE 90th & Cooper each day. We stand together and support each other. If you are in need of additional resources regarding immigration for your family, please see the Latino Network site:
http://www.latnet.org/community-resources/?locale=en

PTA Website!
There are tons of resources for teachers and families on the new Kelly PTA Website, check it out here!

Do you shop at Fred Meyer or Amazon?
If so, you can easily link your Fred Meyer rewards to card to help support our Kelly PTA! Link your Fred Meyer rewards card to our Kelly PTA community organization # 93031 and each time you shop at Fred Meyer they will donate to our PTA. It's easy and it benefits our entire community.
Kelly PTA is set up for Amazon Smile as well as Fred Meyer Rewards!
https://smile.amazon.com/ch/45-3585993

Если Вы хотите читать Еженедельный семейный бюллетень в переводе с английского, то пожалуйста, посетите вебсайт школы Келли http://www.pps.net/Domain/129. Внизу странички вы найдете возможность выбрать предпочитаемый Вами язык.

Si les gustaría ver la traducción del boletín familiar, por favor de visitar nuestro sito de la escuela Kelly en http://www.pps.net/Domain/129 hacia abajo puede seleccionar su idioma de preferencia.

Nếu quý vị muốn tìm một phiên bản dịch của Thông Báo Gia Đình Hàng Tuần, xin vui lòng truy cập trang Web Trường Kelly chúng tôi http://www.pps.net/Domain/129 di chuyển chuột xuống dưới và chọn ngôn ngữ của quý vị.