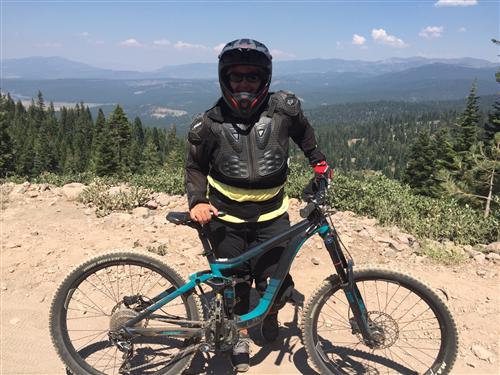 Lana Penley, Principal
and part-time free rider (see above picture)
Greetings Marysville Families!
We are filled with joy to be starting another school year!
For the 2016-2017 school year, we will be leading with gratitude.

Going into our fourth year as a mindful school, we want to focus on how we can bring gratitude into everything that we do, along with our additional monthly practices. At Marysville, we believe mindfulness is more than being present in the moment, but also encompasses compassion, perspective, perseverance, optimism, brain science, and much more.
Here at Marysville, we have a Mantra-Relationships, Respect and Rigor. Relationships are the beginning of the foundation and serve as the guide for all that we do. We believe in the power of building strong relationships with all school stakeholders. Next, we treat each other with respect. This overall building tone of respect is critical for a healthy school. We attempt to be respectful in every single interaction. Our last piece of the Mantra is rigor. Rigor means being challenged and still doing your very best. We strive to have each assignment, each day have a high degree of Rigor.
I also have many interests outside of school. I am a former art teacher so I LOOOVE all things beautiful-nature, poetry, photography, art and music (I can even play three songs on the guitar…sort of). I am quasi-lingual in Spanish, have a mean jumpshot (I played basketball in college), and can tell a pretty good joke.
Seriously, I love being the Principal of Marysville School and the people that I get to work with every day. My day is anything but typical. I am juggling meetings, duties, observations, lessons, emails, and paperwork. But the most important thing I do, is work with students. It is so rewarding to help a student in any way I can. I believe in the power of education to open doors and exciting new worlds.
I am

grateful

for this opportunity to have an impact on the lives of students.