DD Services is a community developmental disability program contracted by the State of Oregon to provide people with Intellectual and Developmental Disabilities specialized case management services.
A person is considered for eligibility if they are identified through the Oregon Administrative Rules (OARs)Oregon Administrative Rules (OARs) as having an Intellectual Disability or a Developmental Disability.
Anyone who meets the criteria of Intellectual Disability/Developmental Disability (ID/DD) attributable to a neurological disabling condition that requires training or support similar to that required by individuals with ID/DD while having significant adaptive deficits are eligible, when these conditions occurred prior to age 18 for ID/DD or age 22 for a Developmental Disability other than Intellectual Disability.
The chart below depicts the OAR definitions of ID/DD as defined in OAR 411-320-0080.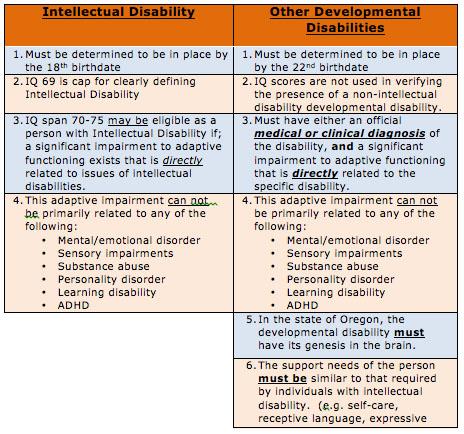 The graphic below outlines the referral process to apply for DD Services.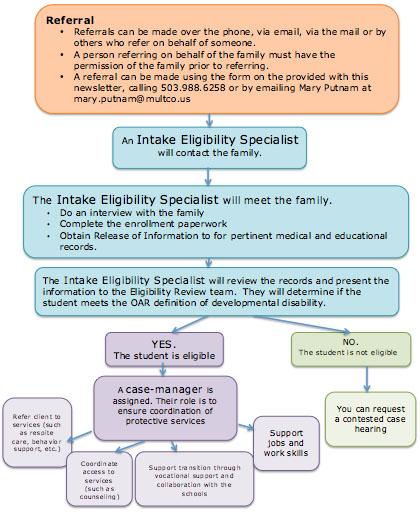 Providing every opportunity to involve individuals that we serve in decision making processes and respecting the individual's right to make life choices.
Striving for a healthy and safe environment.

Providing timely response to customer needs.
Ensuring culturally sensitive services and supports are provided in the least restrictive setting possible.
Providing leadership that supports creativity designed to continually improve systems and services.
Creating, evaluating and maintaining transparent processes.
Being good stewards of public funds