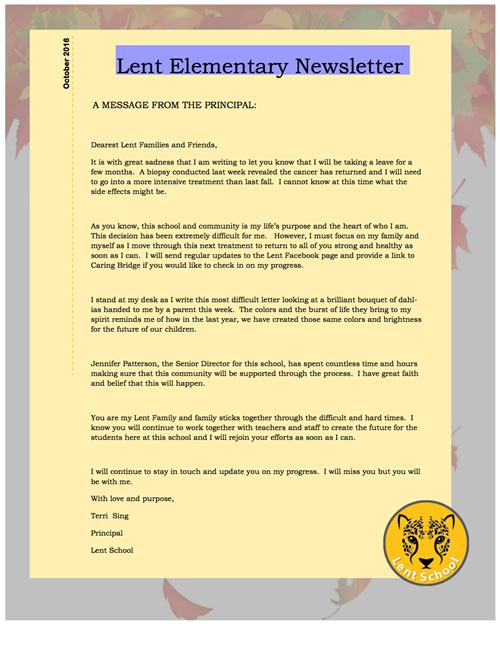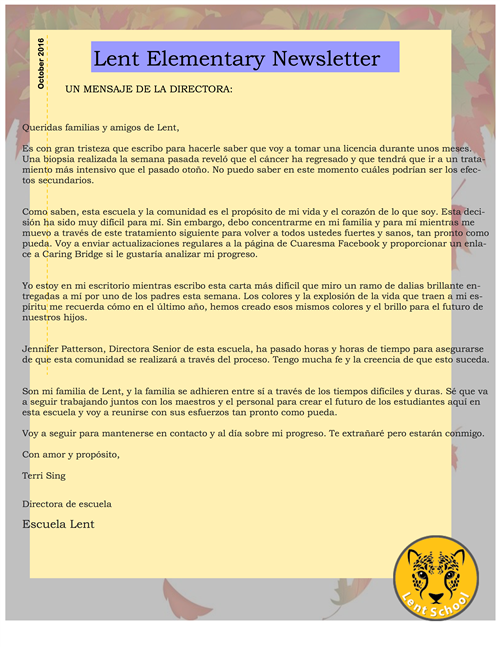 From the Desk of the Principal:

Dearest Lent Families,
I have missed you all so much over the summer! Your commitment to the safety, the education, and wellbeing of all of our students has never been so evident as over the last few months. We are ready to move forward with a sparkling new building inside and out; a huge thank you to everyone! As we move forward, there will events for us to get to know each other better and to celebrate the dreams and aspirations of this community.
Please make sure to put on your calendars the following dates and join us!
August 25th- Back to School BBQ 5 p.m. to 6:30 p.m. with a special presentation for the incoming 6th graders from 6 p.m. to 7 p.m. in the Rose Garden Auditorium.

August 27th-Community Care Day: 9 a.m. to 12 p.m. at Lent School
August 29th-The first day of school for Grades 1-8. Registration packets with the Parent Handbook and August/September Calendar go home. Please return them by September 2nd to your child's teacher.

August 29th-August 31st- Kindergarten Assessments and Meetings (Your teacher will be contacting you to schedule)
September 10th: Lent Beautification and Garden Party, 9 a.m. to 12 p.m.
September 15th-Back to School Night 6th to 8th grade-6-7 p.m. Dinner 5:15 p.m. to 5:45 p.m. in Cafeteria
September 20th- Back to School Night 3rd to 5th grade-6-7 p.m. Dinner 5:15 p.m. to 5:45 p.m. in Cafeteria
September 22nd- Back to School Night K to 2nd grade-6-7 p.m. Dinner 5:15 p.m. to 5:45 p.m. in Cafeteria
Please carefully read your Parent Handbook, there have been a few changes. Website information should be available soon!
Within this first communication, you should receive your child's schedule for the first day of school. If you have questions or concerns, please contact the office at 503-916-6322.
I have waited all summer to see you again or for the first time. Here's to a year of dreaming big and collaborating to have every child reach their greatest potential. I am honored to be a part of your child's life and this community!
Empowering students to dream,
Terri Sing