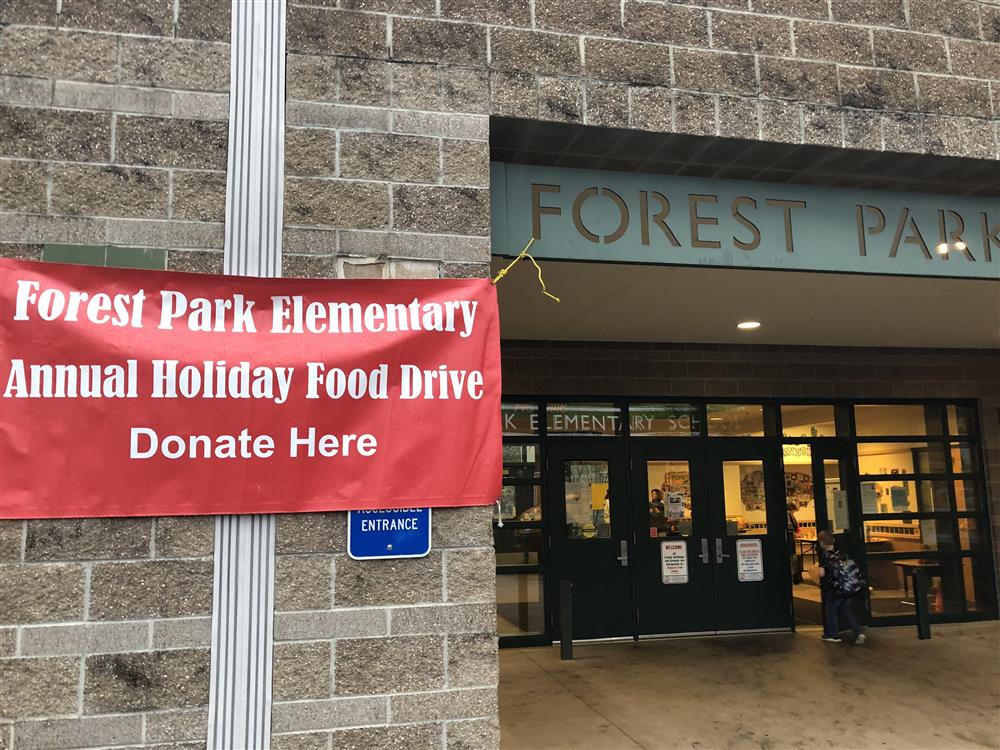 Dear Parents and Families,
The annual FPE Food Drive has begun and what a start! Gratitude is our word for the month and at Forest Park Elementary, one annual way we work together to express this sentiment is by sharing food with schools in need.
I want to thank Friends of Forest Park Elementary parent leads Colleen and Julie for taking this project on one more time. Make this a meaning opportunity of learning with your child. It may be a surprise to some of our students that families across the city struggle with food security. We are supporting this learning opportunity with a service project field trip to the Oregon Food Bank for classroom/s that raise the most money in the food drive coin collection.
Our hallway is full of food staples ready to box up and deliver to 150+ families in need. Thanks to all of you who have already given your kiddos coins for classroom coin collections AND to all those who have done a little extra shopping and dropped by food staples. It's not too late to contribute! Read below for a short announcement from our Food Drive Team.
Thanks to all the parents who came to the Math Team Parent Info night on Tuesday
. For those who weren't able to join, you can read more at this link:
https://docs.google.com/presentation/d/1v4MNV5Jc5dpSrrrl8oBA08oQ_Jim1CqITwxIHhw2tzc/edit?usp=sharing
It's too late to sign up for the December tournament, but if you have a last minute entry for the Math Team, return the form by Monday morning:
https://drive.google.com/file/d/1cgNxam-QadF0Be6tmMMs_n72cBRddqUJ/view?usp=sharing
Join us next Thursday night for our next Friends of Forest Park meeting.
Interested to participate in auction planning? International Festival and other school-wide events? Come hear me give a short school update and join our parent leaders Thursday, 12/13 @ 6:30pm in the FPE Library.
This is the time of year when parents and families do a lot of travel.
I want to call your attention to our
Parent Handbook
and our school/district policy regarding Homework and Attendance:
"Please notify the school in writing of any long-term absences. We request that every effort be made to schedule vacations during regular school breaks to avoid unexcused absences. Please provide teachers with at least 24-hour notice to assemble make up assignments. Upon request, teachers will notify students of instructional goals that will be covered during a long term absence other than illness. It is the parent's responsibility to provide the instructional activities associated with the goals. "(pg 5)
Read on for more updates and events going on in the land of Forest Park Elementary.
Warmly,
Lisa Newlyn,
Principal