Mt. Tabor News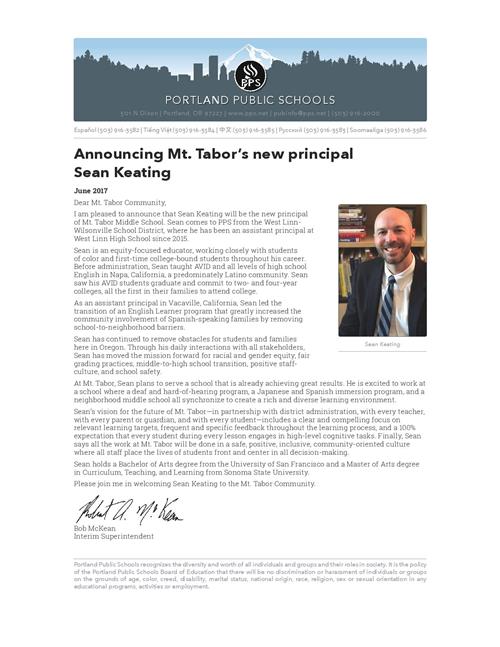 The Mt. Tabor Principal's Newsletter is sent out using School Messenger. PPS has moved to a single communication tool called School Messenger, and will no longer use Celly, Flash Alerts, and Synrevoice. Now principals can send email, SMS text messages, and autodialers from School Messenger. You can get more information here:
http://www.pps.k12.or.us/about-us/mobilefirst.htm
---
The current Student Rights and Responsibilities Handbook can be found at bottom of the following page: https://www.pps.net/Page/1065
The District is collaborating with the Portland Association of Teachers to update this document to align with recent changes in State Law (SB 553).
All schools are concurrently engaged in a process of creating school specific School Climate Handbooks in collaboration with staff, students, families, and community partners to meet the unique needs of each school community.
Homework Help!
Don't struggle alone with homework! Call a librarian. Multnomah County library has live homework help in English, Spanish and Vietnamese from 2-10 pm every day! They will proof read a paper or help you tackle a tough math problem. You can also live chat with a librarian 24/7 who will direct you to resources for research, etc. Go to
https://multcolib.org/
and click on Homework-center.
---
School Hours


School starts at 9:05 am and breakfast is served at 8:50 am. Please do not drop off your students earlier than 9:05 am unless your student is registered for Before School Supervision. School ends at 3:45 pm and students have to leave school grounds by 4:00 pm. We do not have staff supervision before or after school hours for students. We are not responsible for your student(s) if he/she arrives outside of school hours. Please encourage your student not to walk to school too early.