Greetings,
I want to take a moment to thank everyone for their part in making the Reunification Drill such a positive and successful event. Heidi and Mike did an awesome job organizing and executing the drill and many thanks go to them. However, many other hands joined in, and I thank you all. Also, thank you all for your participation. In running these drills we have opportunity to practice what the process could look like in a real emergency and better understand how to be prepared. I encourage all of you to discuss your emergency preparedness plans so that you and your children are ready should the need arise.
Another note concerning safety, is that of our traffic pattern. As a school community we are trying to keep Carson free of cars so that walkers can have a safe avenue to school. Between 7:50 - 8:05, it would be really helpful if drivers could use a different route. I understand it is frustrating to wait in the line for a turn onto Spring Garden, but the safety of our students is our main concern. Students may wait in the entryway beginning at 7:40.
Please read and observe the following:
make 17th one-way heading south during drop-off
leave Carson for walkers
park only the correct direction
NO Uturns
observe yellow curbs/crosswalk (they are a NO Drop zone)
drop students curbside, school side
ALL students should use the Crosswalk
Keep the parking lot entrance clear
Bus Zone is for buses only
No parking in St. Clare's parking lot
The Lost and Found is growing daily. Please have your student check for lost items. Things will be sent to the District PTA Closet before Winter Break.
We have two school days next week, the 20th and 21st. Wednesday there is no school, but childcare. Thursday and Friday the building is closed. We will then have 3 full weeks of school before Winter Break. There is NO late opening in December.
Finally, I want to express my gratitude. I truly appreciate our Capitol Hill Community, students, staff, and families. Your greetings, interactions, and the support given to me and Capitol Hill, make coming to school a real pleasure. Working together as we do, allows amazing things happen each and every day. I so appreciate the kindness and caring so evident in our community.
I wish you all a Happy Thanksgiving. I hope you are able to spend time with family and/or friends and just appreciate and enjoy each others' company.
Sincerely, Principal Williams
11/9/2017:
Added note to today's message: I want you to know that I have received further information regarding the incident at Markham earlier this week. I was sent a recent picture of the man (connected to the Ford in the story below) and I distributed it to CHill staff. As always, they are reminded to follow all safety protocols, but of course be extra aware of any unusual situations.
Please see me with questions or concerns. Enjoy your weekend.
Principal Williams
11/9/2017
Greetings,
Thank you everyone, for meeting with your student's teacher. If you were unable to come in, please make arrangements to do so in the coming weeks. It is so important to have that home/school connection. Teachers are eager to share with you what your student has been busy learning.
Next week is a full week of school. The big event of the week will be the Reunification Drill.
The purpose of the drill is to allow us to practice this process in event of an emergency. Last year the Reunification Process was used down at the district office as central office employees helped to reunite students from MLC school with their parents after the explosion in the northwest district. In that scenario, those employees didn't know the parents, which is one reason why we practice the process of everyone having identification; carefully reuniting students with parents.
Additionally, it is our intent to raise awareness of emergency preparedness. Does your family have a plan? Do your children know of the plan? Questions like these are what we'd like to encourage, along with all of us thinking about having food and water on hand, etc.
Please be sure to bring along your patience, a smile, your ID, and an umbrella if it is raining. This event will help us all to be better prepared for an emergency.
By now, if you will participate in the drill, we already have your form. For those who chose to Opt-out, your student will be dismissed at 2:15 as usual. The drill will be stopped briefly to facilitate regular dismissal. However, dismissal procedures will be slightly different.
Please see below:
Bus riders will gather and board buses as they do on a typical day. (supervised by staff)

Parent pick-up for

all

Opt-out students,

K - 5

, will be in the school.

Parents will be asked to wait at the front entryway until the bell (signal from Joy)

All Opt-out K - 2 parents will go to the

classroom

to retrieve their student from the teacher.

All Opt-out 3 - 5 parents will retrieve their students in the front section of the

gym

.

Students who walk home alone, will also check out through the gym.

There will be NO Safety Patrol.

Opt-out Vermont Hills students will be guided to specific Vermont Hills spaces (other than the cafeteria).
Please note: Opt-ins are in for the duration of the drill. Due to drill procedures, we will not be able to facilitate a change in plans. Any students remaining in classrooms at the end of the drill, will be brought to the cafeteria at 3:15.
On another note, I have received information about an incident that occurred at Markham earlier this week where an unknown man attempted to enter the school/playground. No students were involved/harmed. I'm told he is known by police. If you see the Ford Focus shown below and connected to suspicious activity, please report it to the police. Please be careful to not let anyone into the building who is unknown to you.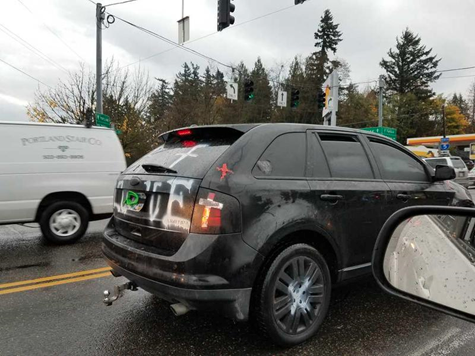 Speaking of Safety, I've had several parents ask me to reiterate our school drop off plan that emphasizes one way traffic on 17th and leaving Carson for walkers. With the onset of rain, it makes it especially dangerous to mix cars and pedestrians. Please do your part in allowing walkers the safe use of Carson from 7:45 - 8:05.
Thank you, enjoy the long weekend. Principal Williams
11/6/2017
Greetings,
Today was a special day in that we had our Student Recognition assemblies and a visit from some VIPs.
Students were recognized for their Safe, Respectful and Responsible behavior. Select students were also recognized for Principal Scholar Awards for their effort and hard work in the classroom. Additionally, we did perfect attendance awards and birthdays. Students practiced their audience behavior, always working to be Safe, Respectful, and Responsible to their peers.
Our VIP visitors today included Superintendent Guerrero, Representative Salinas, and Senator Devlin. They arrived during second lunch. We did a quick tour of some fourth and second grade classrooms, the playground, library and gym. It was nice to have them visit our school. Students were very respectful and also curious.
Finally, this week is shortened so that we can have Parent / Teacher Conferences on Wednesday and Thursday. If you have not scheduled, it is not too late. Please contact your child's teacher and arrange a time to talk. The home/school connection is so important for your child's success.
Friday there is no school or childcare as PPS is closed in honor of Veterans' Day.
Have a great week! Principal Williams
10/30/2017
Greetings,
I want to thank the PTA volunteers one more time for a fantastic "Big Boo!" Thank you for all of your time and hard work! It was great to see all the creative costumes.
I want to send out the following reminders of upcoming events:I
Tuesday: Halloween: no costumes please at school (traditionally some teachers have harvest parties).

Thursday, 11/2: End of Quarter; Family Fun Night

Friday: 11/3: No School - Teacher Planning Day -

Monday, 11/6: October recognition assemblies

Wednesday - Thursday: 11/8-9: No School: Parent / Teacher Conferences -

Friday: 11/10: No School - Veteran's Day

Tuesday: 11/14: Reunification Drill

Wednesday - Friday: 11/22 - 24th: No School
Finally, I want to let you know the Lost and Found is once again overflowing. Please ask your child to check for missing items.
Below, please find my message from Friday evening regarding the vandalism on Friday.
Thank you, enjoy this beautiful weather! Principal Williams
10/27/17 Friday Evening
Greetings,
It was so great to see all of you, and the great costumes, at The Big Boo! Thank you, PTA volunteers, for putting together such an awesome event! Your time and effort is very much appreciated! It is wonderful to see our community come together for such fun!
Now that the Big Boo is over, I will share the sad news of the day, though I suspect your children already have. We arrived this morning to see that our school had been vandalized with blue spray paint. Fortunately, it was discovered and covered before the children arrived. Students were never able to see the grafitti. Teachers were asked to keep students in the school for indoor recess, while it was cleaned up, which the district maintenance department did by 10:30. I am grateful for the district's quick response. Touch up paint will be done next week.
Security/school police responded and a report was made. I also notified our middle school principals so that they could be alert to kid discussions.
It was very disappointing to think that someone would do this to our school and students were upset. Naturally, there were rumors and stories, but again it was never viewed by students; they were only rumors. Staff were amazing at supporting the students. The student reactions were also very heartwarming. We emphasized that if there is a problem, we address it. We also talked about how at Capitol Hill we strive to be Safe, Respectful, and Responsible. We put actions such this, in the "poor choice" column, Not respectful.
I am hopeful that we do not have a repeat of this vandalism in the coming week and have asked for extra patrol. I appreciate your support. Please let me know if you see or hear anything, and please contact me with any questions or concerns.
Thank you. Enjoy your weekend!
Principal Williams
10/27/2017
Greetings,
I hope everyone is enjoying the beautiful weather! But along with the bright, warm sunshine, comes kids dropping their jackets on the ground as they run out to play. It would be so helpful if students' names were in the inside. If a jacket is found with a name, we will return it to that child. I'm told there are some great removable name stickers on Amazon if you don't want to use a marker.
It's also that time of year when lice comes to visit in the classrooms. In keeping with PPS policy which reflects the Centers for Disease Control (CDC) and the American Academy of Pediatrics (AAP), we do not do classroom screenings.
Students found with nits remain at school.

Students with live lice are sent home at the time discovered.

Students with lice and/or nits receive treatment information.
I want to take a moment to thank again the volunteers who put so much work into running the Book Fair, and to thank you for supporting it. Profits from the Book Fair benefit our library. Thank you Chair Kristine Stanik and volunteers.
Please be sure that if you have not signed up for a conference with your student's teacher, that you do so soon. This is a very important way in which we can support your child's learning and connection between school and home. Please contact your student's teacher.
Finally, we have arrived at one of the most popular days of the year; the day of The Big Boo!
Please join us tonight for this spectacular event put on by the PTA. The fun starts at 5:30 and goes until 8:30. Hope to see you there!
Sincerely, Principal Williams

10/20/2017
Greetings,
A big thank you goes out to the PTA for their time and efforts at putting together Grandparent and Special Friends' Day. It was so wonderful to see so many people here supporting their special student. It was a great morning. Thank you to all who participated! At lunch today, I asked the students to give me a thumbs signal as to how they had enjoyed their morning. Their reply was an overwhelming thumbs up!
I want to bring your attention to upcoming dates:
Picture make-up day: Tuesday, 10/24

The Big Boo!: Friday, 10/27

Family Fun Night: Thursday, 11/2

Planning Day, No School: Friday, 11/3

Student Recognition Day for October: Monday, 11/6

Conferences, no school: Wednesday - Thursday, 11/8 & 11/9 (childcare)

Veteran's Day, no school: Friday, 11/10 (no childcare)

Reunification Drill: Tuesday, 11/14

PTA meeting: Wednesday, 11/15

Thanksgiving Break, No School: 11/22 - 11/24 (no childcare)
Again, thank you all for your support and making today such a great day!
Enjoy your weekend,
Principal Williams
10/6/17
I hope you are all enjoying the fall weather as much as we are here at school. It's great for the students to be able to get out and enjoy the fresh, crisp air each morning. Students generally wear a jacket outside, but then drop it to the side. Guess what? It then ends up in the Lost and Found. I've decided o leave the table up in the entryway for a few more days. Please have your student check for missing items. The Lost and Found will be bagged and sent to the PTA Closet. (The PTA Closet is available for those needing assistance with clothing.) I try to keep out items that are labeled. It would be so helpful if you made sure to write your student's name on their jackets, etc. Thank you.
I also want to encourage you to follow our Capitol Hill Traffic Plan. Remember that you are welcome to park in any available space in the parking lot and that you're welcom to come early to school. The drop-off is not busy at 7:45. Here are some general suggestions from our traffic plan:
DO:
Pedestrians and bikes only on Carson 7:30 - 8:15; 2:00 - 2:30
Cross only at crosswalks
Drop students off school curbside only
Keep 17th One Way - south during drop-off times
Be mindful of students crossing at 16th and Carson
Please Don't:
Make U turns in front of the school (it's unsafe and illegal)
Load/unload students at the crosswalk/yellow curbs
Block the parking lot entrance/exit
Park in the wrong direction
Finally, please talk with your student about our expectations: Be Safe, Be Respectful, and Be Responsible. They should be able to tell you about Bee Tickets and the behaviors we're trying to encourage school wide. Our awards/recognitions this past Monday focused on these expectations, along with their scholarly endeavors. They're doing a great job? Congratulations to all who received an award this month.
Enjoy your weekend! Principal Williams
A few reminders:
Volunteer training 6:00 before October PTA mtg. October 11th
Statewide inservice - no school / no day care - October 13th
Fall Book Fair - week of October 16th - in library
Grandparents/sSpecial Friends Day - October 20th
The Big Boo! - October 27th
Emergency Reunification Drill - November 14th
9/27/2017
Greetings Parents,
I hope you're all enjoying this beautiful weather!
I want to let you know that today, Wednesday, we had a LockDown drill. A LockDown is activated when there is a threat inside the school building. The language we use is Locks, Lights, Out of Sight. Teachers lock doors, pull blinds, and have students move away from sight. Students are asked to maintain silence. Students and teachers stay in position until Principal or designee unlocks the door. The drill is activated over the Voip system (phone intercom) using a recording within the system.
The students did well and school went on as usual.
Please don't hesitate to contact me with questions or concerns.
Sincerely, Principal Williams
09/22/2017
Greetings,
Happy first day of fall!
With the advent of rain this week, I'm compelled to let everyone know that as Oregonians, we go outside in the rain. All kidding aside, we take the children out as much as possible. Please be sure that your student has an appropriate jacket, etc. They may even change into boots if you would like and they can do it independently. However, they may NOT take an umbrella on the playground.
With jackets, comes the ever-growing Lost and Found. Please be sure to check for missing items frequently. It is located by the exit door to the parking lot.
It was wonderful to see everyone at Back to School Night! Despite the rain, I think it was a fun evening for all. Thank you, we so appreciate your attendance and getting to meet you!
It was also great to see several parents at "a Cup of Joe with Joy" this morning. This little gathering happens the third Friday of the month. It is an opportunity for you to talk with me and other parents informally, about whatever is coming up for you.
This morning we talked about lunch time. All students have at least 20 minutes in the cafeteria and can stay longer if needed. That said, those going through the hot lunch line, sometimes have a bit of a wait. As time passes, the students will get quicker. It will help if they know their 6 digit student numbers and focus on the task at hand. However, they are children so we can only get them through so fast. It's actually going pretty well for September.
Finally, I just want to remind you of a few upcoming calendar items.
Volunteer training 6:00pm before October PTA mtg. October 11th

Statewide inservice - no school / no day care - October 13th

Fall Book Fair - week of October 16th in the library

Grandparents/Special Friends Day - October 20th

The Big Boo! - October 27th

Emergency Reunification Drill - November 14th
Have a great weekend!
Principal Williams
09/15/2017
Greetings,
What a great week it has been! Our kindergarteners in three classrooms and doing wonderfully! Across the school, students seem to be settled in and ready to focus in on learning.
It was also great to see so many of you at the first PTA meeting! There is much to be done and parental involvement is essential to student success. Thank you PTA for the work you do!
Please be sure to join us for Back to School night which will be this coming Tuesday, September 19th beginning at 5:30 with a family picnic. You will visit your child's classroom at 6:30. If you have a second student there is a second presentation at 7:00. It will be a good time to meet your student's teacher and hear about classroom routines, etc. It's also a time to meet other parents.
Next week we will also have our first Late Opening on Wednesday, the 20th. School will open at 10:00. Buses will run their normal route, just two hours later.
Traffic: With many new families, I like to review traffic concerns. Please see below for the suggested traffic patterns.
Additionally, parents have asked that we work together to keep the entrance/exit to the parking lot free, so that people waiting wanting to park can enter/exit rather than waiting in the drop-off line. Thank you for your patience and understanding in working together around our arrival and dismissal.
Finally, you may have noticed the plywood on the play structure. Our bridge was in need of repair. Please keep students off the blue railings that are for the bridge as we await the repair. Thank you.
Pick up and drop off on 17th in the designated Drop Off Only Zone in front of school
Drop students school curbside
Do NOT drop at yellow curbs
Please park the correct direction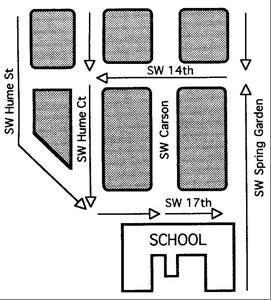 Have a great weekend! Principal Williams