2/9/18
Greetings,
It's been a busy fun week! Fun this week included:
Awards Assemblies:
Monday, we held our Awards Assemblies for the month of January. Congratulations to all the students recognized for their hard work in both academics and in supporting a positive school community.
OMSI classes:
All students participated in OMSI science classes on either Wednesday or Thursday. The classes were hands on and interesting. Students were engaged and excited about their learning. Thank you, parents, for supporting Science enrichment here at Capitol Hill.
Free Draw:
Today students engaged in Free Draw during lunchtime. This was an incentive activity that the students reached through earning 3B tickets for being Safe, Respectful and Responsible.
Post Office:
This week students had opportunity to buy postcards, write a message, and mail them to friends and teachers. The students have a lot of fun with this activity sponsored by Ms. D. Postcards were designed by students and students help with the mail delivery. This activity serves as a fun way to get students into writing letters.
Family Fun Dance:
Thank you to the PTA for sponsoring a Family Dance. Everyone had a great time.
Annual Auction: School of Rock
Speaking of fun, the Annual Auction is almost here! Put on by the PTA, this is an event that helps support the school in a fun way for parents. The theme this year is "School of Rock." It will be held at the Jewish Mittleman Community Center on Saturday, February 24th with doors opening at 5:30. I hope you will join us for an evening of dinner and fun. Tickets are available through the PTA. This year's special appeal will focus on music enrichment at Capitol Hill. The goal is to raise enough money to support having musical opportunities through a music residency. I hope to see you all there!
Report Cards:
Thank you all for your patience and perseverence as we made the switch to offering report cards on line. There were a few glitches, but generally it went well. If you have not yet accessed your student's report card and need help, please feel free to contact Heidi for help with the code.
Kindergarten Connect: Please help get out the word.
This Thursday, February 15th at 6:30, we will hold our Kindergarten Connect session for incoming Kindergarteners. Parents will hear about our program, ask questions, and get information for enrolling. We look forward to registering as many of our prospective students this spring in order to be ready for the fall. Thanks in advance for spreading the word!
Upcoming dates to Note:
Monday, February 12th: OBOB (Oregon Battle of the Books) begins and runs through the 23rd.
Friday, February 16th: Cup of joe with Joy - 8:00AM
Monday, February 19th: Presidents Day - No School Building closed.
Wednesday, February 21st: Late Opening school begins at 10:00
Wednesday, February 21st: Site Council meets at 2:40 in the Library.
Saturday, February 24th: School Auction
Have a great week!
Principal Williams
1/26/18
Greetings,
End of Quarter/Semester - Report Cards:
Monday marks the end of the second quarter/first semester. It is a teacher planning day, so there is NO school. Vermont Hills will be open. With the end of the second quarter it is time for report cards. In an effort to go paperless, you will find your student's report card through Parent Vue in Synergy. If you need assistance in accessing Parentvue please contact Heidi or Mike in the main office. If you would like a paper copy, please ask your teacher and they will gladly print one for you. Report cards will be available Monday morning, February 5th.
Decathlon:
I want to begin by thanking Jill Morgan and her team of volunteers for managing and supporting the Decathlon Thursday! The kids had a lot of fun and the whole event went really well. It was wonderful to have the help of the PTA/parent volunteers. Additionally, thank you to all of you who have supported having this partnership with OMSI. The extra dose of science curriculum has been very appreciated by students and teachers alike. Thank you!
Buddy Bench:
A big thank you to Mr. Sarkisian and Mr. McAllistar for installing our new Buddy Bench. It's really cute and the students have a new, fun place to sit with their friends. The bench was installed near the playstructure by the picnic benches. It was a gift from last year's fifth graders.
TAG testing:
Students scheduled to test as per fall applications will test this Tuesday and Wednesday. Please have students rested and on-time. Thank you.
Kindergarten Connect:
Please help spread the word. Kindergarten Connect will be Thursday, February 15th. We're anxious to get our new little ones registered early.
Traffic Concerns:
Please remember to follow all traffic procedures so that we can keep everyone safe. These include:
drop your students schoolside, non-yellow curbside
always have students use the crosswalk
park the correct direction
no Y or U turns
keep Carson for walking during drop-off
work to keep 17th one-way south in the mornning
please don't block the parking lot entrance
please try not to park on the gravel strip on 17th by St. Clare's
Thank you! Working together gets everyone to their destination safe and more timely. :)
LICE:
Lice are a typical member of the community. Please be aware and check your student. We follow the PPS policy found on-line and do not exclude except for active live bugs.
Shoes:
Rolly Shoes, Wheely Shoes, etc. are NOT allowed in school. Though I must admit they look fun, they are not allowed for safety reasons. Thank you for understanding.
Thank you, have a great weekend!
Principal Williams
1/24/18
Greetings,
A quick note to let you know that we held a "Team Response Drill" this afternoon. This drill is used for a medical emergency. Teachers take all students into their classrooms and continue business as usual. The reason this is used in a medical emergency is three-fold. One, to allow EMTs to have easy access to the emergency; two, to protect the privacy of the person injured or ill; three, to avoid upsetting students or exposing them to something that may be uncomfortable or scarry. It was ONLY a practice drill today.
The drill is announced over Voip (PA system) and uses a recording that is somewhat mechanical sounding. When it is over, I announce an all clear using the radios.
If you have any questions or concerns, please don't hesitate to contact me. We will also have a fire drill before the end of the month.
Principal Williams
1/12/18
Greetings,
It's so good to be back in school after the break. It's already been a busy two weeks. This week we had our Recognition Assemblies as well as an OMSI assembly for k-2/3-4 on weather. The fifth grade went to the Planetarium and the third grade had a fieldtrip to the RICE Museum in support of their study of Rocks and Minerals.
We have several things coming up of which I need to make you aware.
We have NO School or Daycare on Monday, January 15th, as it is a National Holiday celebrating Dr. Martin Luther King, Jr. and the work that he did. Please see the PPS website for events happening on that day.
We have a LATE OPENING on Wednesday, January 17th. School begins at 10:00. (There is a reduced breakfast on Late Opening days.)
The PTA will sponsor Family Fun Night, Friday, January 19th. It will be a game night and starts at 6:30 - 8:00.
There will be No "Cup of Joe with Joy" Friday, the 19th, as I will be at a conference. (There will be a guest principal.)
Thursday, January 25th, the students will participate in the Decathlon. Please considering volunteering through the PTA.
Monday, January 29th is a teacher planning day - no school for students. Vermont Hills will be open.
Coming in February: Kindergarten Connect
Please help get the news out about the Kindergarten Connect, Thursday, February 15th - 6:30 - 7:30
In planning for next year, it is helpful to have kindergarten registrations completed in the spring so that we can staff accordingly. Please encourage anyone you know with a kindergarten child for next year, to attend Kindergarten Connect and/or to register early. Thank you for your support.
Upcoming Report Cards:
Friday, January 26th, is the end of the 2nd quarter/1st semester. We would like to share report cards via Parent Vue in Synergy to reduce paper waste. We are working with PPS tech to determine what date that will be and to ensure you will all have access. Please know that we will gladly print a student's report card, if requested. Also, if you need assistance with parent vue access, please contact Mike or Heidi in the office.
TAG testing:
Students who were recommended in the fall for TAG identification will participate in testing January 30th and 31st. Please be sure to have them well rested and in attendance on those days. There are no make-ups on-site.
Site Council:
Capitol Hill Site Council generally meets the third Wednesday of the month at 2:40 in the Library. Please feel free to attend.
Have a great 3-day weekend!
Principal Joy Williams
Another note concerning safety, is that of our traffic pattern. As a school community we are trying to keep Carson free of cars so that walkers can have a safe avenue to school. Between 7:50 - 8:05, it would be really helpful if drivers could use a different route. I understand it is frustrating to wait in the line for a turn onto Spring Garden, but the safety of our students is our main concern. Students may wait in the entryway beginning at 7:40.
Please read and observe the following:
make 17th one-way heading south during drop-off
leave Carson for walkers
park only the correct direction
NO Uturns
observe yellow curbs/crosswalk (they are a NO Drop zone)
drop students curbside, school side
ALL students should use the Crosswalk
Keep the parking lot entrance clear
Bus Zone is for buses only
No parking in St. Clare's parking lot
I also want to encourage you to follow our Capitol Hill Traffic Plan. Remember that you are welcome to park in any available space in the parking lot and that you're welcom to come early to school. The drop-off is not busy at 7:45. Here are some general suggestions from our traffic plan:
DO:
Pedestrians and bikes only on Carson 7:30 - 8:15; 2:00 - 2:30
Cross only at crosswalks
Drop students off school curbside only
Keep 17th One Way - south during drop-off times
Be mindful of students crossing at 16th and Carson
Please Don't:
Make U turns in front of the school (it's unsafe and illegal)
Load/unload students at the crosswalk/yellow curbs
Block the parking lot entrance/exit
Park in the wrong direction
Pick up and drop off on 17th in the designated Drop Off Only Zone in front of school
Drop students school curbside
Do NOT drop at yellow curbs
Please park the correct direction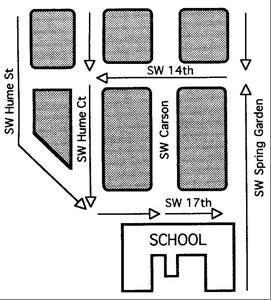 Have a great weekend! Principal Williams