Faubion Families,
Happy New Year to all our bulldog families! May this year continue to bring care, support, and joy to our community.
As we quickly cruise into January, below are a few important dates to note.January 10th 5:15pm – Faubion Family Site Council Room #188
January 10th 5:15pm – Faubion Family Site Council Room #188
January 11th 3:30pm – Faubion PTA Meeting
January 12th 8:45am – Hora de Café Meeting
January 12th 6:00pm – Middle School Family Connect meeting (meet.google.com/zcy-oomn-qus
January 13th – PK No Child Day
January 16th- Dr. Martin Luther King Jr Day/ No School
January 26th – End of Semester
January 27th –Teacher Planning Day/ No School
February 1st- PTA Meeting 6:30pm
February 2nd – Hora de Café 8:45am
February 3rd – Pastries w/ Dr Williams 9:00am
Faubion Family Site Council
We invite parents/guardians/family members to join the next Faubion Family Site Council January 10th at 5:15pm in room #188. We will be discussing the possibility of branching into smaller subgroups to tackle topics such as raising academic achievement in literacy & mathematics and increasing family participation/engagement. We look forward to seeing you soon! Childcare and Spanish translation needs available.
Winter Assessments
As we move into the Winter months, we will be launching a series of winter academic assessments. These are used to assess where we are in terms of intervention supports as well as general academic achievement. Though these are low stakes assessments, they are incredibly important in informing our instructional next moves. Our staff will be reviewing growth goals for their students. Please support your student in being ready to demonstrate their best on these assessments, so we have an accurate picture of where we need to go next on our academic paths!
Successful Schools Survey
Beginning January 23rd, PPS will be launching their annual Successful Schools Survey. This survey is taken by PPS staff, administrators, families, and students grades 4-8. The data from these surveys focus primarily on issues related to "climate" such as safety, relationships, belonging, inclusion, etc. It is critical that we have strong participation on this survey, so we can accurately gauge our strengths as a school community, as well as areas for growth. More info coming soon!
I hope the holidays were filled with joy and rest. And we also hope you were able to weather the winter storms well!! Here's to a great 2023! Thank you for all your support and care.
In partnership,
Dr. Karmin Williams
Familias de Faubion ,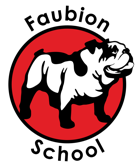 ¡Feliz año nuevo a todas nuestras familias de bulldogs! Qué este año continúe brindando atención, apoyo y alegría a nuestra comunidad.
A medida que avanzamos rápidamente en este mes de enero, a continuación se presentan algunas fechas importantes para tener en cuenta.
Jueves 5 de enero 8:45 am – Encuentro Hora de Café
Martes 10 de enero 5:15 p. m. – Salón del consejo del sitio de la familia Faubion # 188
Miércoles 11 de enero 3:30pm – Reunión de la PTA de Faubion
Jueves 12 de enero 8:45 am – Encuentro Hora de Café
Jueves 12 de enero 6:00 p . m.: reunión de conexión familiar de la escuela intermedia (meet.google.com/zcy-oomn-qus)
Viernes 13 de enero – PK Día sin niños
Lunes 16 de enero - Día del Dr. Martin Luther King Jr./ No hay clases
Jueves 26 de enero – Fin de semestre
27 de enero –Día de planificación del maestro/ No hay clases
Miércoles de febrero - Reunión de PTA 6:30pm
Jueves 2 de febrero – Hora de Café 8:45am
Viernes 3 de febrero – Pasteles con el Dr. Williams 9:00 am
Consejo del Sitio de la Familia Faubion
Invitamos a los padres/tutores/miembros de la familia a unirse al próximo Consejo Escolar de la Familia Faubion el 10 de enero a las 5:15 pm en el salón #188. Estaremos hablando de la posibilidad de dividirnos en grupos más pequeños para abordar temas como aumentar el rendimiento académico en alfabetización, matemáticas y aumentar la participación/compromiso familiar. ¡Esperamos verlos pronto! Tendremos cuidado de niños y traducción en español disponible.
Evaluaciones de invierno
A medida que avanzamos en los meses de invierno, lanzaremos una serie de evaluaciones académicas de invierno. Estos se utilizan para evaluar dónde estamos en términos de apoyos de intervención, así como el rendimiento académico general. Aunque estas son evaluaciones de bajo riesgo, son increíblemente importantes para informar nuestros próximos pasos de instrucción. Nuestro personal revisará las metas de crecimiento para sus estudiantes. ¡Apoye a su estudiante para que esté listo para demostrar lo mejor de sí en estas evaluaciones, para que tengamos una imagen precisa de hacia dónde debemos ir a continuación en nuestros caminos académicos!
Encuesta de escuelas exitosas
A partir del 23 de enero , PPS lanzará su Encuesta Anual de Escuelas Exitosas. Esta encuesta es realizada por el personal de PPS, los administradores, las familias y los estudiantes de los grados 4-8. Los datos de estas encuestas se centran principalmente en cuestiones relacionadas con el "ambiente en la es escuela" como la seguridad, las relaciones, la pertenencia, la inclusión, etc. Es fundamental que tengamos una fuerte participación en esta encuesta, para que podamos medir con precisión nuestras fortalezas como comunidad escolar, así como áreas de crecimiento. ¡Más información próximamente!
Espero que las vacaciones hayan estado llenas de alegría y descanso. ¡¡Y también esperamos que hayan podido sobrevivir bien las tormentas de invierno!! ¡Les deseamos un gran año 2023! Gracias por todo su apoyo y atención.
En solidaridad,
Dra. Karmin Williams