Dear Ida B. Wells Students and Families,
I will remember today for a long time. After not seeing students in our building for more than a year, today we had the great privilege of welcoming many of our students back to our classrooms. Although everyone's faces were covered by masks, I could see lots of smiling eyes. I am hopeful that today marks the beginning of a new chapter. I look forward to seeing the rest of our Hybrid students later this week and hope that at some point in the near future, we will be able to safely welcome all of our students back to Ida B. Wells HS.
Filip Hristic, Ida B. Wells HS Principal

More announcements for the week:
OUR SCHOOL

Learning About Our Namesake
Please join us on Thursday, May 6th from 6-7pm for a Community Conversation wiht Ida B. Wells-Barnett's Great-Grandson, Dan Duster. The event is co-sponsored by Ida B. Wells High School Community Equity Council (CEC) and Wells Cluster PTA's. For more information and to Register: Learning about our Namesake Registration
Hybrid Learning
For general information regarding Hybrid Learning, including the new schedule, please visit the Hybrid Learning page on our website: Hybrid Learning at IBW
Covid Testing Consent Forms
The COVID test consent form (in both English and Spanish)are here: Covid Testing Consent Form_English Covid Testing Consent Form_Spanish
We will need this form on file for any student who is showing symptoms and needs a test. We cannot test students without prior written consent. Please print a copy of this form and have your student turn in the completed from as they enter the buidlng on their first day of Hybrid Learning.
Attendance Updates
Our Attendance Secretary is on leave until mid-May. Kathy Lommen is filling in as our attendance secretary during Sara's absence. If you need to report your student's absence, please email klommen@pps.net or call the main office at 503-916-5280.
Attendance will be changing beginning today with the start of Hybrid Learning, to learn more about those changes, visit the Hybrid Learning page: https://www.pps.net/Domain/6586
Meal Distribution
Meal access is critical for many families within our district and PPS is working to ensure that meal access continues for all students, whether or not they return to school for hybrid in-person instruction or if they remain in distance learning. All school meals will continue to be free for all students in all schools, and no student ID or names are needed to receive meals.
Once a student returns to hybrid in-person instruction, meals will be served at their school at the end of their in-person session.
If a student is staying in distance learning -- or if their hybrid in-person learning has not begun -- they should visit 3:30 and 4:30 p.m. on school days to pick up meals.
For the remainder of the year, grab-and-go meals will be available between 3:30 and 4:30 p.m. on school days for all children in the community (PPS students and children not enrolled at PPS) ages 1-18. Ida B. Wells High School, Jackson Middle School and Robert Gray Middle School are all Meal Distribution Schools.

Transportation
Bus Information
Our PPS transportation department has worked with Trimet on their plan to ensure we have enough available seats for students at the adjusted bell times for this year. They were able to confirm that they have analyzed the affected routes and added service to lines 1,44,51 and 71. They will be monitoring all the rest closely with a plan for overflow on school routes.
Parking Passes
If you already registered your car but haven't picked up your pass, it will be delivered to you in your classroom. If you still need to register your vehicle, you can do so on this form https://docs.google.com/forms/d/e/1FAIpQLSfXbXnKNu0TJv_mHIGMHEqGoI_OSAawk1Zd8PNpulSZ195cQQ/viewform
Entering the building for Hybrid Learning
Each grade has been assisgned an entrance for entering the building:
9th grade: Front Doors, Vermont St.
10th Grade: Side Doors, Wilson Pool side
11th Grade: Stair Doors, Gym Entrance
12th Grade: ADA Ramp, Gym Entrance
For further clarification, view this attached map: Campus Map with Hybrid Learning Entrances

School Map
For any 9th graders unable to join the school tours last week or any other student new to Ida B. Wells HS, here is a link to a School Map to familiarize yourself with the inside of the building.
ACADEMICS
Juniors - Senior English Reforecasting
We have had to make some unanticipated adjustments to our Senior English course offerings, and we need you to complete the following form, essentially "re-forecasting" for your Senior English course. We will be offering three course options:
* AP English Literature
* Contemporary Texts and Media (Dual Credit Opportunity)
* Creative Writing (Dual Credit Opportunity)
Please rank your choices (1st, 2nd, 3rd) on the following form Senior English Reforecasting Form by Wednesday, April 21.
SAT for Juniors, April 27
Students that registered to take the SAT at IBW and their parent(s)/guardian(s) were emailed (students to their student PPS email) with the date of their exam, testing room and assigned entrance. A reminder email will be sent by 4/21 as well. If you don't receive the email, contact amenashe@pps.net. Review this pdf_sat-school-day-student-guide.pdf for important information, test taking tips and sample questions. If you want a paper copy of the Guide they are available for pickup outside the front entrance to the school. All students arrive at their designated entrance by 8am. Students should bring #2 pencil(s), approved (see student guide) calculator (a limited number of calculators will be available at school), ID - school ID or other picture ID, water bottle. Masks must be worn at all times. Sack lunch and snack will be given as you leave the building at the two main exits.
AP Exams
Taking an AP Exam at home online? You must have: PC or Mac Laptop or Desktop or a school-owned Chromebook. Must also have a working camera on your computer. The following will NOT Work: A personally owned Chromebook, a smartphone, a tablet or iPAD
If you don't have access to the needed technology complete this
survey
urgently.
Spring 2021 AP Capstone Speaker Series
We are excited to invite the IBWHS community to an online speaker series featuring researchers this spring. Our speakers will share about some of their most impactful projects, the high value of research skills, and how social justice is centered in their work. Dr. Amara Perez, Christina Avila and Ngac Nguyen will be our speakers for our 2nd session on Wednesday, April 22 from 6:00-7:00pm. Visit the AP Capstone page on our website to learn more and to register. https://www.pps.net/Page/13344

COUNSELING

News from the College Center

April/May Lunch and Learn Series for Juniors
A series of lunch and learn sessions will be offered for Juniors by Ida B. Wells counselors and staff to share information and get your questions answered. Join us for these workshops - see the flyer for dates and link to sessions: Lunch and Learn Series
This Week: Wednesday, April 21, 12:10-12:40pm; Topic - Understaning The College Application Process

Coming Up:
Letters of Recommendation
Exploring Careers - Is College Right For Me?
The College Essay
Affording College
Athletics in College
Scholarships

Merle and Pat Lotz Music Scholarship 2021, DUE May 1
This music scholarship is a powerful way to honor and celebrate their many years of dedication to music education, as well as their love of students and people, and their understanding of the positive impact of music in the hearts and lives of all people. Applicants must have taken music classes at Wilson/Ida B. In addition to
this application
, you must have two teachers write a letter of recommendation. The Lotz Family would also like a 3-5 minute recording of your work. It can be original or of another artists work. It can be accompanied or not.
Bailey Passion Scholarship - Pursue Your Passion!
This is not based on academics, athletics, or need and is only for PPS Students! DUE May 1
Do you have a passion you feel has the potential to positively impact the world? Are you considering pursuing your passion in your career? If so, consider applying for the Bailey Passion Scholarship. Visit baileypassionscholarship.org to find out more, and to request an application!
Senior News, Class of 2021
April 7th - 60 Day Rule begins
Seniors shall be disqualified from participation in commencement exercises and related activities if within 60 consecutive calendar days of the last senior school day they are found to be in violation of District Alcohol or Drug policy or any violation resulting in a three or more days of suspension or more serious disciplinary action. (Reference 4.30.020-AD)

April 27 - Drive thru cap and gown pickup 1:30pm - 4pm - more details to come with pick-up times based on alphabet.

June 3 - Last day of school for seniors - this date has changed from June 2 due to a school closure earlier this year

Commencement Speaker Auditions Extended
- Interested in speaking at Commencement (may be in person or recorded)? Please let Abby Menashe know by emailing
amenashe@pps.net
before April 23rd
of
your interest in auditioning. Please review the
Guidelines for Auditioning
for more information before submitting your name.
Senior Ads in Yearbook
It's not too late to place a Senior Ad in the Yearbook! For more information about this and all news about the Senior Year and Graduation, visit our page, Senior News, Class of 2021
From our Social Worker, Britni Locke
Community Meditation
Beginning April 20th, Peace In Schools is offering free, online, community meditations every Monday from 8:15-8:45AM. To register. fill out the form which can be found at this link.
Black Youth Crisis Recovery Group
Are you a black student who is seeking a safe place to process and unpack trauma and grief that you may be dealing with as a result of current events? If so, please check out this flyer for more information on how you can join this group: Black Youth Crisis Recovery Group
Substance Abuse Information
The Substance Use Supports Team from Student Success & Health is excited to offer a Parent and Family Support Group in Spanish beginning this Wednesday 4/7. The group will be offered virtually from 5:00-6:30. Families are not required to attend all and drop-in's are welcome.
Topics will include:
Getting information about adolescent substance use and brain development
Reviewing skills for parenting during adolescents
Talking about what is "normal" and when to be concerned
Benson High School Wellness Center
The Wellness Center located at Benson High School is open to assist with medical issues. They are also now a location conducting COVID testing (not vaccines). For more information, please refer to this flyer: Benson Wellness Center
Parenting Class by LifeStance Health (formerly Western Psychological & Counseling Services)
See the flyer for more information Excessive Technology Parentlng Workshop
FAMILIES & COMMUNITY
Foundation
The next IBW Foundation Meeting will take place on April 22, 2021 at 7 PM. Please feel free to wear green during the call. We will finalize IBW's fundraising plans for the 2021-2022 school year. Parents and staff are welcome to join via zoom at the following link: April IBWHS 7PM Foundation Zoom Call If you plan to participate on the call and would like a copy of the meeting agenda prior, please email Brad Nelson at bknelson@cascadeautoglass.com. We look forward to seeing you at the meeting.
Booster Club
Ida B Wells branded merchandise is now available from our Booster Club. This initial product line includes the Lifting As We Climb Student Tee designed by IBW student Elle Unflat, our Type tees in standard cut or women's cut, some great Portland Gear tees and hoodies, plus face masks.
Ordering is open online with pickup arranged at the school. You do not have to have a student at Ida B. Wells to use this link and as a tip, click on the Add to Cart button to see images larger.
www.schoolpay.com/link/ibwgear
Or come by one of our pop-up sales running down at the Field House on the IBW track on April 20th and April 22nd, from 3-6pm.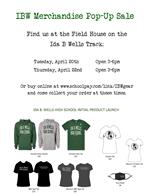 The Booster Club is still seeking individuals to fill this position for the 2021-2022 School Year:

Christmas Tree Sale Lead/Co-Leads
- Far and away our biggest fundraiser of the year. The former lead will still be a parent but needs to step away from leading the whole sale. The lead(s) run several committee meetings in advance and work from a pre-established playbook, then is generally available during the sale. You're not expected to be onsite during the entire event!
Time commitment is 10 hours of planning and more hours in person during the weekends of the sale.
Please contact Booster Club President, Jessica Christiansen at
jessicac@ibwboosterclub.org
if you are interested in this position.

PTA Board Positions for 2021-22
The PTA Board is looking for two new members for the 2021-2022 school year - Secretary and Membership Coordinator. High school PTA is much less involved than elementary or middle school! Usually, the Wells PTA has three or four general meetings a year, plus one or two Board meetings. Current Board members will be available for questions and assistance.
The Membership Coordinator position is busiest in the first couple months of the school year, but the new MemberHub program makes this much easier. Maybe 3-5 hours per month August, September, October - and then just spot checking for the balance of the year.
The Secretary position is usually just 2-3 hours a month when there is a Board or general meeting, including attending those meetings typically in September, January & May. Plus maybe a little work at the beginning of the school year getting our Standing Rules in order.
To volunteer or to get more information about each one, please email Marci Forbes at:
marcianddan@yahoo.com
Community Equity Council
Mark your calendars for Tuesday, May 11 for the next virtual event hosted by the Community Equity Council on Working on Anti-Bias as a community. To learn more about the event and the mission statement of the CEC, please visit
Community Equity Council
LIBRARY
New Procedures for Chromebook, Library, Textbook, and Calculator Checkout
The library and bookroom window are closed to drop-in student visits

ALL Students in CDL and Hybrid can continue to request Chromebooks, textbooks, and library books via Destiny holds, email, or Google Form. They will pick up materials at the front door:

Mondays, Tuesday, Thursdays, and Fridays 8:30-12:00 and 1:30-3:15, or

Wednesdays 8:30-3:30

Call library or bookroom to request materials while in onsite classes

Email questions and urgent requests to idabwellslibrary@pps.net. This email will go to both Cassie Lanzas and Hilary Woodard. One of us will answer your question or request.
Materials Request Form- For Students: http://bit.ly/IBWLibraryRequests
Office Hours Appointments: http://bit.ly/AppointmentWithLanzas
ATHLETICS
IBW Athletics Update
Greetings Sports Fans!
We have had some amazing weather for our first couple of weeks of Season 3 and the weather ahead looks outstanding as well. Most of our spring programming has been able to get out competing so far during Season 3 and some traditional rivalries renewed this week when the Baseball Program takes on Lincoln. We had some of our Season 2 programs make the Top 10 for Academic All-State, which demonstrates our commitmentto the classroom and athletics. Huge thanks goes to our teaching staff for all they do navigating the online world and a transition to hybrid next week. Speaking of hybrid learning, with school ending at 3:45pm, we will have to move our start times for practices to 4pm. Finally, thanks to all of you who continue to find ways supporting Ida B. Wells High School and our community! You all are appreciated! To read the entire IBW Athletics Weekly from Athletic Director, Mike Nolan,
IBW Athletics Weekly, April 19 Edition
Athletic Schedule, Week of April 19
For a complete listing of this week's athletic schedule, please visit the Athletics Website/THIS WEEK
Athletic Schedule, Week of April 19

IBW Athletic Schedule, Week of April 19


Dance Team Auditions for 2021-2022 School
Visit the Dance Team page on the Athletics Website to find out more information about our upcoming Spring Audtions to be held May 7, 3:30-5:30pm in the gym.
Dance Team Auditions
Softball Fundraiser

Ready to travel and help the softball team at the same time? Due to Covid-19, the softball program had to cancel their Spring Break trip last year and, unfortunately, the airfare was non-refundable. We have been working with Alaska Airlines to come with options to recoup some of the money our program lost. We have the opportunity to sell the tickets to other community members for full credit value. We have 14 e-tickets available with differing prices. Travel would have to be booked by 12/31/2021 and used by 11/24/2022. You may use the credit to travel anywhere Alaska flies and just apply the purchased credit toward your ticket cost. Our wonderful bookkeeper, Ana Curtis will help with the process. If you are planning to travel using Alaska Airlines, please consider purchasing this airfare and help our program rebuild! We will be putting each e-ticket on SchoolPay and the e-ticket number will be provided upon purchase completion. If you have any questions, please reach out to Ana Curtis at
acurtis@pps.net
or Tiffany Krake at
tiffany@brinsmail.com
.
STUDENT ACTIVITIES
Students for Environmental Action - Earth Week Activities
Celebrate Earth Week this week with Students for Environmental Action! We have fun activities planned including a Water Day, Recycling Day, and Gardening Day! The full schedule is below. Sign up at bit.ly/sea-earth-week

4/20 12:00-12:30: Water Day, come learn about water conservation and climate change with fun interactive activities!
4/24 10:00-12:00: Recycling Day and Seed pickup: come to the SEA garden (by the tennis courts) to drop off cans and bottles (all funds go to SEA club activities) and pick up materials for garden day. Registration is required for these events.
4/27 12:00-12:30: Garden Day: join us on zoom to learn about regenerative agriculture, gardening and pollinators and plant seeds! You can pick up free seeds for this activity on 4/24.


2021 Rose Festival Court Announcement

Congratulations to Cata Monteiro who was chosen last week as the Ida B. Wells Rose Festival Princess! You can view the announcement here:
https://youtu.be/wJspFBjGX7s
Congratulations as well to Eleanor Potter, Hannah Worden, and Bridget McMurray as members of the Ida B. Wells Rose Festival Court.