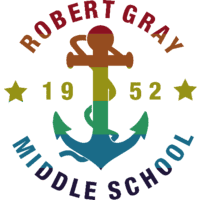 From Jeff Waters, Assistant Principal
Community - Equity - Growth

RGMS Families and Community,
First - L'Sahnah Tovah - Happy New Year to our Jewish students and families, and we wish you a good holy day next week for Yom Kippur.
It was great to connect with so many students and families last week at Back to School Night. Thank you to our awesome PTA for helping us fund and organize the event, and thank you to Friar Tuck Chicken for making sure we were well fed. We're interested in hearing from you about your experience at Back to School Night. If you attended the event, please complete this quick survey (link: https://forms.gle/6ruXgVA72QpQAEhs8) to provide feedback to our Building Leadership Team for future improvement.
At Robert Gray Middle School, we center continuous improvement - GROWTH - and believe that when we ask our community how we can best serve, reflect on that information, and let it dictate future planning, then we will improve the culture of our school and the learning that takes place here.
Our working school climate theory of action is:
If . . . we purposefully solicit voice from RGMS students
Then . . . teachers will use student feedback in engagement strategies, event planning, and opportunities for participation in school-wide decisions
And . . . students will develop greater connections and a sense of belonging at RGMS.

Last week, students took the School Climate Survey. We're in our 5th year of conducting this survey, and have used it over the years to make significant changes to our programming - adding affinity spaces and Student Leadership programs, for example - and to document the impacts of our school improvement initiatives over time (see data below).
I had the opportunity to teach our Student Leadership class today to talk about the importance of this work. When we work together toward our vision - that every student is an essential stakeholder and collaborator in their academic and social-emotional growth and that together we can build a better world in which we can all succeed - when we center students and lift up their perspectives, then we are more likely to produce outcomes that lead to student success both in and out of the classroom.
Be well and take care,
Jeff Waters
Assistant Principal