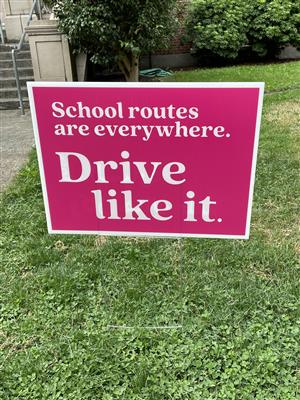 Traffic Pattern Guidance
For everyone new to the school and as a reminder for everyone, here are some traffic tips for drop off and pick up. The front of the school on Everett St. is used for quick drop-offs but it can be very congested.
Always treat Everett St. as a one-way traveling east, from 24th Ave. to 28th Ave.

Travel carefully and watch for pedestrians crossing on 24th and at the crosswalk on 26th Ave.

Do not block driveways or the park in front of the fire hydrant in front of the school.

Students should exit on the curb/passenger side if at all possible.

Please do not park for extended periods in front of the school or run your engine idling if you are sitting and waiting.

Don't park too close to the driveway from the parking lot west of the school because short school buses need to exit.

It is possible to enter the back parking lot from 24th at Davis or find a place to drop off a block or two away from the building and have students walk the remaining distance.

Parking in the neighborhood is very limited.

Make a plan in advance for where you will meet kids after school. You might want to park in the neighborhood and park then walk to meet them on the sidewalk in front until you get things figured out.

We encourage carpooling, public transportation, and walking/biking/scooter riding when possible. We will be working with PBOT on improvements to our carpooling network and traffic mapping so stay tuned.