Welcome to Portland Evening and Summer Scholars!
While this past year has thrown many obstacles our way, I am happy to share that we are still offering our current high school students the opportunities to recover credits towards their graduation. For the 2020 – 21 school year our Evening Scholars program will be operating remotely with all classes offered online. Due to the impact of COVID-19 on this school year, we do not yet know what the Summer Scholars 2021 structure will look like or the dates we will be operating but we definitely will be operating.
In general, Evening Scholars consists of a Fall session (October – January) and Spring session (February – May) while Summer Scholars consists of two to three sessions throughout June – August. Over the course of the year we enroll around 3000 students into any of the 34 courses we offer every session and, as we progress from Fall to Spring to Summer, our class sizes grow substantially.
If your student would prefer smaller class sizes, I would strongly recommend taking courses in the Fall where most classes have around 10 students. Spring is a bit larger (15 – 20 per class) and our Summer Scholars program is by far the highest enrolled with class sizes often going over 30 students.
Our Evening Scholars staff consists of around 50 dedicated professionals while our Summer Scholars staff grows to just over 100 professionals who work directly with students in their efforts to earn their required credits towards graduation. Not only do we have amazing classroom teachers but I'm very pleased to share that in support of our students, we also have a team of tutors, Special Education and ESL teachers, counselors, Student Success Advocates, Social Workers, and office staff to help get the kids across the finish line.
Every day we unconditionally welcome our students into our classrooms and provide them a warm, safe, and respectful place to learn. We are on a compacted calendar with a lot to cover in a shorter amount of time so we do stress the importance of maintaining a safe and respectful learning environment as well as consistent attendance.
Our program is an NCAA approved program and our teachers follow Portland Public School's curriculum calendars for the subjects they teach.
If there is anything we can help you with or answer any questions, do not hesitate to contact us. If you have specific questions regarding your student's graduation plans or requirements, please contact their high school counselor.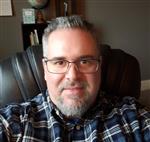 Thank you,
David Holm, Principal: dholm@pps.net
Trish Hendry, Principal's Secretary: thendry@pps.net
Morgan McFadden, Counselor: mmcfadden@pps.net