Message from Principal Ferraro:
Dear Parents,
I have spent the past week processing everything that is going on in the nation, our state, our city and yes, our own BCS community. I have been working through many emotions as I have been processing and I would like to share my thoughts as well as what BCS has been doing and will continue to do in the future.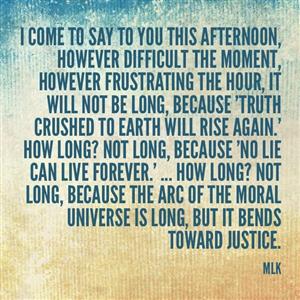 First, the main emotion that I am feeling is one of sadness. Sadness for the Floyd family in their time of grief and for all of the other families who are reliving their grief from a similar past incident. Sadness that these incidents continue to happen in our country and in this day and age. I was reading an article this morning that referenced Dr. Martin Luther King and his statement, "However difficult the moment," he said, " For me, it has been too long.
The second emotion that I have been dealing with is that of frustration. Frustration for our families of color who never know what kind of response they are going to receive when they walk out the front door of the house. Frustration that the majority of peaceful protesters are being overshadowed by the very few who are seeing this as an opportunity for civil unrest. Frustration that all police officers have to bear the brunt of a horrible decision by a small few when the overwhelming majority of police officers do an excellent job. And full disclosure, I have a nephew who is a Portland Police officer and I worry about his safety during the protests downtown.
Finally, I feel anger. Anger that people are using these protests for their own advantage like breaking in and looting stores. Anger at the current and/or former students who have been aware of the racial epithets inscribed on the hallway walls at Fernwood but have not stepped up to either admit to the issue or to indicate who it was who did it. This would have been a perfect opportunity for students to step up and make the statement "We won't stand for this" but what we heard was complete silence.
Over the past four years, we have worked to increase the opportunities for students to participate in discussions about Race both in their classrooms, in lunchtime clubs and Racial Affinity Groups. While we have not solved all of the issues, I feel like we have made the effort and moved the needle at making our students more race conscious and provided them the words to speak out when they see something that is inappropriate.
Our teachers are discussing the current issues with students in a grade appropriate way. The difficult part is that we are not reaching all of our students via the virtual learning but the goal is to continue the conversations with those students who are attending. We will also continue moving the needle next school year when we will have all of the students in front of us which will make a bigger impact. We will also continue our "Let's Talk Race" discussions for parents which I encourage all of you to participate.
To conclude, I return to the emotion of sadness. Sadness that we have some students who sit in our classrooms and have these discussions with their classmates and say all of the appropriate things. But when they leave the school and are with their friends their behavior does a complete 180. The goal is to make that portion of the population smaller and smaller over time so that there will be a point where even when they are out with friends, they do not feel comfortable expressing their racist views.
We have posted resources that you can access not only for your own learning but also to help you have discussions with your family members on the BCS website. Please know that we are here to support you and your children and we will continue with the work with the goal of making a difference at least in the BCS community.
Sincerely,
John Ferraro