Dear Beach Families,
Thank you so much for the wonderful start to our school year together! It is such a pleasure meeting children and families and I can't wait to meet and know you all.
In classrooms and other learning spaces across our school I am seeing that your children are such wonderful learners and people! And that our teachers are such wonderful learners and people, too. In classrooms children have been describing their hopes and dreams for the year ahead and are already immersed in reading, writing, math and science. Teachers are nurturing relationships, helping children know they can believe in themselves, and establishing engaging and productive learning environments.

If you haven't yet sent in an index card listing a strength or two for your child(ren), please do! You can send it with your child to give his or her teacher, or fill it out yourself in the office. Index cards can be found on the shelf at the main entry or on the office counter, and we're happy to loan you a few markers.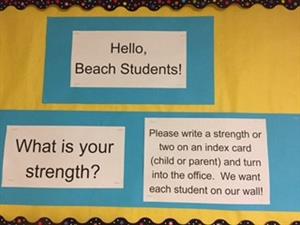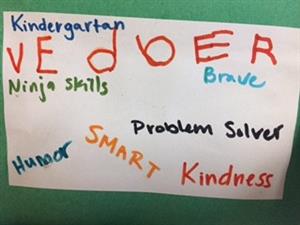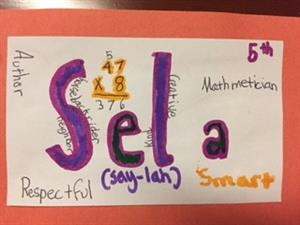 We are excited to talk with you about the great school year ahead at Back to School Night Tuesday, September 26. Please plan to attend with your child(ren)! Children, teachers, specialists and I will all have information to share with you. Your child's teacher will be sharing details.
Thank you for bringing or sending us your wonderful children; they light Beach School up with their delightful ways of thinking, their thoughtfulness and their enthusiasm.
Warmly,
Lisa Hawking
Principal
8 de septiembre
Estimadas Familias de la escuela Beach,
¡Muchas gracias por el maravilloso comienzo de nuestro año escolar juntos! Fue un verdadero placer conocer a sus hijos y familias No puedo esperar para conocerlos a todos.
En los salones de clase y en otros espacios de aprendizaje a través de la escuela estoy viendo que sus hijos son unos estudiantes maravillos como personas, y nuestros maestros son maravillosos estudiantes también! . En clases los niños han estado describiendo sus esperanzas y sueños para el resto del año y ya están inmersos en la lectura, escritura, matemáticas y ciencias.Los maestros están nutriendo las relaciones, ayudando a los niños a saber de que ellos pueden creer en ellos mismos, estableciendo entornos de aprendizaje atractivos y productivos.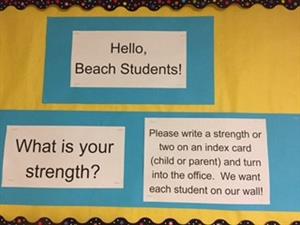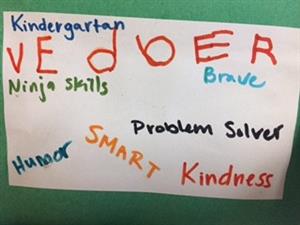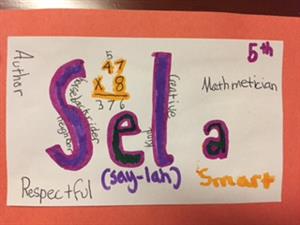 ¡Si usted no ha enviado una tarjeta enumerando una fortaleza o dos de sus hijos, por favor hágalo! Puede usted enviarlo con su hijo o entregarlo al maestro, o llenarlo usted mismo en la oficina. Puede encontrar las tarjetas al frente de la oficina en la entrada principal o en la oficina en el mostrador. Estaremos felices de prestarles marcadores.
Estamos entusiasmados de hablar con ustedes a cerca del año escolar que tenemos por delante el Martes, 26 de septiembre. La Noche de Regreso a la Escuela. ¡Por favor planee asistir con su hijo/s! Los niños, maestros, especialistas y yo tendremos información que compartir con ustedes. El maestro de sus hijos estará compartiendo detalles.
Gracias por traer o enviar a sus maravillosos hijos. Ellos iluminan la Escuela Beach con sus maneras agradables de pensar, su reflexión y entusiasmo.
Sincerely,
Lisa Hawking
Principal