Dear Beach Families, September 7, 2018
Thank you for your important part in what has felt like a busy and fast but really great start to the school year! Across the grades, teachers have been engaging students in reading, writing, math, and science (for starters) and simultaneously teaching the routines and structures that will support caring, inspiring and productive learning environments. I have noticed many fun and authentic ways teachers are getting to know their new students and also creating opportunities for students to come to know each other. From the first hour of our first day last week, teachers have been focused on creating the conditions that will help children know they can believe in themselves as learners.
If you haven't yet had a chance to work with your child to complete our "Beach Mission Statement Feedback Sheet" that was in your Back to School packet (also available in the office) please do! You can send it with your child or drop it off in the office. I've learned and appreciated so much as I've read adult and child responses to "something you need or want from your school experience this year", and hope you can find a chance to take a look at the many sheets that have been returned; they are hanging from the entry, down the hall past the Maker Space and then down to the art room. We'd love to add your child's or family's hopes and needs to our walls!
Here are a few excerpts:
Be you

Full buy-in and accountability to the mission's goal of valuing each person

I hope that things are well organized

I like being interested

Helping our son be confident in his abilities

Make sure that we have strong friendships and that no one feels left out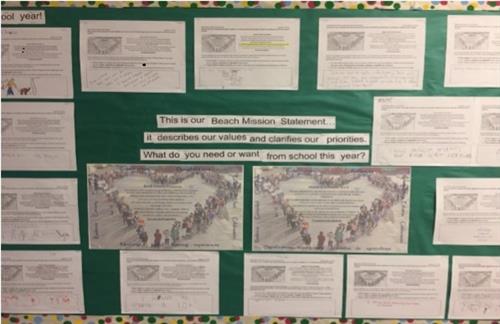 I am pleased to introduce three new Beach team members to you! Anjene Bryant is our Assistant Principal. Anjene understands the importance of working from strengths and building warm, caring, positive relationships as she collaborates to support the complex work of teaching and learning. She has a heart for engaging all students and families in a school community, and experience and excitement around facilitating family programs that meet needs and provide access for all, fun, and learning at the same time. She is excited to learn more about our district Equity Based Balanced Literacy adoption and Lucy Calkins resources alongside us, and to support our mission. Here are some words for you from Anjene: After almost two decades in education in Portland and Vancouver, I am thrilled to join the Beach team as Assistant Principal! I have taught at the elementary and middle school levels with both Vancouver and Portland Public Schools and am a graduate of Western Washington University, Heritage University and the University of Portland. Most recently, I served schools in the Roosevelt, Grant and Cleveland clusters as a School Climate TOSA. I am excited to support students and families this year and am looking forward to getting to know the Beach community. I am a budding Latin ballroom dancer and love to read, cook and host friends and family.
Julianne Stevens is our 2nd grade neighborhood teacher. Julianne brings experience teaching 2nd and 4th grades as well as Kindergarten, and was an Instructional Support Specialist at another school in PPS last year. She is also a PPS parent of elementary aged children. Ali Piff, who was part of the 5th grade DLI teaching team last year, is teaching 5th grade neighborhood, with the departure of Katia Fleischman. Julianne loves to find ways to create connections across the curriculum for her students, as well as ways to help students feel engaged and successful as learners and community members. Fun fact: her whole family knows how to roller skate!
And, it is with great pleasure that we introduce to you our new SEI/Beach SUN Community School Site Manager, Mr. Alonzo Chadwick! Aka…Mr. Zo! Alonzo is a Portland native and has very strong ties to the N/NE Portland Community. He brings a wealth of knowledge and experience in Family Engagement, Child and Youth Development, Partnership and Collaboration, Mentoring, Equity and Inclusion, and advocacy. He is a devoted husband and father of 4 (with one on the way) and an amazing singer/actor! He has returned to SEI after a 4 year hiatus and we are thrilled to have him back! He will bring to Beach a fresh approach to program development, access to a variety of community resources for our families, a true devotion to bridging cultural and racial gaps and an overall passion to help kids and families succeed. Cinda has known AIonzo for over 10 years and is beyond honored to pass on the torch to her dear friend. Please welcome him with an open heart and open arms to our Beach School Community!
Please join us for Back to School Night Thursday, September 20 from 6-7:30. Please plan to attend with your student(s). ESL, Gifted Education, Special Education, PE, Counseling and Art Specialists will be available or presenting for families at 5:30, All Community presentation is at 6, and classroom presentations begin at 6:30 and 7. Each child in our school will have a special presentation on the wall to share with you! We hope you enjoy your child's part in our school-wide Celebration of Family, and we appreciate this opportunity to share our school goals, grade level standards and highlights, volunteer and homework information, and classroom schedules and events with you. Please mark your calendar and join us… to learn, connect and to show your child your value for their school.
Thank you for your wonderful children; they light Beach School up with their delightful ways of thinking, their thoughtfulness and their enthusiasm.
Warmly,
Lisa Hawking, Principal