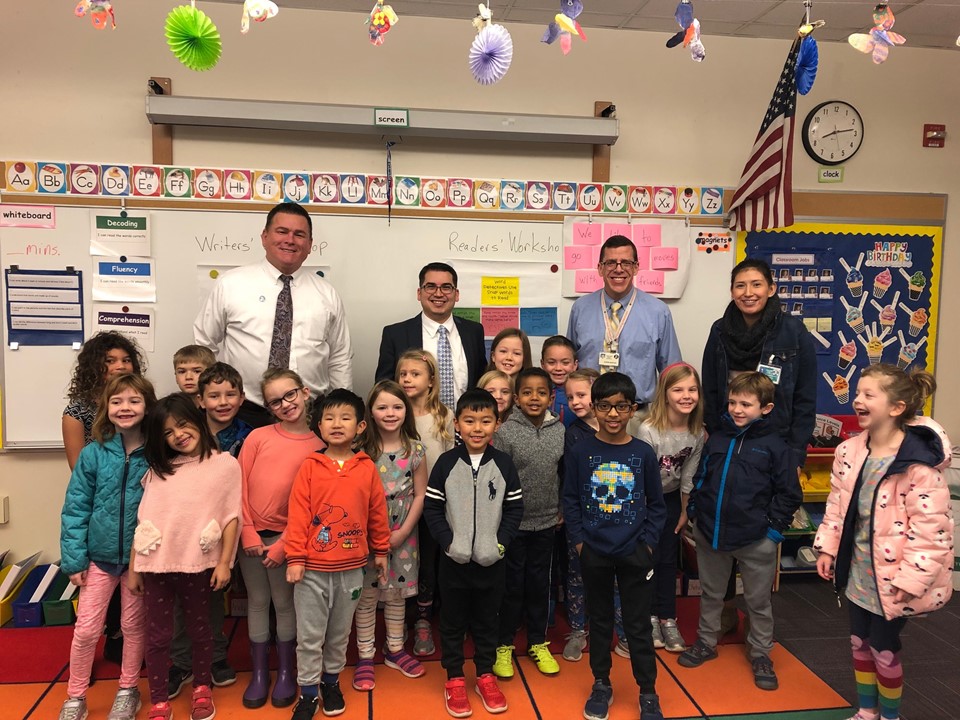 Dear Parents and Families,
On Tuesday we welcomed Chief of Schools, Dr. Kregg Cuellar!
His first visit to our campus, we made a excellent impression. Stepping into classrooms and walking around campus, Dr. Cuellar commented how welcoming and positive FPE feels. Student work on walls in and out of classrooms, he saw evidences of high level teaching and learning. Come back anytime, Dr. Cuellar!
And so begins Winter Break 2018, after a day of Pajamas to school, hot chocolates and winter time classroom celebrations. Our school year is off to a great start. I hope the next couple of weeks gives you a chance to connect with your children and reflect on how much they've grown and changed over the past several months. We're getting very close to the mid-way mark to the school year. In my walkthroughs around the school, I'm delighted to see so much growth and development. Our 5 and 6 year olds students stop using "scribble scrabble" (as one Kinder put it) and use letters and snap words to their writing. 3rd graders are using their detective skills to connect factual evidence in fiction and mystery writing. 5th graders are calculating volume of three dimensional shapes. Ask a 4th grader about what they've learned about bacteria and mold. 2019 promises to be a great year of growth and change in the best of ways.
As much as we focus on academic growth, I want to acknowledge how students have demonstrated their social/emotional health.
Showing empathy and kindness, respect and inclusion are always in the forefront of our minds as educators. In December we took time to focus on Inclusion. Take a moment and read what we shared in last week's Spirit Assembly,
All Are Welcome
.
Check your inboxes soon for the latest PPS Pulse.
FPE will be featured for our annual FPE Food Drive! Tuesday all 150 boxes left the front hall and made their way to Scott, Vestal, and Whitman Elementary schools. Each year we hear back from those three communities just how welcome and vital our generosity is in helping families facing food insecurity. Our goals in the Food Drive have been two-fold: making a positive impact on hunger in our community while teaching our children about what food insecurity is and how they can help.
I hope that the Winter Break and Holidays give you an opportunity to reconnect, relax, and enjoy with friends and family. I'll look forward to seeing you all on Wednesday, January 2nd, 2019!
Warmly,
Lisa Newlyn,
Principal