All visitors/volunteers will need to wear the printed name badge that identifies their name, the date and their destination. The system will create a record with the scanned photo, name, date of birth, and last four digits of the ID number. If you are undocumented or do not have a government-issued ID, bring the official records that you have (i.e. birth certificate, foreign passport, etc.) and school administrators will evaluate and make determinations. Our database is for PPS district use only, and information is not shared with any outside agency.

Approved volunteers who have cleared a Volunteer Background Check will already have their names in the system; however, they will still need to provide their ID upon their first visit. Upon future visits, they will be able to use their name to pull up their record and sign in. Approved volunteers may chaperone and work with students in our schools, whereas, visitors are only allowed restricted access and for shorter lengths of time. New volunteers should visit www.pps.net/volunteer to complete the online volunteer application. Thank you, in advance, for your understanding and support of enhancing school safety protocols in our district. Please bear with us over the next few months while we implement this new system, as it may take longer to sign-in with our office staff.
Carlos Galindo, Principal
Stephenson Elementary
SAFEOREGON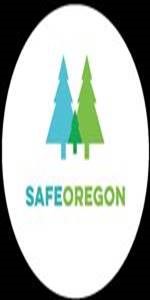 The SafeOregon Tipline aims to increase student safety
Keeping with our commitment to student safety, PPS joined school districts across the state a couple years ago in using the SafeOregon Tip Line. We want to remind you about this important resource.
SafeOregon was funded by the Oregon Legislature as part of a statewide effort to improve school safety. It provides a secure means for anyone to anonymously report suspicious or imminently unsafe situations, such as threats of violence, fights, drugs and alcohol, weapons, bullying, harassment, intimidation or self-harm.
Anyone, from students to parents to community members, can access the system in a variety of ways, including:
● The "Report unsafe behavior" button found on every PPS school's website
● The SafeOregon website
● A live call/text (844-472-3367)
● An email to tip@safeoregon.com
● The mobile app that can be downloaded from your Smart Phone via iTunes or Google Play
Trained staff are available 24 hours a day, 365 days a year, to respond.
Please be sure to share this information with your friends and family. Remind your students: If you see or hear something, say something - immediately.
Let's work together to keep our community safe.