August 20, 2021
Dear Grout Students and Families,
Welcome back to school!
We are so excited to welcome students back to full-time in-person instruction this year! We have taken the summer to reflect and thoughtfully prepare for our great return. As a school community, we have set exciting goals for the 2021-2022 school year. Our staff is dedicated to the social-emotional well being, as well as the academic support and growth, of all of our students. This year, staff professional development and grade level Professional Learning Communities (PLCs) will be focusing on the foundations of literacy, the new PPS math materials adoption, and culturally responsive practices. While our staff are highly skilled in these areas, we are always able to dig deeper into our own learning and find additional ways to support all of our students. We remain committed to our social justice and racial equity work in an effort to provide our students of color an inclusive learning environment and strive to create a school system that is anti-racist.
Start Dates/Times and Ramp Up
We look forward to seeing each of you as school resumes. While most students return on Wednesday, September 1, there are some differences for our Kindergarten and First Grade students as we "Ramp Up" their start. The goal of the Kindergarten and First Grade Ramp Up is to give students, families, and teachers time to get to know each other and become comfortable with the school day. We will introduce and teach basic school routines and begin community building activities.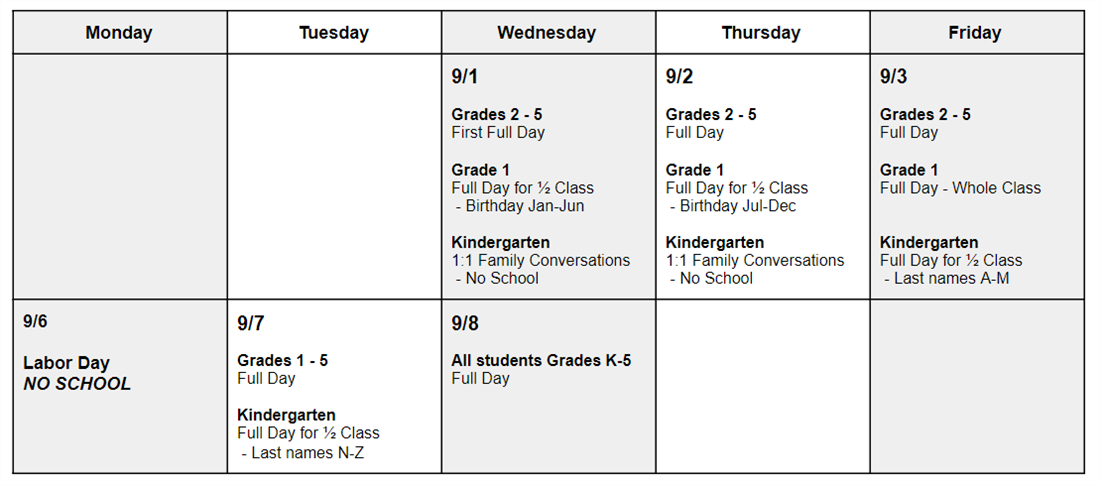 Our school day begins at 8:00 am, however, students will be allowed into the building at 7:45 am for breakfast. Dismissal is at 2:15 pm.
Staff Updates and Classroom Assignments
We are currently finalizing some new staff assignments. We will be sending out more information soon about our new counselor, social worker, school secretary, half-time special education teacher, paraeducators, educational assistant for ELL, and custodians. While change is exciting, we are happy that our classroom teachers remain the same. The only shift is that Ms. Mulvihill is returning to teach first grade this year.
Our classroom teaching assignments for 2021-2022 will be:
Kindergarten: Julie Crouser, Kari Lindstrom, Chris Retherford

First Grade: Sharese Jewel, Michele Mulvihill, Wendy Wager

Second Grade: Angie Hawksford, Karen Liao

Third Grade: Lisa Van Clock, Jamie Williams

Fourth Grade: Jackson Mowe, Michael Solitaria

Fifth Grade: Jonathan Fischer, Karey Kirk

K-3 CB: Susan Gaudreau

3-5 CB: Ruthie Finnigan
Letters were mailed home at the end of last week with your child's teacher.
Teachers, specialists, and administrators have worked collaboratively with thought and care to look at the needs of each individual student and place them in the classroom environment that we believe will help them to be the most successful. There are many factors that go into these decisions and while we believe it is important to support families as much as possible, we will not be able to switch students into other classrooms. We appreciate your understanding as we focus on continuity of care for each student.
Covid Health and Safety Measures
As PPS finalizes our health and safety measures and staff return to the building to put the plans into place, we will continue to follow district guidance. We will share more detailed information about specific school procedures before students return. Here is an overview of some of the most important measures we are taking:
Vaccinations - PPS just announced a vaccination mandate for all staff. We continue to promote vaccinations for all eligible students. Hopefully authorization for children under 12 will be soon.

Masks - All staff and students will be required to wear masks in school.

Social Distancing - To the extent possible, classrooms spaces and our cafeteria are currently being configured to provide for 3 feet social distancing.

Air Flow & Circulation - All spaces have HEPA filters to help clean the air.

Cleaning & Disinfection - Classroom spaces are being cleaned following outlined procedures, with special attention to high touch surfaces.

COVID Testing, Isolation & Quarantine - These measures will be taken as necessary and indicated by our health professionals.
This message was sent to families last week from PPS:
"We are excited to welcome you to a full, five-days a week in-person school year on September 1. As we approach the first day of school, we continue to monitor the local spread of COVID-19, including the Delta variant, and will implement layers of health protections against COVID-19 across every school building. Since the beginning of this pandemic, we've remained firm on being guided by public health expertise. In keeping to this commitment, linked below is an overview of our 2021-2022 School Year Health and Safety Measures Against COVID-19, which will help us have a full-time, in-person learning experience for PPS students this school year."
PPS Back to School Website: http://pps.net/backtoschool2021
Breakfast and Lunch Eligibility
All students across PPS are eligible for breakfast and lunch at no cost this year. However, it is still very important for families to complete and submit a meal application. In addition to benefits like the reduction or waiver of school related fees, child care discounts and low cost internet, it directly supports Grout in our Title 1 funding. This funding is based on the percentage of families that qualify for benefits and allows us to have additional support staff and resources for our school. We have been on the edge of qualifying for the last couple of years and want to make sure that we receive access to all the benefits our community is entitled to receive. To apply or learn more, please visit https://www.pps.net/Page/2464.
Bus information
If you live more than a mile from the school, your child may be able to ride the bus to and from school. Please visit the Student Transportation website at www.pps.net/page/141 for information on bus routes. You can also call them at 503-916-6901 for help. Kindergarten students are required to wear a bus ID tag all year and are required to be met at the PM bus stop by a responsible person or accompanied off the vehicle by an older sibling or a neighboring older student. Students in first through third grade are required to wear a student bus ID tag to and from school for the first few weeks. Students without these ID tags will not be allowed on the bus. Please use the tags included with this letter to provide identification for your child. It is especially important to provide the name of the bus stop where your child will get off the bus.
Before/After School Care Options:
YMCA: (On-Site) -

The YMCA offers fee-based school enrichment programs to children ages 5 to 12. It is located at Grout Elementary on school days and off-site on non-school days. For rates please visit the YMCA Website at:

https://www.ymcacw.org/facility/grout-elementary-school
Phone: (503) 327-0007
Phone: (503) 771-0261
SUN Community School:

SUN Community schools transform schools into full-service community centers that help youth and families succeed. SUN School starts after the start of the school year, usually the end of September or early October. You register per term, and are not guaranteed a spot. The days your child attends may vary. Applications will go home with your child about two weeks before the start of the term. Contact Chelsea Kimura by email at Chelsea.kimura@portlandoregon.gov
Phone: (503) 916-6421
Upcoming Dates:
August 28 - Community Care Day 9am -11 am (meet at the covered area outside)

September 1 - Grades 2-5 First day of school (Grades K & 1 - see Ramp Up above)

September 22 - Back to School Night
Below you will find links to download suggested school supply lists. If you need any support with supplies or anything else, please contact your student's teacher or the main office at 503-916-6209. We are confident that this school year will be a great year for our students, families, and staff. If you have any questions or concerns, please do not hesitate to discuss them with your child's teacher or reach out to us.
Sincerely,
Denise Self, Principal
Katy Vawter, Assistant Principal