4/17/2018
Greetings,
It's hard to believe that it is the middle of April and that we're on the downside of the school year. That said, there's lots left to do.
Late Opening:
We have two remaining Late Openings. Tomorrow, Wednesday, April 18th and Wednesday, May 16th. Next school year, there will be No scheduled late openings for teacher professional development.
Volunteer Appreciation:
This week is Volunteer Appreciation Week. Thank you, Volunteers, for the awesome work you do to support our students and school. We truly would not be able to provide all the opportunities our students have without your help. Your time and effort is much needed and appreciated. Please join us for A Volunteer Tea this week Thursday, April 19th from 2:15 - 3:00 in the staff room, or garden, weather permitting. Thank you!!
Cup of Joe with Joy:
Please join me this Friday at 8:00 for casual conversation in the foyer.
State Testing/SBAC:
We have begun our annual State Testing in the 3rd through 5th grade. It is helpful for students to be present and rested when they are scheduled to test. While State Assessments are important, please understand that there are many ways for students to feel successful. Everyone grows and learns in their own time, and while we want them to do their best, we don't ever want our students to be overly stressed because of a State Assessment. Please communicate with your student's teacher or me if you have any concerns in this regard.
Upcoming:
Site Council: 4/18 - 2:40
Dash4Dollars: Friday, 4/27
Dash4Dollars make-up: 4/30
Wet Spring:
As you know this has proven to be a wet spring. We will continue to go outside when at all possible (we are Oregonians after all). Please feel free to have an extra change of clothes here for your student. Students are also encouraged to have a jacket available. Speaking of jackets, there are many in the Lost and Found. Please check for any missing items.
Sincerely,
Principal Williams
3/21/18 Principal Msg.
Greetings,
Thank you for your kind words regarding my upcoming retirement. Senior Director, Kristie Lindholm will take community input regarding my replacement, on Wednesday, April 11th after the regularly scheduled PTA meeting. That evening, Jackson MS Principal Crockett will be here to talk with 5th grade parents. He is first on the agenda. The PTA meeting begins at 6:30. The meeting with Ms. Lindholm will begin after the PTA meeting which may end before 7:30. The parent input meeting is scheduled 7:30 - 8:30.
Reminder: please help spread the word to enroll now for Fall Kindergarten. Parents should contact the office, the sooner the better. Thank you.
Last Chance Lost and Found: Items in the lost and found will be bagged at the close of this week and sent to the district PTA closet Friday morning.
Reminder: Our two remaining Late Opening days will be on April 18th and May 16th.
Rainbow Day: This Friday students have an opportunity to celebrate 3Bs by wearing many colors for Rainbow Day.
Spring Break begins Friday afternoon. We return Monday, April 2nd.
I wish all of you a wonderful break! I hope you all have an opportunity for some extra family time, rest, relaxation, and fun! Fingers crossed for good weather!
Principal Williams
March 14th, 2017
Greetings Parents and Guardians,
Peace Event:
Today's Peace Event in the gym was absolutely amazing! Student and teachers entered a few moments before 10:00. Everyone was quiet as they entered and were seated with the oldest on the perimeter and the younger ones in the middle. I shared a few thoughts and then rang a chime. After a minute, I rang the chime again to signal that we would now return to class. The students did so well; it was very heartwarming!
Here is most of what I said before our moment of silence:
Today we are taking time to come together to think about Peace and our Community. Sometimes it's good to take time to reflect upon our school community. We can take time to think about how we can be kind and respectful to one another. We can take time to think about how everyone is different and unique in their own way. We can value others for who they are, what they think, and what they do.
We are going to take 1 minute to think about how we can:
...So that we can create a safe and respectful school community where we help each other to feel wanted and successful in our learning.
No one should ever be made to feel
Each day we can ask ourselves: What can I do to be:
Think: What can I do to make the world a better place? What can I do to help make Peace?
In conjunction with today's activity, teachers focused discussions on kindness and caring. Students have made peace signs and I hope you'll have an opportunity to stop by and see the display in the main hallway. Some students also made signs to hang up in our gym for today. I'm very proud and appreciative of how our staff and students have come together to act on issues of safety and community that affect us all as a member of our American society.
Please don't hesitate to contact me with questions or concerns. Principal Williams
March 9th, 2018
Greetings,
Today turned out to be a very fun Friday. Pajama day was a big hit with the students and staff alike. We also had a 3B day at lunch, meaning students were able to mix up and sit wherever they would like. Students appreciate the opportunity to sit with students from another class.
I want to let you know that we held a short LockDown Drill this afternoon. In this drill we practice Locks, Lights, Out of Sight. Students remain quiet until the drill is complete. Each month we practice a different drill in addition to our Fire Drill. The monthly drill schedule is planned by the district at the beginning of the school year.
You should have received an email from both me and the district regarding nationwide activities and participation by PPS, due to the tragedy in Florida. In the email I explained that we would do a collective activity within the school with a focus on Being Safe, Responsible, and Respectful. More specifically, we will frame any conversations around community, kindness, and caring, as well as peace. Teachers may have students write, draw, etc., but no depiction of weapons or violence will be allowed. We are very focused on keeping our activity age appropriate and positive. Our moment of silence will be a collective reflection of peace and community. Please do not hesitate to contact me or your child's teacher with questions or concerns.
Events:
This past Monday, we held our Awards Assemblies for the month of February. Congratulations to all recipients.

Wednesday, 3/14: PTA meeting (6:30 pm)

Friday, 3/16: Cup of Joe with Joy (8:00 am)

Wednesday, 3/21: Late Opening (10:00)

Wednesday, 3/21: Site Council - (2:40 pm)

Monday - Friday, 3/26 - 3/30: Spring Break
Upcoming Art Show: Please be sure to join us for our Annual Art Show, Friday, April 6th!
Have a great weekend,
Principal Williams
March 1st, 2018
Greetings Parents and Guardians,
It's hard to believe that today is March 1st! The month of February has flew by.
Students have certainly been kept busy this past month with lots of special activities in connection with Black History Month, two OMSI days, Field Trips, Oregon Battle of the Books, President's Day, and Valentine's Day. Third grade has begun their work on the Portland Play and fifth grade students are hard at work on some new murals.
Art Show:
Speaking of art, all students are busy completing artwork for the upcoming Art Show, Friday, April 6th. This annual event promises to be as amazing as ever! Adding to the visual art show will be the musical performances by students who chose to sign up. A flyer will be out shortly with pertinent information. Students wishing to perform should contact Will Chou. I know the Art Show committee is looking for volunteers to help. Please contact Kate Cockrill or Ilana Gordon Mills if you are willing to lend a hand.
Annual Auction:
What a great time was had at the Auction last Saturday! A huge thank you goes out to everyone on the Auction Committee for the time investment and all the work they did! Additionally, thank you everyone for your generous support of Capitol Hill. Your support goes a long way in adding enrichment experiences for our students. Thank you so, so much!
Online Auction:
The online portion of the auction begins this Friday, March 2nd. It can be accessed at this address: https://capitolhill.schoolauction.net/auction2018/catalog
Upcoming in March:
Monday, 3/5: Student Recognition awards for February

Wednesday, 3/14: PTA meeting (6:30 pm)

Friday, 3/16: Cup of Joe with Joy (8:00 am)

Wednesday, 3/21: Late Opening (10:00)

Wednesday, 3/21: Site Council - (2:40 pm)

Monday - Friday, 3/26 - 3/30
Thank you again for your generous support. You help to make Capitol Hill a Great Place to Grow!
Principal Williams
2/27/18
Hello,
I want to let you know that we had a "LockOut Drill" today. A "LockOut" is for us to practice ensuring a secured perimeter. Business goes on as usual inside the school/classrooms. This would be used in case of police activity, etc. in the neighborhood. Again, this was just a drill. It is announced over the phone PA system. We held the drill for 15 minutes. Just as a reminder, however, our exterior doors are all locked during the day with the "buzz in" front door. Please don't hesitate to contact me with any questions or concerns.
Principal Williams
2/9/18
Greetings,
It's been a busy fun week! Fun this week included:
Awards Assemblies:
Monday, we held our Awards Assemblies for the month of January. Congratulations to all the students recognized for their hard work in both academics and in supporting a positive school community.
OMSI classes:
All students participated in OMSI science classes on either Wednesday or Thursday. The classes were hands on and interesting. Students were engaged and excited about their learning. Thank you, parents, for supporting Science enrichment here at Capitol Hill.
Free Draw:
Today students engaged in Free Draw during lunchtime. This was an incentive activity that the students reached through earning 3B tickets for being Safe, Respectful and Responsible.
Post Office:
This week students had opportunity to buy postcards, write a message, and mail them to friends and teachers. The students have a lot of fun with this activity sponsored by Ms. D. Postcards were designed by students and students help with the mail delivery. This activity serves as a fun way to get students into writing letters.
Family Fun Dance:
Thank you to the PTA for sponsoring a Family Dance. Everyone had a great time.
Annual Auction: School of Rock
Speaking of fun, the Annual Auction is almost here! Put on by the PTA, this is an event that helps support the school in a fun way for parents. The theme this year is "School of Rock." It will be held at the Jewish Mittleman Community Center on Saturday, February 24th with doors opening at 5:30. I hope you will join us for an evening of dinner and fun. Tickets are available through the PTA. This year's special appeal will focus on music enrichment at Capitol Hill. The goal is to raise enough money to support having musical opportunities through a music residency. I hope to see you all there!
Report Cards:
Thank you all for your patience and perseverence as we made the switch to offering report cards on line. There were a few glitches, but generally it went well. If you have not yet accessed your student's report card and need help, please feel free to contact Heidi for help with the code.
Kindergarten Connect: Please help get out the word.
This Thursday, February 15th at 6:30, we will hold our Kindergarten Connect session for incoming Kindergarteners. Parents will hear about our program, ask questions, and get information for enrolling. We look forward to registering as many of our prospective students this spring in order to be ready for the fall. Thanks in advance for spreading the word!
Upcoming dates to Note:
Monday, February 12th: OBOB (Oregon Battle of the Books) begins and runs through the 23rd.
Friday, February 16th: Cup of joe with Joy - 8:00AM
Monday, February 19th: Presidents Day - No School Building closed.
Wednesday, February 21st: Late Opening school begins at 10:00
Wednesday, February 21st: Site Council meets at 2:40 in the Library.
Saturday, February 24th: School Auction
Have a great week!
Principal Williams
TRAFFIC INFORMATION
I also want to encourage you to follow our Capitol Hill Traffic Plan. Remember that you are welcome to park in any available space in the parking lot and that you're welcom to come early to school. The drop-off is not busy at 7:45. Here are some general suggestions from our traffic plan:
DO:
Pedestrians and bikes only on Carson 7:30 - 8:15; 2:00 - 2:30
Cross only at crosswalks
Drop students off school curbside only
Keep 17th One Way - south during drop-off times
Be mindful of students crossing at 16th and Carson
Please Don't:
Make U turns in front of the school (it's unsafe and illegal)
Load/unload students at the crosswalk/yellow curbs
Block the parking lot entrance/exit
Park in the wrong direction
Pick up and drop off on 17th in the designated Drop Off Only Zone in front of school
Drop students school curbside
Do NOT drop at yellow curbs
Please park the correct direction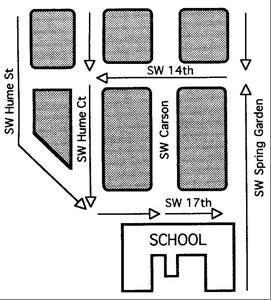 Have a great weekend! Principal Williams