Greetings,
The last day of school! Hard to believe it's here, but it was bound to arrive!
It's been a busy week with The Portland Play, Kindergarten Promotion, Awards Assemblies, and today the Fifth Grade Promotion. The students have done wonderfully...and so have the teachers. ;) The last week of school is always exciting!
I want to thank you all for your kind words and well wishes. I've greatly enjoyed my time here at Capitol Hill and thank you all for your involvement and support. I am so appreciative of all that this community does to support the school and staff.
I'm looking forward to my next adventures which include spending more time with my husband, granddaughters, and family. I will be off in July to visit my mom and take on a greater share of her care. I'm also looking forward to visiting Kauai with family in August and Spain with my husband in October. Finally, I'm just looking forward to doing all the things that have been put to the side like gardening and writing.
Finally, I want to wish you all the very best in the future. This school is filled with awesome students and I have no doubt they will go on to do great things! I also have no doubt that this community will continue to support staff and students in a way that makes this school a great big family; it's what makes Capitol Hill a Great Place to Grow!

Have an awesome summer! Principal Williams

June 1st, 2018
Greetings,
Imagine this, the fifth grade beat the staff at kickball today! Congratulations 5th graders! It was essentially a whole school recess followed by the annual visit from the fire department. The firemen were a bit incredulous, asking if I really wanted the kids to be sprayed?!? Yes! It was quick and fun!
It's hard to believe that we're down to the last week of school... and it will be busy!
Monday, 6/4: The Portland Play - 9:00 AM school assembly; 6:30 Community Performance

Tuesday, 6/5: Field Day: 3rd - 5th 9 - 10:30AM; K - 2nd: 12:15 - 1:45PM

Wednesday, 6/6: Kindergarten Promotion 12:40PM

Thursday, 6/7: Awards Assemblies

Friday, 6/8: Fifth Grade Promotion - Last day of school
In keeping with our effort to reduce paper usage, we will again send digital report cards via ParentVue in Synergy. However, we are happy to print a report card; please ask your student's teacher, and if you need assistance accessing the system, please contact Heidi or Mike. Teachers will have them online by 3:00 on Tuesday, June 12th.
As we look ahead to next year, I want to let you know that we have made a vast improvement in how class assignments will be communicated. With the exception of Kindergarten students, you should expect to hear electronically and/or through ParentVue, to which class your student is assigned by August 21st. School starts for 1st - 5th, Monday, August 27th. Kindergarten parents will be contacted with an assessment time and then class assignments will be decided. Kindergarteners start school Thursday, August 30th.
Staff currently projected for next year include the following:
Kindergarten: Ms. Keo, Ms. Lockett, Ms. Marsh
1st: Ms. Bolgioni, Ms. Casey, Ms. Jendrzejek
2nd: Ms. Fronk, Ms. Merrill, Ms. Pepitone
3rd: Ms. Husbands, Ms. Standish, Ms. Younie
4th: Ms. Caron, Ms. Gary, Mr. Jaquiss
5th: Ms. Browne, Mr. Naze, Ms. Westfall
Learning Center: Ms. Gillette
PE: Mr. Gustin and TBD
Art: Ms. Helmsworth
ELL: Ms. Kirklie
Library: Ms. Dahinden
Library Assistant: Ms. Morgan
Counselor: Mr. Zelazek
School Psych: Ms. Kirkpatrick
Speech: TBD
Para-educators: Mr. Jones
Secretaries: Ms. Reichelt, Mr. Eskew
Custodians: Mr. Schneberger, Mr. McCauley, Mr. Mulualem
Principal: Mr. Walker
Finally, if you've entered the front doors, you know we have quite a collection of clothing. Please check for lost items as it will all be sent to the PTA closet.
Have a great weekend,
Principal Williams
TRAFFIC INFORMATION
I also want to encourage you to follow our Capitol Hill Traffic Plan. Remember that you are welcome to park in any available space in the parking lot and that you're welcom to come early to school. The drop-off is not busy at 7:45. Here are some general suggestions from our traffic plan:
DO:
Pedestrians and bikes only on Carson 7:30 - 8:15; 2:00 - 2:30
Cross only at crosswalks
Drop students off school curbside only
Keep 17th One Way - south during drop-off times
Be mindful of students crossing at 16th and Carson
Please Don't:
Make U turns in front of the school (it's unsafe and illegal)
Load/unload students at the crosswalk/yellow curbs
Block the parking lot entrance/exit
Park in the wrong direction
Pick up and drop off on 17th in the designated Drop Off Only Zone in front of school
Drop students school curbside
Do NOT drop at yellow curbs
Please park the correct direction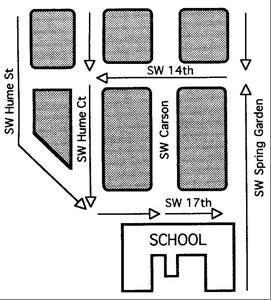 Have a great weekend! Principal Williams