10/6/17
I hope you are all enjoying the fall weather as much as we are here at school. It's great for the students to be able to get out and enjoy the fresh, crisp air each morning. Students generally wear a jacket outside, but then drop it to the side. Guess what? It then ends up in the Lost and Found. I've decided o leave the table up in the entryway for a few more days. Please have your student check for missing items. The Lost and Found will be bagged and sent to the PTA Closet. (The PTA Closet is available for those needing assistance with clothing.) I try to keep out items that are labeled. It would be so helpful if you made sure to write your student's name on their jackets, etc. Thank you.
I also want to encourage you to follow our Capitol Hill Traffic Plan. Remember that you are welcome to park in any available space in the parking lot and that you're welcom to come early to school. The drop-off is not busy at 7:45. Here are some general suggestions from our traffic plan:
DO:
Pedestrians and bikes only on Carson 7:30 - 8:15; 2:00 - 2:30
Cross only at crosswalks
Drop students off school curbside only
Keep 17th One Way - south during drop-off times
Be mindful of students crossing at 16th and Carson
Please Don't:
Make U turns in front of the school (it's unsafe and illegal)
Load/unload students at the crosswalk/yellow curbs
Block the parking lot entrance/exit
Park in the wrong direction
Finally, please talk with your student about our expectations: Be Safe, Be Respectful, and Be Responsible. They should be able to tell you about Bee Tickets and the behaviors we're trying to encourage school wide. Our awards/recognitions this past Monday focused on these expectations, along with their scholarly endeavors. They're doing a great job? Congratulations to all who received an award this month.
Enjoy your weekend! Principal Williams
A few reminders:
Volunteer training 6:00 before October PTA mtg. October 11th
Statewide inservice - no school / no day care - October 13th
Fall Book Fair - week of October 16th - in library
Grandparents/sSpecial Friends Day - October 20th
The Big Boo! - October 27th
Emergency Reunification Drill - November 14th

9/27/17
Greetings Parents,
I hope you're all enjoying this beautiful weather!
I want to let you know that today, Wednesday, we had a LockDown drill. A LockDown is activated when there is a threat inside the school building. The language we use is Locks, Lights, Out of Sight. Teachers lock doors, pull blinds, and have students move away from sight. Students are asked to maintain silence. Students and teachers stay in position until Principal or designee unlocks the door. The drill is activated over the Voip system (phone intercom) using a recording within the system.
The students did well and school went on as usual.
Please don't hesitate to contact me with questions or concerns.
Sincerely, Principal Williams
09/22/2017
Greetings,
Happy first day of fall!
With the advent of rain this week, I'm compelled to let everyone know that as Oregonians, we go outside in the rain. All kidding aside, we take the children out as much as possible. Please be sure that your student has an appropriate jacket, etc. They may even change into boots if you would like and they can do it independently. However, they may NOT take an umbrella on the playground.
With jackets, comes the ever-growing Lost and Found. Please be sure to check for missing items frequently. It is located by the exit door to the parking lot.
It was wonderful to see everyone at Back to School Night! Despite the rain, I think it was a fun evening for all. Thank you, we so appreciate your attendance and getting to meet you!
It was also great to see several parents at "a Cup of Joe with Joy" this morning. This little gathering happens the third Friday of the month. It is an opportunity for you to talk with me and other parents informally, about whatever is coming up for you.
This morning we talked about lunch time. All students have at least 20 minutes in the cafeteria and can stay longer if needed. That said, those going through the hot lunch line, sometimes have a bit of a wait. As time passes, the students will get quicker. It will help if they know their 6 digit student numbers and focus on the task at hand. However, they are children so we can only get them through so fast. It's actually going pretty well for September.
Finally, I just want to remind you of a few upcoming calendar items.
Volunteer training 6:00pm before October PTA mtg. October 11th

Statewide inservice - no school / no day care - October 13th

Fall Book Fair - week of October 16th in the library

Grandparents/Special Friends Day - October 20th

The Big Boo! - October 27th

Emergency Reunification Drill - November 14th
Have a great weekend!
Principal Williams
09/15/2017
Greetings,
What a great week it has been! Our kindergarteners in three classrooms and doing wonderfully! Across the school, students seem to be settled in and ready to focus in on learning.
It was also great to see so many of you at the first PTA meeting! There is much to be done and parental involvement is essential to student success. Thank you PTA for the work you do!
Please be sure to join us for Back to School night which will be this coming Tuesday, September 19th beginning at 5:30 with a family picnic. You will visit your child's classroom at 6:30. If you have a second student there is a second presentation at 7:00. It will be a good time to meet your student's teacher and hear about classroom routines, etc. It's also a time to meet other parents.
Next week we will also have our first Late Opening on Wednesday, the 20th. School will open at 10:00. Buses will run their normal route, just two hours later.
Traffic: With many new families, I like to review traffic concerns. Please see below for the suggested traffic patterns.
Additionally, parents have asked that we work together to keep the entrance/exit to the parking lot free, so that people waiting wanting to park can enter/exit rather than waiting in the drop-off line. Thank you for your patience and understanding in working together around our arrival and dismissal.
Finally, you may have noticed the plywood on the play structure. Our bridge was in need of repair. Please keep students off the blue railings that are for the bridge as we await the repair. Thank you.
Pick up and drop off on 17th in the designated Drop Off Only Zone in front of school
Drop students school curbside
Do NOT drop at yellow curbs
Please park the correct direction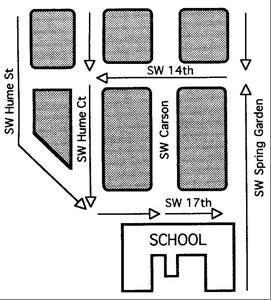 Have a great weekend! Principal Williams