1/12/18
Greetings,
It's so good to be back in school after the break. It's already been a busy two weeks. This week we had our Recognition Assemblies as well as an OMSI assembly for k-2/3-4 on weather. The fifth grade went to the Planetarium and the third grade had a fieldtrip to the RICE Museum in support of their study of Rocks and Minerals.
We have several things coming up of which I need to make you aware.
We have NO School or Daycare on Monday, January 15th, as it is a National Holiday celebrating Dr. Martin Luther King, Jr. and the work that he did. Please see the PPS website for events happening on that day.
We have a LATE OPENING on Wednesday, January 17th. School begins at 10:00. (There is a reduced breakfast on Late Opening days.)
The PTA will sponsor Family Fun Night, Friday, January 19th. It will be a game night and starts at 6:30 - 8:00.
There will be No "Cup of Joe with Joy" Friday, the 19th, as I will be at a conference. (There will be a guest principal.)
Thursday, January 25th, the students will participate in the Decathlon. Please considering volunteering through the PTA.
Monday, January 29th is a teacher planning day - no school for students. Vermont Hills will be open.
Coming in February: Kindergarten Connect
Please help get the news out about the Kindergarten Connect, Thursday, February 15th - 6:30 - 7:30
In planning for next year, it is helpful to have kindergarten registrations completed in the spring so that we can staff accordingly. Please encourage anyone you know with a kindergarten child for next year, to attend Kindergarten Connect and/or to register early. Thank you for your support.
Upcoming Report Cards:
Friday, January 26th, is the end of the 2nd quarter/1st semester. We would like to share report cards via Parent Vue in Synergy to reduce paper waste. We are working with PPS tech to determine what date that will be and to ensure you will all have access. Please know that we will gladly print a student's report card, if requested. Also, if you need assistance with parent vue access, please contact Mike or Heidi in the office.
TAG testing:
Students who were recommended in the fall for TAG identification will participate in testing January 30th and 31st. Please be sure to have them well rested and in attendance on those days. There are no make-ups on-site.
Site Council:
Capitol Hill Site Council generally meets the third Wednesday of the month at 2:40 in the Library. Please feel free to attend.
Have a great 3-day weekend!
Principal Joy Williams
12/14/17
Greetings,
I just want to take a moment to wish everyone Happy Holidays! I hope your Winter Break goes well and that you have a great two weeks! Thank you all for your good wishes. You are all appreciated for all you do for our students and staff here at Capitol Hill.
I also want to thank you for your generosity for Holiday Sharing. Through your gifts many of our families have been served and we appreciate being able to deliver your generous support. Thank you with sincere gratitude.
A Few Notes:
School resumes on Tuesday, January 2nd, 2018.

(There's been some misinformation out there, but January 2nd we will welcome our students back.)

We will also resume our 3rd Wednesday 2 hour Late Openings in January. Here are the dates for the remainder of the year:

The last day of school is June 8th according to the District Calendar

. The Capitol Hill calendar incorrectly says June 12th. This is due to contract negotiations during which the date changed. It could possibly change again, back to the 12th. Of course we could also get delayed with snow days. Stay tuned. We will keep you informed as soon as we know anything definite.
Happy Holidays, Principal Williams

12/8/2017
Greetings,
It's hard to believe we have one week until Winter Break! We're trying to contain the excitement, but it's definitely in the air! We will do our best to keep things in check as we enter this last week of school for 2017.
Today we had our "lunch-time movie" which was an incentive for students earning their 3Bee tickets (Be Safe, Be Respectful, Be Responsible). Students enjoyed the Dr. Seuss shorts, though the 4th and 5th graders thought they were "too old" for Dr. Seuss. Is one ever too old for Dr. Seuss? At any rate, they laughed at the antics. We will have more lunch-time fun next week.
This coming week:
Site Council meeting in the library 2:40 - 3:30 on Wednesday, 8/13. You are welcome to join us as we discuss workings of the school.

The PTA meeting will be held Wednesday evening at 6:30. Please consider joining us. The PTA works hard to support the school and we couldn't enjoy what we do without them! It's a great way to get involved.
Safety:
You've often see me talk about our traffic patterns, especially on Carson, etc. (scroll down for a refresher) but another concern has been brought to my attention. The concern is across Spring Garden on 17th, especially in the morning. Parents using the westside of the road adjacent to St. Clare's, have noted that when vehicles are parked on the gravel section, it makes it very difficult to safely walk to the crosswalk. If possible, please avoid parking on the gravel section to allow for walkers. We are trying to work with PBOT to find solutions to safe school access.
Lost and Found:
I want to thank parent volunteer, Lacy Roberts, who has spent much time organizing the Lost and Found items (which are many). She has offered to manage the ever-growing run-away items. The Lost and Found will be sent to the District PTA closet next week. It is currently in the front entry. Please be sure to check for any missing items. If items are labeled they are returned to the owner.
June end date for school:
I want to make you aware that as we are still in contract negotiations with the teacher's union, the end date could change. The last day of school is currently June 8th. Two more days could be added. That said, we don't know what the winter will bring us this year, so stay tuned. :)
Finally, I want to wish you all a wonderful winter break. I hope you are all able to have time for togetherness, relaxation, and fun! Happy Holidays to you all!
Sincerely, Principal Williams
11/28/2017
Greetings,
It's hard to believe it's nearly December with only three weeks of school left until Winter Break. The last day of school will be December 15th, but there's lots to happen before then! We return to school Tuesday, January 2nd, 2018.
Thursday, November 30th, we will have a meeting for parents of students identified to be in the Talented and Gifted Program. We will share information regarding the PPS TAG program and what we do here at Capitol Hill. Additionally, we want to find out whether parents are interested in forming a Capitol Hill TAG parent group. We will meet in the library at 6:30 until 7:30 pm.
It feels good to have a routine back to our day after the many interruptions to our schedule in November. I wish you well as we enter the busy month of December!
Principal Williams
Another note concerning safety, is that of our traffic pattern. As a school community we are trying to keep Carson free of cars so that walkers can have a safe avenue to school. Between 7:50 - 8:05, it would be really helpful if drivers could use a different route. I understand it is frustrating to wait in the line for a turn onto Spring Garden, but the safety of our students is our main concern. Students may wait in the entryway beginning at 7:40.
Please read and observe the following:
make 17th one-way heading south during drop-off
leave Carson for walkers
park only the correct direction
NO Uturns
observe yellow curbs/crosswalk (they are a NO Drop zone)
drop students curbside, school side
ALL students should use the Crosswalk
Keep the parking lot entrance clear
Bus Zone is for buses only
No parking in St. Clare's parking lot
I also want to encourage you to follow our Capitol Hill Traffic Plan. Remember that you are welcome to park in any available space in the parking lot and that you're welcom to come early to school. The drop-off is not busy at 7:45. Here are some general suggestions from our traffic plan:
DO:
Pedestrians and bikes only on Carson 7:30 - 8:15; 2:00 - 2:30
Cross only at crosswalks
Drop students off school curbside only
Keep 17th One Way - south during drop-off times
Be mindful of students crossing at 16th and Carson
Please Don't:
Make U turns in front of the school (it's unsafe and illegal)
Load/unload students at the crosswalk/yellow curbs
Block the parking lot entrance/exit
Park in the wrong direction
Pick up and drop off on 17th in the designated Drop Off Only Zone in front of school
Drop students school curbside
Do NOT drop at yellow curbs
Please park the correct direction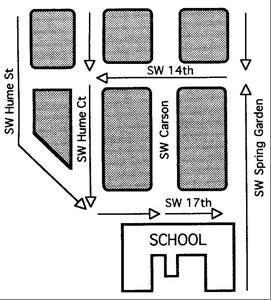 Have a great weekend! Principal Williams