January 27, 2020
We are officially at the halfway point of our school year. The place where we are both reflecting on the effectiveness of what we have accomplished so far this year and planning for how we can improve in the second half of our school year. We will be pulling our building assessment data at the end of this week as the testing window closes and finding where we need to shift our approach and what strategies have been the most effective. This is one of my favorite times of the year, as it helps us to verify what is working, what is not, and we can all get on the same page around where we need to make adjustments.

Monday:

Teacher Planning/Grading Day - No students, teachers will be working on completing student report cards.

Report cards will all be completed and sent home in backpacks by Monday, February 3rd.

MAP family reports will also be printed and come home with report cards.

Tuesday:

We will be working to finish up MAP testing with the few students that still have testing to be completed.

ODE TAG Visit - 12:30-3:00 - This is an audit year for PPS. ODE representatives will be circulating the building to interview students and staff, look for evidence of TAG planning, and provide feedback around strategies.

Thursday:

CSI Cohort Meeting - 8:30-3:30 - Tina, Jonalee, and I will be out of the building to attend a PD around our literacy curriculum. We will bring back what we learn to share with staff at a future staff meeting. We will have a substitute administrator in the building for support in our absence.

Math Tutoring - 3:30-5:30 - If your student could use some support in the area of math, feel free to have them stay after school to work with our teachers around building the math skills and strategies they may be struggling with. If you are planning on having your student attend, please communicate with their teacher, so that they know to send them. This also allows the classroom teacher to connect with our math support teachers around what skills are currently being worked on in class. Also, remember to arrange pick-up before 5:30.

Site Council Meeting - 3:30-5:00 - Monthly meeting with parents and staff to review progress towards our school improvement plan goals.

PTA PJ Movie Night - 5:30 - PTA will have movies and snacks for students and families in the gym and library.

Looking ahead:

As we get ready to kick-off Black History Month, there are a couple of things I wanted to make sure you were all aware of.

Next week will be a Black History themed spirit week that our student council will be announcing the themes for each day later this week. The assembly schedule however will be shifting. Many of the participants and planners for the Black History Assembly have asked that I move the assembly back one week to allow for more planning/prep time. As a result, we will move up our academic Assembly to recognize students based on their MAP growth so far this school year to next week.

Academic Assembly: Will now be on 2/5 at 2:15

Black History Assembly: Will now be on 2/12 at 2:00
Looking forward to moving into the second half of the school year and making the necessary shifts in our academic strategies to move our students forward academically.

Kaveh Pakseresht, Principal

Boise-Eliot/Humboldt School
---
January, 20, 2020
Hello BEH Families,
Last week we had an assembly in honor of Dr. Martin Luther King, where several staff and students paid respects and demonstrated how his lessons impacted their lives. This week we will be having our monthly badger/self manager assembly, honoring those students who demonstrate our three core values across all settings. Bringing attention to the positive people in our lives and to the positive acts we see everyday is an important lesson for us to model for our students. Too much of our society is focused on the many negative acts that happen everyday. We see this everyday if you turn on the news or look at social media. I am a believer that we will get more of what we give attention to. Let's all join together in recognizing the many good things that occur with our children everyday. I believe with this, we will see more of what it is we want to see in the world.
Monday: No School
Take a minute and reflect on all that Dr. King stood for and what we can do to ensure that his legacy and lessons live on through the work that we all do.

Garden Bed Reconstruction - There will be a group of volunteers from NWEA on the playground working to take apart and rebuild the garden beds by the motor lab. We will be removing the old beds and attempting to rebuild them with the existing hardware and new, untreated cedar.
Wednesday:
Tech Training - 8:30-10:00 - I will be at the BESC for a TechSmart Schools professional development around learning first and technology second. We are joining the growing cohort, TechSmart Schools. This means an influx of newer tech for our building and increased support to maintain it.

Badge Assembly - 2:15 - We will recognize our newest badgers and remind students of what it means to earn and maintain a badge. I will conference with each new applicant before the assembly this week.
Thursday:
First Math Support Drop-in Session - we will have two staff available from 3:30-5:30 to support any students that could use additional math support. Please communicate with your child's teacher if you would like your child to attend. Children can be picked up anytime before 5:30, but must be picked up by 5:30 each Thursday.
Friday:
Last day of the grading period - This is the official halfway point of the school year. This also means no school again on Monday, so that teachers can complete report cards.
This week we will be working to complete any unfinished MAP assessments with our students and plan to send home student results with report cards next week. We will be utilizing these scores to guide our future intervention and adjusting our strategies based on the trends we see with these results.
Please don't hesitate to reach out if you have any questions regarding the results or your child's report card as you get the chance to review them.
Thank you for your ongoing support,
Kaveh Pakseresht, Principal
Boise-Eliot/Humboldt School
Portland Public Schools
503-916-6171
An invitation from our PTA:
The BEH PTA invites you to Save the Date, and spread the word, for our 3rd Annual Community Fundraising Event. In addition, the PTA is actively seeking community donations for the Silent Auction portion of the evening. Please contact the PTA at behpta620@gmail.com if you or your business would like information on contributing, or if you have any questions! Further details to follow.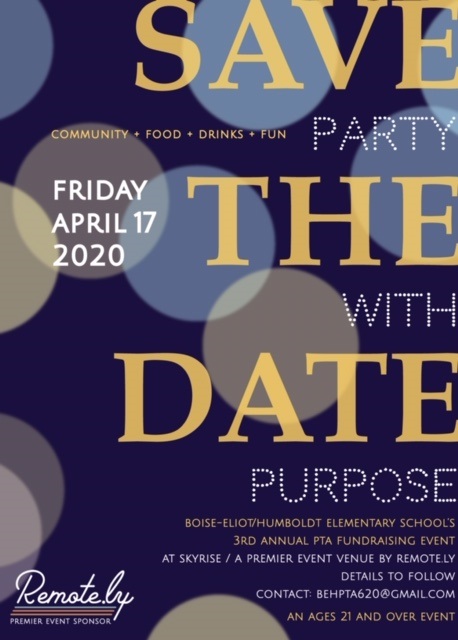 ---
With all the premature weather excitement, it can be hard to focus on school and the reality of still having to go to sleep on time and get up for school. I am in the camp of "I'll believe it when I see it." As a result, I expect us to be at school on time everyday this week, running our usual routines and continuing our daily progress academically and social/emotionally. If however, you wake up one morning and see snow, please make sure and check district and news sites to track district weather based decisions.
This week we will be working to complete our winter MAP assessments. These are district wide assessments in math and reading that help our teachers to guide instructional decisions and ensure adequate academic progress for students. Please use this opportunity to remind your child about the importance of doing your best work and working through challenges. We discussed this in our assembly last week and will continue to have teachers review with students throughout the week.
Monday:
SUN School Starts - First day back for SUN School. Make sure your child and their teacher know what their after school plans are.
Tuesday:
Dough for Dollars - The Pizzicato on NE 42nd and Fremont (near Beaumont Middle School) will be donating a portion of their profits to our PTA.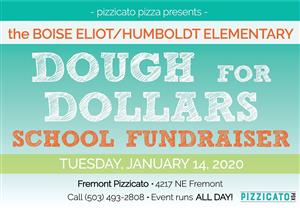 Wednesday:
MLK Assembly - 2:15 - Assembly to honor Dr. King and remind our students what lessons he continues to teach us.
PTA Meeting - 5:30 - Monthly opportunity to connect with PTA and hear what they are currently working on.
Thursday:
District Leadership Meeting - Tina and I will be out of the building all day for a mandatory meeting with district leadership.
Math Night - 5:30-7:00 - Opportunity to come and hear what your students are learning in math and how we can help reinforce successful strategies. We will also make connections to real world opportunities to reinforce math lessons and teach some fun games that can be played as a family.
Three Day Weekend - Don't forget that there is no school on Monday for Martin Luther King day. This is often a day of service for many people and organizations. We will have volunteers from NWEA at BEH to work on removing and rebuilding the garden beds on the playground. If you are looking to do some volunteering in the morning on this day, we will be on the playground working from 9-12.
After last week, 2020 is off to a great start at BEH. We have been working on reviewing and reteaching expectations and ensuring our systems are in place to set up students for success. As a school we are working to be more data driven and responsive in our practice across the building. To kickoff 2020 we made some intentional shifts to those recess and lunch times that were not meeting expectations in 2019. On the instructional side, we have also made some shifts around how our teachers are planning and reflecting on their instruction. This includes shifts in our weekly grade level meetings and an increased focus on math and literacy across the building.
I feel privileged to have such an amazing staff, that is willing to continually think creatively about how we can improve our practice and better prepare our students academically and socially. We have come a long way already this school year and I expect us to only improve our systems as 2020 progresses.
Kaveh Pakseresht, Principal
Boise-Eliot/Humboldt School
---
Welcome back and happy new year! I hope you were all able to spend some positive time with family and enjoy the additional time with your amazing children. I know we are all looking forward to getting back to school, seeing and hearing from our students, and getting back into our routines.
No SUN School this week.
Monday:First day back from winter break - Teachers will be reviewing expectations and reestablishing academic routines. You can help by getting back in to routines at home around sleep time and before/after school.
Tuesday:
Wednesday:Academic Focus Assembly - 2:15 - We will use this meeting to review the academic expectations and importance of assessments. We will also touch on building-wide expectations.
Thursday:
Friday:
Family Friday - 8:00-8:40 - The gym will be open for families and students to play board games or Bingo and enjoy some light snacks and beverages.
Coffee Chat - 8:45 - Parents, community members, really anyone interested, please join me in the staff lounge for a conversation about all the work we are doing and future plans for the school year.
We will be coming back ready to jump into our routines and establish positive academic habits. Many of our grades will be getting ready to start new units on new concepts in literacy and math in January. As a result, we will be assessing students to see what they learned in their previous units and what they already know before beginning the upcoming unit. One area we will be working on in the new year is improving our communication of where your student(s) are at academically outside of just the report card. Additionally, we will be working on making sure that students know where they are and what they are working on.
So, as we move into 2020, expect to see more communication coming home around some of the assessments we use to guide our instruction. Hopefully this helps us all to better understand what our students are working on and how we can all work together to move them forward academically.
Looking forward to a productive and positive second half of the school year,
Boise-Eliot/Humboldt School
---
BEH Families,
As we begin our second week of December, we will be working on maintaining a focus on academics and reminding students to make the most of these next two weeks. This will happen as an entire school at our assembly this week, where we will be recognizing those students that have been showing academic growth on IRLA, phonics, and curriculum based assessments this month.
What to expect this week:
Monday:
First Day with no SUN School. Don't forget to arrange for after school pick-up for the remainder of December. If your child will be riding the bus, please remind their teacher and make sure they remember their stop.
Tuesday:
MTSS Coaching Academy - I will be out of the building for two days with our instructional coach and 3 classroom teachers to attend a district training around how to best meet the academic needs of all of our students effectively. This is the second of three sessions this year.
Wednesday:
MTSS Coaching Academy - I will be out of the building for two days with our instructional coach and 3 classroom teachers to attend a district training around how to best meet the academic needs of all of our students effectively. This is the second of three sessions this year.
Academic Assembly - 2:00 - Adidas will be joining us to recognize students for their academic achievements over the past month and address our students. We will be recognizing students at each grade level that have shown significant growth or achievement on curriculum assessments over the past month.
PTA Meeting - 5:30 - Monthly meeting to connect with other involved families, community members, and school staff. Hear what the PTA is currently working on and find ways to support the work we are doing as a school community.
We will be continuing our focus on academics with our staff moving into the break with continued classroom walkthroughs and feedback, teachers beginning their planning for the unit following the winter break, and meeting weekly with every grade level to review student data and make decisions around possible educational shifts.
As we work to go into these last two weeks of 2019, you can reinforce our work by asking your children what they are learning and by finding ways to meaningfully connect home experiences to school.
As always, I look forward to collaborating with all of you on another productive week and continuing to push all of our students to reaching their full academic potential.
Boise-Eliot/Humboldt School
---
Starting with this e-mail, I will be sending a weekly update about the comings and goings at BEH. Starting next week, this e-mail will come out on the first school day of each school week and will typically feature updates about the week that passed and what is planned in the week to come. I am always looking for feedback and ideas about how to improve our communication, so feel free to reach out with any thoughts or ideas.
As we return from a week off after having just recognized our newest set of Badgers and finalizing the election of our new student council, we will be working on carrying the positive momentum into the winter break. Recognizing positive leaders in our school community is crucial to the success of our building climate. Our goal is to have every student working towards earning their badge this year and the first step in this is for students to set goals with their teachers based on academic performance, social interactions, and how they can help the community in common spaces. Additionally we work with every student to learn and embody our core values at BEH. These values are Perseverance, Integrity, and Community. If you have not quizzed your child on these yet, ask them if they can identify what these are and what they each mean to them. Our next badger assembly will be on Wednesday, December 18th.
Here is what to expect this week:
Monday 12/2 -
PTA Food Drive Starts - Classrooms will be competing to collect the most food for our PTA winter family food boxes. The last day for donations is Friday, December 20th. PTA will be delivering food boxes to the sponsored families the following day.
Wednesday 12/4 -
Run for the Arts Assembly - 2:15 - We will be recognizing students and classes that raised the most money and ran the most laps at our Run for the Arts event earlier this fall. It was an amazing run, we were able to raise $6,815.10 plus we will receive an Arts Community Match of $1,000.00 this year. Thank you to all the parents who volunteered and attended the event this year. Your support and encouragement is essential to the success of the run.
Thursday 12/5 -
Last Day of SUN School - Remember that there is no SUN School for the two weeks before winter break. If your student usually attends SUN School, make sure and review the plan with them for the next two weeks. If they will be riding the bus, please make sure their teacher knows as well, so that we can ensure that they get there in time and the bus does not leave without them.
Friday 12/6 -
Family Friday - 8:00 - This is our monthly opportunity for families to come in to school early and engage in some fun activities as a family. There are pastries, beverages, and various games in the gym.
Coffee Chat - 8:45-ish - This is our monthly meeting to typically connect with me, hear what we are up to, ask questions, and engage in conversation around what we are doing to move our work forward. This week however, I will be at a meeting off-site. As a result, Ms. Turner will be meeting with families and facilitating the conversation.
I hope this was helpful, and I look forward to continuing the updates weekly moving forward. In addition to this added communication, I will be working with our support staff, PTA and our Site Council to develop a parent academic resource page and to update our school website later this school year as well.
Thank you all for trusting us with your amazing students. We are continuously working to improve our instructional practice and ensure we are leveraging all resources and most of all ensuring that all of you are informed on what we are doing and how you can support the work we are doing.
As always, I look forward to continued conversations and feedback around how we can improve our instructional practices.
Boise-Eliot/Humboldt School
---
August 28, 2019
Dear BEH Students and Families,
Happy first day of school for the 2019/20 school year! I can't believe the summer is nearly over and we are back into the school year. I am excited to work with everyone and take our next step together as a PK-5 community this year. We made a lot of progress last year reestablishing our identity as an elementary school and building a supportive academic culture at BEH. This year we will be focusing with even more intensity on our academic growth and establishing a community where students see themselves as scholars and driving their education and curiosities. Our goal as a STEAM school will be to continue our work in preparing an integrated educational experience for our students that adds relevance and purpose to the learning that they will be doing with us. I am excited to have an increased support team this school year that will allow for me to dig deeper into the academic work with our teachers and the academic support team.
Last year we rolled out the newly adopted reading curriculum for the district; Units of Study and worked to align our academics to align with the district's scope and sequence. This year we will be continuing the new reading curriculum and adding the corresponding writing component from Units of Study as well. We will continue to follow the district scope and sequence for literacy, math, and health for the coming year as well. This year we have built our schedule around ensuring that all grade levels have scheduled times for all tiers of academic instruction with supports pushing in during intervention blocks (tier 3). In addition, we have built the schedule to allow for grade level teams to meet weekly during the school day to review academic data, plan instruction, and adjust approaches to maximize academic progress. You will notice additional adults pushing into all classrooms this year to support academic growth and supports for students at all levels.
This year we will be joining several of the pilot schools in the district in launching a school wide social/emotional curriculum. The curriculum our school will be utilizing is Toolbox. You will see information and resources coming home with your child throughout the school year and will likely hear your child using the language from Toolbox to reference which "tool" they will be utilizing to overcome a challenging circumstance. Our goal as a school is to prepare well rounded individuals that are prepared to overcome all challenges and have strategies to persevere through setbacks. This is the next step in us ensuring that all of our students are leaving BEH as not only academically prepared students, but also prepared to work with others, manage their emotions in a healthy way, develop a sense of empathy and community, and embody our three core values. For those who may be new to BEH or just forgot over their summer break; our three core values at BEH are Community, Integrity, and Perseverance.
I am excited for the coming school year, we are continuing to build strong partnerships with the community and look forward to working together with families and community members to continue to produce well rounded and positive students that are prepared for middle school, high school, college and career. I look forward to seeing you all at the many PTA and school events throughout the year and if you have ideas around how we could continue to improve, don't hesitate to call or stop by the office. Thank you for being an integral part of our school community, I look forward to another amazing year.
Sincerely,
Kaveh Pakseresht
(Mr. Kaveh)
_____________________________________________________________________________________________________________________________
August 8, 2019
Dear BEH Students and Families,
Welcome to the 2019-20 school year! I am extremely excited to jump into my second year as principal here at BEH with all of you. I feel like we took some positive steps last year and I look forward to continuing our progress into this school year. I spent the summer planning some very intentional work around our academic focus for the coming school year. I look forward to us moving ahead in building a positive academic identity as a school and for each of our students. In addition to this I have spent some time working on our staffing to try and ensure that we have the right people in our building to do this work. You will notice some changes below and some of them, you will notice I am still working on. We will keep you posted as we learn more. The purpose of this letter is to highlight events and information needed to prepare for the first week of school. You will be getting more detailed information regarding our plans and vision for the coming school year on the first day of school when your child brings home their Opening Day Packets. Should any questions or concerns arise before then that cannot be answered by this letter don't hesitate to call the school.
Sincerely,
Kaveh Pakseresht
(Mr. Kaveh)
Help us say goodbye and thank you to the following outstanding educators:
Michelle Berry-Patterson - Unassigned*
Kristina Blanton - Assigned to Hayhurst*
Terri Jo Bonbright - Retirement
Eileen Dineen - Retirement
Ronnie Lawton - Unassigned*
Carolyn May - Retirement
Doug Miles - Retirement
Karen Moon - Retirement
Nicole Thomas - Temporary Assignment*
Welcome to BEH an outstanding group of educators:
Ian Gustafson - Therapeutic Intervention Coach
Jacob Lewis - Educational Assistant
Shamsa Mohamed - Community Agent
Jason Sloan - Student Success Advocate
Angelina Soto-Dairy - ESL Teacher
Lottie Wilson - Paraeducator
Welcome the following staff members to different positions at BEH:
Malaika Askari-Tamu - 4th Grade Teacher*
Kennedy Hutsell - 3rd Grade Teacher
John Meskimen - PK Teacher*
Bridget Smith - PE Teacher
Tina Turner - Assistant Principal
Jerry Wahl-Stephens - 5th Grade Academic Support
* There is still potential these shifts could change.
Important Upcoming Events - Mark your calendar
Thursday 8/22/19
3:00 - 3:30 Popsicle Social - Find out the name of your Grade 1 - 5 teacher. Please come say hello and stop by for a popsicle served on the playground. See "Teacher Assignments" below for more info.
Saturday 8/24/19
9:00 - Noon Community Care Day - Please join us to spruce up the campus. Bring garden tools if you have them!
Noon - 4:00 - PTA Back to School BBQ Come join us at our 6th annual celebration, there will be games and fun for the whole family and food will be served compliments of our PTA.
Wednesday 8/28/19 - First Day of School
8:40 All Students grade 1-5
PreK/Kinder Assessments – all parents will be contacted for appointments - no school for PK/Kinder students
Thursday 8/29/19 and Friday 8/30/19
8:40 All Students grade 1-5
PreK/Kinder Assessments – all parents will be contacted for appointments - no school for PK/Kinder students
Monday 9/2/19
No School - Labor Day
Tuesday 9/3/19
8:40 All Students grade PK-5 (First day for PK & K)
Teacher Assignments
Teacher assignments for Grades 1–5 will be available at the Popsicle Social beginning at 2:30, Wednesday, 8/22. If you are unable to make it to the school, you may call 503-916-6171 from 8:30-noon on Thursday, 8/23 to inquire about class placement. Class lists will also be posted on the first day of school in the main hallway. Our PK teacher is currently John Meskimen. Kindergarten teachers are assigned after assessments are completed and will be posted in the Kindergarten "wing" on Tuesday morning, 9/3. Currently the district has forecasted us for two strands of Kindergarten. Our numbers are very close to what we need to get the third strand added back. I anticipate this happening and having Mr. John back in Kindergarten and Mama Malaika back in PK when that happens. I cannot guarantee this yet, but I hope to be able to before the school year officially begins.
School Supplies
In addition to the supply list, "Tools for Schools," a program through Schoolhouse Supplies is once again providing backpacks and basics for all students. Students will receive their backpacks at an all school assembly on Wednesday, 8/28. PK and Kinder students will receive their backpacks directly from their teachers on their first day of school, Tuesday, 9/3. Look at "Supply Lists" under the Our School tab at the top of this page to view.
School Hours/Dismissal
The building opens for students at 8:40 am and students are tardy at 8:45. Please do not drop off students earlier than 8:30 as there is no adult supervision at that time. Students enter their designated doors by grade level. PK-2nd grade students will be dismissed from their classrooms at 3:00 pm. Details to come home in Opening Day Packet. 3rd-5th grade students will be picked up by parents on the playground at 3:00 pm each day. Please pick up your child promptly if they do not ride the bus. Bus riders will be escorted to the bus and supervised by school staff until the buses depart the school.
Student Body Fund
We are requesting a donation of $10.00 to cover the cost of student planners, field trips, guest speakers and other student activities. Please go to https://pps.schoolpay.com/link/BEH-SBF-Donation at any time to donate. This request will also be in the opening day packet that comes home the first day of school.
Student Drop-off/ Pick-up/Parking/School Bus Zones
Please note that the parking lot on the east side of the school is for school buses and staff parking only. It is a "one way" route for buses and staff vehicles only. The west side of the school on N Borthwick is the zone for student drop-off and pick up. N Borthwick is a "one way" north traffic zone. Please obey all the street and parking signs posted around the school. Please note: Do not use the Grand Central Bakery parking lot at any time of the day for drop-off/pick-up of students.
Opening Day Packets
Packets will be sent home with students the first day of school and will contain the forms that need to be signed and returned immediately as well as the school calendar/handbook and other important information. Please take time to look through all this information carefully. The Student Verification Report is especially important. Please update the information as needed, sign and date the form and return it to the teacher. PK and Kinder students will receive this information at their child's assessment appointment.
Uniforms
At the BBQ on August 24th our PTA will have uniforms from the Clothes Closet, used and new, available to families. Please bring in old uniforms that no longer fit to donate to the Clothes Closet. See website for more information.
Breakfast/Lunch
Breakfast and lunch are free to all students every day. Students may pick up breakfast in the morning as they enter their designated entrance. Breakfast is served until 9:00 am. If your child will be arriving to school after 9:00 am please make alternative breakfast arrangements for them.
School Messenger
We want to keep in touch with you. Get text alerts about school closures, delays, emergencies and Boise-Eliot/Humboldt events.

Text YES to 68453

(and be sure to do this if you get a new cell phone number).