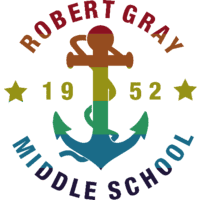 From Lisa Newlyn, Principal

Dear RGMS Families - as we come to the end of Q3 we are also looking ahead to the start of Q4 and big changes ahead. Whether your child is returning to school or remaining in distance learning, we are working hard to make sure that Q4 is Safe, Fun, and Engaging.
I can not express in words the gratitude I have for our hardworking staff who have dedicated countless hours to ensure that instruction and learning goals are in place, both academically as well as social emotionally for all RGMS Students. Thank you, families, for your support of our school team!
Below are timely updates to share on our Student Cohorts, Hybrid Schedule, School Supplies, and Next Week's start to Q4.
Tomorrow, 04/09/21 - NO SCHOOL for students as teachers input grades for Q3.
Next Week's Schedule for all Students is as follows:
Monday 04/12/21 and Tuesday 04/13/21: normal schedule (CDL classes in the AM with Asynch work in the PM)
Wednesday 04/14/21 - Friday 04/15/21: students complete independent (asynchronous) work per assignments posted on Canvas
attendance will be taken, so check Canvas for teacher directions
Cohorts:
We can officially announce and confirm cohort placements for distance learning. Check Student VUE or Parent VUE through the website, not the app, and look for the Student Info tab. CHA = Cohort A, CHB = Cohort B, CDL = Comprehensive Distance Learning only. Due to the tight constraints of physical space and the complexity of schedules, we can not accommodate any change requests. If you wish to return to CDL only, we can make that change without a problem.
Schedule:
The Hybrid Student Schedule is viewable at this link.
School Supplies:
Our supply list can be found at this link.

Supply Needs? Let us know by completing this survey.
As always, don't hesitate to reach out for help, feedback, and the like.
With Respect,
Lisa Newlyn, Principal