Faubion's Annual Peace March
Please join us in our march for peace this
Tuesday, February 27th
.

March begins at 10:45am, led by our fabulous Kinders!!
Looking forward to seeing you all there.
Join the 3-to-PhD Community for an Ethiopian cooking class on February 27 from 3:30 to 5:00. Cook and eat delicious food, and make new friends!
Visit Faubion's New Book Nook and Take Home Some Free Books!
What is it?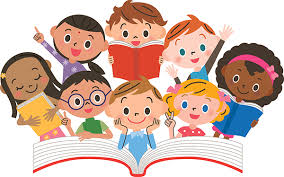 The Book Nook for children's books is a community space for families to share books with one another. No library card needed! Please take some books home for your family to enjoy and keep them as long as you would like. You may also donate books your family no longer uses for others who may be ready to read them by placing them in the book nook space.
Where is it?
The Book Nook for children and teens is located in Faubion's Welcome Hall, just to the right inside the main entrance of the building. There is also a Book Nook for the grown-ups in the Parent Resource Room #161.
For large book donations or questions, please contact
Carrie Kondor
503-493-6230 ckondor@cu-portland.edu
¡Visita el nuevo rincón de libros de Faubion y llévate a casa algunos libros gratis!
¿Qué es?
Book Nook para libros infantiles es un espacio comunitario para que las familias compartan libros entre ellos. ¡No se necesita una tarjeta de biblioteca! Lleve algunos libros a casa para que su familia los disfrute y consérvelos todo el tiempo que desee. También puede donar libros que su familia ya no use para otros que puedan estar listos para leerlos si los coloca en el espacio del rincón del libro. ¿Dónde está?
El Book Nook para niños y adolescentes está en el Welcome Hall de Faubion, a la derecha dentro de la entrada principal del edificio. También hay un rincón de libros para los adultos en la sala de recursos para padres, #161.
Para grandes donaciones de libros o preguntas, contáctese con Carrie Kondor
503-493-6230 ckondor@cu-portland