PTA
For more King PTA info,
go to our PTA site:
www.kingpta.org
Join the King PTA group
on facebook:

Follow our King
twitter feed:


Membership Become a member! Write a check for $10 to the King School PTA and mail it to 4906 NE 6th, Portland, OR 97211 or drop it off in an envelope at the school's or PTA office. Cash is also accepted. Make sure to include your name, telephone number, address and email address. Thank you! Your membership is important. Our goal for membership this year is 50. We have subsidies available for those who wish to participate but cannot afford the dues.

You can also join online now. Go to https://www.oregonpta.org/cgi-bin/join.pl and select "King Elem PTA" from the dropdown list and pay with check or card.

About PTA Meetings We meet at 5:00 for free dinner and conversation on the second Thursday of each month in the school library. Spanish translation services, childcare and food will be provided.

What the PTA Does The King School PTA raised over $25,000 last year to pay for student activities and academic enrichment. The PTA is developing the courtyard garden project and planting the school surroundings. Each year has seen a increase in volunteering and parental participation.

Other PTA Functions

Committees

The PTA is active with the Site Council to improve school achievement, working to organize Parent Nights and increase parent involvement, and to do outreach to the community and recruit families to King School. If you want to volunteer or you or someone you know has questions about King, contact us and we will put you in touch with the right person.

If you have specific interest or strengths in the following areas, please feel free to be a part of one or more of these committees:

Event Planning - Plan and oversee PTA events and the timeline for events as they approach.

Auction - Help plan the party of the year! King will hold its second auction this year so that the PTA can better support the IB program, field trips, afterschool activities and the expansion of the garden.

Fundraising - Find new ways to fundraise throughout the year and maximize the fundraising for our annual signature fundraising efforts.

Welcoming - Make sure member interest is followed up on personally. Walk new members through the PTA's goals for the year, explain the role of committees, and identify how they would like to serve.
Parent/Community Outreach - Network with parents, businesses and organizations in the community to bring resources to King School and build new partnerships.

Grant Writing - Find creative avenues to leverage additional money. Stay current on grant opportunities and keep PTA informed.

Nutrition - Research and initiate changes to our students' nutrition program. Offer educational information on healthy lifestyles and eating habits.

Exterior/Interior/Décor Maintenance - Stay on top of appearance of the school, keep flowers/trees watered, beds planted with seasonal flowers, keep weeds pulled. Create a schedule to water plants, and walk the halls to assist with keeping the halls decorated.

Grade Level Liaisons/Teacher Appreciation and Support-Each committee member is assigned to a few grade levels to maintain constant communication between parents and teachers. The committee will also serve to support teachers on Teacher Appreciation Day.

Volunteer Coordinator– Solicit an ongoing list of volunteers and create a database. Coordinate them with tasks matching their skills.

PTA Clothes Closet

For a full range of used and new clothing for those in need, the district-wide PTA clothing closet is located at Marshall High School, 3905 SE 91st St., Room C-56, Portland, OR 97266. Clothing center hours: Monday and Thursday, 10:00 a.m. until 1:00 p.m. (school days.) The King PTA needs 4-5 volunteers to help out twice each year at Marshall High School. Contact us if you can help.

THANK YOU FOR YOUR SUPPORT!
King PTA's Kenneth Butler Honored
King PTA's Kenneth Butler Honored
Portland Council PTA/PPS Volunteer Celebration honors PTA volunteers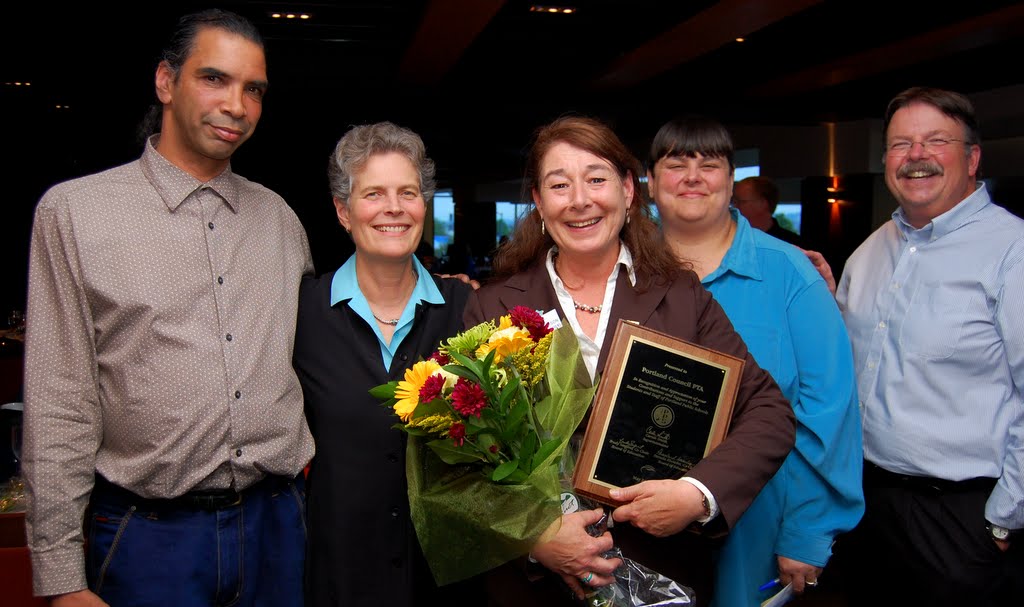 L to R Kenny Butler of King PTA, Superintendent Carole Smith, Beryl Morrison of PortlandCouncil PTA, Jackee Duvall President Oregon PTA, Otto Schell of Grant PTA