Dear Families,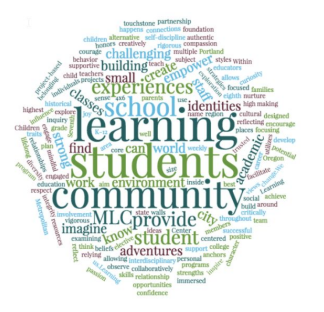 Welcome to a new school year at Metropolitan Learning Center! The word cloud on to the right was created using words from our mission and grade-level statements. You will notice the three words that are largest are: community, students, and learning. I am thrilled to be a part of this community where students and learning are at the center and community is valued.
Whether you are new to MLC or a returning family, we are happy that you are a part of our MLC community. You have made a great choice for your child's education. MLC consists of a dedicated and collegial staff who will care for your children and support them in learning with an experiential influence that fosters creativity, rigor, and meets the learning needs of every student. Our school character traits of respect, courage, compassion, integrity, and self-discipline are driving principles and are embedded in the instruction and expectations we have for all students, staff, and families. Our entire learning community works together to create an inclusive and equitable environment where children develop curiosity, skills, knowledge, and courage. Our school community and students are taught to critically examine dominant cultural norms, seek multiple perspectives and counter stories, and our staff is committed to culturally responsive teaching practices to meet the diverse needs of all students.
We believe families play a critical role in the success of our students, and as a parent/guardian, you are your child's first and most important teacher. You know your child better than anyone else and we invite you to work in partnership with your child's teachers since you have rich insight into your child's needs, talents, and interests. Please feel free to share any information that you believe will help us guide your child's success. Additionally, teachers provide a unique perspective on your child. They will see your child as a member of the classroom community and watch as they interact with peers, face the challenge of new learning, respond to setbacks, ask questions, and solve problems. Parent and teacher perspectives, working in partnership, are critical to ensuring that your child's experience at MLC is robust, exciting and rewarding.
Please feel free to call me at (503) 916-5737 if you have any questions about our program, procedures, or school policies. As a loving community, we hope to problem solve together when needed. I look forward to a wonderful year of learning and working collectively with all of you!
Warm Regards,
Alexa Pearson, Principal