It was wonderful to see you at Back to School Night on Wednesday. Thank you for taking the time to visit with us and meet your students' teachers. I felt a positive and warm energy throughout the building. Thanks for being a part of it! I enjoyed meeting so many families and students and it is clear how invested you all are in your teen's education and futures. I look forward to working with you this year and in the coming years all of us as a team to support students to be successful academically and in all the areas they are passionate about. Also, I truly appreciate you taking a selfie with me in the gym!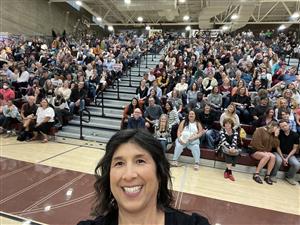 On Thursday we had hundreds of students participate in the Club Fair after school. It was so great to see students talking about their clubs and recruiting others to join. I saw lots of student names on the sign-up sheets. I am so proud of our students!
Como siempre comuniquense con nosotros si tienen alguna pregunta o cualquier preocupación.
-----
September 15, 2023
Hola familias de Franklin,
As a proud Latina I am excited to welcome Latinx Heritage Month and all the events and activities that we will celebrate at Franklin. Stay tuned for more information.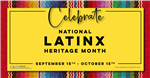 I met with the PTSA last night and had a wonderful conversation about our students and school community. I would love to see more families, and yes you too students, attend the meetings. It's a great opportunity for more voices to be heard and for us all to work together to support teachers and students as we navigate our small city. Please reach out if you have any questions!
I look forward to seeing you all in person at our Back To School Night event on Wednesday at 6pm. Also, please encourage your students to attend the Club Fair and Clothing Swap Pop-up on Thursday on the front lawn at 3:30pm.
¡Hasta pronto!
Dr. Z
-----
September 8, 2023
Hello Franklin Students and Families,
It's been an exciting 2 weeks! Counselors are working to adjust final changes in student schedules and student clubs are beginning to meet and plan events for the school year. In the classrooms students and teachers are getting to know each other and working to set classroom norms and routines and academic expectations. Tutorials begin next week on Thursday and Friday. This is time for students to receive extra academic support from their teachers at the end of the school day. See the class schedule in the latest issue of The Bolt and encourage your students to attend by checking in with their teachers. Also, Monday we will be checking that students are wearing their lanyards and have their ID badges visible when they enter the building and throughout the school day. See more details on our homepage with what to do if a student forgets their ID or loses it.
Reach out to us if you have any questions or need anything.
Gracias,
Dr. Z