Phone:
Email:
Degrees and Certifications:
Mirna Ghamrawi

My journey with PPS began in 2015 in the ESL department. In 2021, I became the Community Agent Supervisor in the department of Community Engagement. I look forward to using the tools available to me in this role to align the Community Agents' purpose and mission with PPS's vision for equity and diversity. A big part of my role is also leading and supporting our team of multilingual community agents in their efforts to advocate for our underserved families as they navigate PPS systems and processes. Away from work, I enjoy being active in the beautiful city of Portland and creating delicious and colorful meals for my family.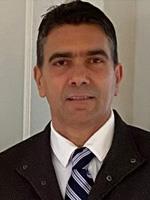 Phone:
Email:
Degrees and Certifications:
Nelson Perez

I am bilingual and bicultural (Spanish/English) and have always worked in Education. I have been a PPS employee since 2005, working mostly in the ESL Department, and am a licensed World Language teacher (Spanish Endorsement K-12). I am also a medical interpreter in the State of Oregon. In 2019 I started working as a Community Agent (Spanish Language) at BESC. My passions are: languages, traveling the world, outdoor activities (hiking), eating healthy, and exercise.

⋅ ⋅ ⋅

Soy bilingüe y bicultural (Español/Inglés). Siempre he trabajado en la rama de la educación. He sido empleado de PPS desde el 2005, mayormente en el departamento de ESL. Soy maestro con licencia en la Disciplina Mundo del Lenguaje (Asignatura Idioma Español, para los grados comprendidos entre K y 12). En el 2019 comencé a trabajar en la Oficina Central del Distrito PPS (BESC) como Agente Comunitario ( Idioma Español). Mis pasiones son:los idiomas, viajar por el mundo, realizar actividades a cielo abierto (senderismo es mi favorita), comer saludable y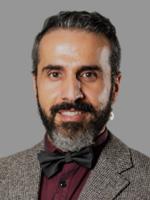 Phone:
Email:
Degrees and Certifications:
Sarkawt (Saro) Amir Sabir

Saro is a Kurd, born and raised in Baghdad, Iraq. He obtained his Master's in English Language and Literature at Koya University in 2012, where he taught for over six years. He came to the United States on a Fulbright scholarship to teach Arabic Language at Reed College in 2014. Ever since, he settled in Portland Oregon, where he started tutoring Arabic online not only to teach the Arabic language and culture, but also to increase the mutual understanding between the cultures of the United States and the Middle East.

⋅ ⋅ ⋅

السيرة الذاتية: سركوت أمير صابر (سَرَو)

ولد سَرو في بغداد العراق وَهو كُرديّ الأصل حَيْثُ حَصَل على شهادة الماجستير في اللغة الإنجليزية وآدابها من جامعة كوية في عام ٢٠١٢ وَدَرَّسَ فيها لأكثر من ست سنوات وجاء إلى الولايات المتحدة عن طريق مُنحة الفولبرايت لتدريس اللغة العربية في كلية ريد عام ٢٠١٤ ومنذ ذلك الحين استقر في مَدينة بورتلاند- أوريغون حيث بدأ عمله في تدريس اللغة العربية عبر الإنترنت ليس فقط من أجل تعليم اللغة و ثقافتها بل أيضًا مِن أجل زيادة التفاهم المتبادل بين ثقافات الولايات المتحدة والشرق الأوسط.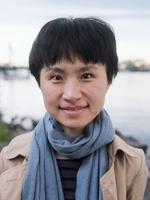 Phone:
Email:
Degrees and Certifications:
Wenyun Liu

I was born in Shanghai, China. I studied language education in Shanghai, Cambridge (England), London, and Portland, and have worked at these places as a Mandarin teacher. I have also translated a few books from English to Chinese. I hold a preliminary teaching license in Oregon. I am proud to be serving the Chinese community in PPS.

⋅ ⋅ ⋅

我出生于中国上海。我曾在上海,剑桥(英国),伦敦,和波特兰学习语言教学,也曾在这些地方担任中文老师的工作。我翻译过几本英文书籍。我持有俄勒冈州的教师证。我很高兴能为波特兰学区的中文家庭服务。
Phone:
Email:
Degrees and Certifications:
Nhi Truong

My family and I immigrated to the U.S. when I was in 9th grade to seek a better educational system and opportunities. I am a first-generation college student. My goal is to finish my Bachelor's degree in Child, Youth, and Family Studies and attend the Graduate School of Education. I graduated from Franklin HS and got my first job at PPS as a Gear Up Near Peer Mentor at McDaniel HS soon after. In 2022, I became the Vietnamese Community Agent in the department of Community Engagement. Since the day I immigrated to the US, I have always desired to work in the education field, advocate for equitable education, and support underserved students and families. The need to understand how the U.S. educational system works and its effect on students' lives and futures pushed me to take this opportunity to offer the resources I have to the underrepresented communities.

. . .

Gia đình tôi bắt đầu định cư ở Mỹ khi tôi học lớp 9. Hiện tại tôi là sinh viên đại học ngành Giáo Dục tại trường PSU. Tôi bắt đầu với sở học chánh PPS khi tôi là một học sinh cấp 3 tại trường Franklin. Sau đó bắt đầu công việc của tôi trong sở học chánh tại chương trình Gear Up với tư cách là Người cố vấn học tập cho các em học sinh cấp 3. Năm 2022, tôi được tuyển dụng cho chức vụ Community Agent tại sở học chánh PPS với mục tiêu nhằm giúp đỡ các em học sinh và gia đình Việt Nam trong sở học chánh. Kể từ khi tôi sinh sống tại Mỹ, tôi đã luôn mong muốn được làm việc trong Lĩnh vực Giáo dục, góp phần xây dựng một nền giáo dục bình đẳng, và hỗ trợ những học sinh và gia đình khó khăn.