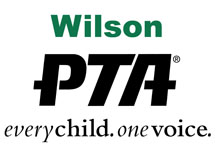 Welcome to the 2016/2017 school year! Once again it is time to gather at registration and prepare for another great school year. Whether this is your first year as a Wilson a parent, your last year or somewhere in between, we know how important it is to feel well informed about what is going on in your child's school and to feel represented. The PTA strives to keep parents informed, advocates for the entire parent community, and provides you a way to make a difference in your child's school and education experience. We all want our children to have a high school experience that prepares them for their next adventure in a safe environment where they can learn and grow. Parent participation is a very important piece of this equation.
Here are some ways you can get involved today:
Join. Dues are $30.00 individual, $50 couple, and include a copy of the Wilson Student Directory.
Volunteer. There are many ways to pitch in, and volunteering is great way to get to know staff and other parents.
Support. Above and beyond your membership dues, PTA needs your financial contributions to provide support for programs school-wide. Donations are tax-deductible. Your employer may provide matching funds for time or money you contribute—be sure to ask!
Attend. PTA has just three meetings a year. Our first meeting this year will be September 26th at 7:00 pm in the Wilson library. In addition to our PTA meetings we offer Parent Education Nights throughout the school year on topics relating to the high school experience.
We look forward to meeting and working with you this coming year!
Phyllis Snyder, Wilson PTA President
Diana Lawrence, Vice President
Alice Forbes, Secretary
Neal McLaughlin, Treasurer
PTA Sponsored Activities
All PTA general meetings held in the Wilson High School Library at 7:00 PM.
Monday, September 26, 2016
Monday, February 6, 2017
Monday, May 15, 2017
PTA Board meetings are the 2nd Monday of each month at 7:00 PM
PTA Parent Education Nights
Monday, October 10, 2016
Monday, December 5, 2016
Monday, February 13, 2017
Tuesday, March 14, 2017
Tuesday, April 4
---
2014-2015 PTA Minutes
Sept 2014--Brd Mtg | Sept 2014 Gen Mtg | Oct 2014--Brd Mtg | Nov 2014--Brd Mtg | Jan 2015--Brd Mtg | Feb 2015--Gen Mtg | Feb 2015--Brd Mtg | Apr 2015--Brd Mtg | May 2015 Brd Mtg | May 2015 Gen Mtg
2013-2014 PTA Minutes
Aug 2013--Brd Mtg | Sept 2013--Gen Mtg | Sept 2013--Brd Mtg | Nov 2013--Brd Mtg | Jan 2014--Brd Mtg | Feb 2014--Gen Mtg | May 2014--Brd Mtg | May 2014--Gen Mtg
2012-2013 PTA Minutes
Sept 2012--Gen Mtg | Jan 2013--Gen Mtg | Mar 2013--Brd Mtg | Apr 2013--Brd Mtg | May 2013--Brd Mtg | May 2013--Gen Mtg
2011-2012 PTA Minutes
Aug 2011 | Sept 2011--Brd Mtg | Sept 2011--Gen Mtg | Jan 2012--Brd Mtg | Feb 2012--Gen Mtg | Mar 2012--Brd Mtg | May 2012--Gen Mtg |
2010-11 PTA Minutes
July 2010 | Aug 2010 | Sept 2 2010 | Sept 16 2010 | Oct 2010 | Nov 2010 | Jan 2011--Brd | Jan 2011--General | Feb 2011 | April 2011--Brd | April 2011--Gen | May 2011--Brd | May 2011--Gen | June 2011
2009-10 PTA Minutes
Aug 2009 | Sept 2009 | Nov 2009 | Jan 2010 | May 20, 2010 | May 25, 2010
2008-09 PTA Minutes
Sept 2008 | Oct 2008 | Nov 2008 | Feb 2009 | Mar 2009 | Apr 2009 | May 2009
2007-08 PTA Minutes