Congratulations on wrapping up another school year. This year was full of unexpected twists and turns. Over all, I feel positive about all that we've been able to accomplish this year.
This final edition of the Student and Family News for the 2021-2022 includes some final wrap-ups from the school year, news about summer opportunities and some information to get you thinking about the 2022-2023 school year. You can check our website throughout the summer for any updates we may have to share about the upcoming year.
I hope you and your loved ones have a wonderful summer. Even though I am looking forward to a little break, I am excited to see everyone back on August 30!
Finally, you can view the entire Commencement Ceremony here: https://www.youtube.com/user/ppscomms
Senior Grad Photos/Slideshows
GRADUATION PHOTOS
By now you should have received a link from schools@visualimpressions.org to view your
graduation images. If you have not received this link, please check your spam folder.
You can also reach out directly to schools@visualimpressions.org or 503-320-3076 to request to have a new link sent to you.
GRAD NIGHT PHOTOS
Shout out to Instapix NW for working our photobooth at Grad Night. Check out the photos here: https://instapixnw.smugmug.com/Ida-B-Wells-HS-Grad-Night-2022/
SENIOR SLIDESHOWS
Class of 2022 Candid Slideshow https://www.youtube.com/watch?v=RybyXkXnixQ&t=2427s
Class of 2022 Graduation Slideshow: https://www.youtube.com/watch?v=ycyGVzTSJec&t=1082s
Seniors - Transcripts
Just a reminder that once grades have been input for 2nd semester, a final transcript will automatically be sent to the college you indicated in your exit survey. If anything needs to change over the summer, please contact Winston Rivas at wrivas@pps.net
First Guardian Award winners announced
The Guardian Award (formerly the Golden W) is our highest honor and celebrates graduating seniors, staff members, and supporting members of our community who exhibit the attributes of the WELLS acronym. They are WISE with their choices, EXCELLENT with their actions, LIVE with integrity, LEAD with courage, and SPEAK with passion. The WELLS acronym is adapted from Dan Duster, the great grandson of Ida B. Wells- Barnett. These nominees have demonstrated their dedication to the betterment of our school by generously contributing their time and talents over at least 4 years of service. This inaugural year we recognized 3 staff members, 2 community members, and 5 dedicated seniors.
STAFF GUARDIAN AWARDS
Megan Jackson
Megan Jackson has been an incredible asset to our high school! She is ineffably positive despite the many setbacks of the past few years, creative about finding solutions to problems, and in short, brings out the best work in everyone around her (students and staff alike). She joyfully does WAY more than her share every single day and her love for her vocation and for our students is palpable. Thank you for all that you have done for our school and community, Megan!
Thea Stayton
Thea has been incredibly helpful to many students in learning center classrooms. She consistently goes above and beyond to learn about a variety of subjects to better support her students in high level math and science classes. Thea is not only a fantastic academic support for students, but she shows incredible empathy when students need emotional support. Thea uses the strong relationships she builds with both students and teachers as the foundation for strong student advocacy. Her quiet and strong leadership are very much appreciated. Thank you so much, Thea!
Emilee Refvem
Emilee is an AMAZING co-worker and student advocate. She goes above and beyond her role in Special Education to ensure that our school serves ALL students to the highest standards possible. Emilee does this through her welcoming demeanor, dedication to learning about multiple cultures, and participation on the school's climate team. She helps students who might feel disenfranchised feel special and known through advocacy, a hallway compliment, and even hosting home-made culturally specific meals for groups of students. Our school is a better place because of her - thank you so much Emilee!
STUDENT GUARDIAN AWARDS
Julia Boboc
Julia is a reflective, organized, self-motivated community member who wants to help and support others. In all that she does, it is evident that she leads and serves to better the whole. From her work on the Safer Club to editing our magazine, hosting an online podcast and contributing to our yearbook, Julia's voice and efforts as a student leader have been essential in improving our school culture and community! We thank you and wish you well next year at UofO!
Aslan Newson
Aslan is the perfect example of a person who makes decisions with a balance of self awareness and confidence, and consideration for the people around her. She personifies intelligence and strength, and she fights for what she believes is right until it becomes so. In the eyes of her peers, Aslan is known as a badass social justice warrior who got a full ride scholarship to YALE! She is an inspiration to all of us! Thank you Aslan!
Jonel Mondero
Jonel Mondero is a determined, curious, and enthusiastic learner who has played an integral role at Ida B. Wells. Jonel dedicated hours of his time to the very important school re-naming committee and was also an active leader in the band program and ADPI. Jonel's peers recognize that his leadership is very intuitive, stepping up and speaking out when he sees it is needed. He believes in the power of change and bleeds empathy for all. Thank you Jonel, and we look forward to hearing about your bright future at Washington State University.
Grant Robb
Grant is a self-less, quietly-lead-by-example kind of student and yet tenacious in his actions to improve both our planet and our community. He has volunteered locally and overseas throughout high school, participating in field work in sustainability, biodiversity, civic engagement and feeding the houseless population in Portland, all while holding a job and being an athlete. Thank you Grant for your service and we wish you all the best at OSU. Go Beavs!
Senya Scott
Senya Scott displays passion, kindness, and exemplary leadership in everything she does. She is a driven individual who has consistently improved the environment of our school. Her work with No Place for Hate, Hot Tea with Senya, and BLM activism has made her a strong and powerful force at our school, making her incredibly deserving of the Ida B. Wells Guardian Award. Senya will attend Howard University next fall on a full-ride scholarship. We can't wait to see what you do next! Thank you Senya - we wish you the very best!
Community Guardian Awards
Jessica Christensen
The amount of work that Jessica Christensen does for our school is seriously mind-boggling! She freely and generously gives her time and talents. Jessica serves as our PTA hospitality chair, Boosters President, Foundation committee member, grad night committee member just to name a few. Additionally, Jessica immediately jumped in to help our social worker secure food and household supplies to support the food pantry and has worked on this throughout the school year. We cannot thank Jessica enough for all that she does for our community. She is a role model and an inspiration!
Frank Joyce
Frank has been volunteering with our school for 9 years when, in fact, he hasn't had a student here since 2018! In the band program we know that if we need anything, we can call Frank! He is our instrument and electronics fixer, our photographer and advertising guru, and he even feeds us before games and chaperones our events. Along with being the band program go-to, he has also donated many, many hours of his time to our Engineering program. Frank, we could not thank you enough for your continued support!
Senya Scott named Rose Festival Queen!
On June 10th, our very own Senya Scott was coronated as the Queen of the Rose Festival. Senya is now the 100th queen to wear the Crown of Rosaria. Congratulations, Senya! The last queen from Wilson/Ida B Wells was in 2006. To read more about the coronation and see photos, click here: https://www.oregonlive.com/entertainment/2022/06/portland-rose-festivals-2022-queen-is-senya-scott-of-ida-b-wells-high-school.html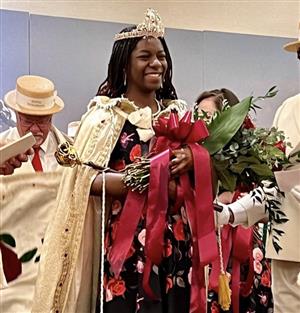 Senya Scott, Rose Festival Queen
Main Office Summer Hours
The last day of regular office hours for the main office is Friday, June 17th. The Main Office will be will be open M-F, June 21-Aug 8 with limited business hours which are: Monday-Thursday 8:30am-3:00pm; Fridays-8:30-12:00pm. Please call our Main Office at 503-916-5280 with any questions or if you need to make an appointment to come to the school. Also, please refer to our website for information: https://www.pps.net/ibw
Mark your Calendars!
2022-2023 "PREPARATION FOR BACK-TO-SCHOOL" DAYS (FORMERLY CALLED REGISTRATION DATES) AUGUST 23, 24, 25TH
On "Preparation for Back-to-School" Days, currently enrolled students*:
- will have their pictures taken
- receive their school ID (which includes the Trimet Hop Pass)
- receive their class schedule
- (Textbook distribution and locker assignments will take place after school begins)

* current IBW students (10th, 11th and 12th grade)
* 9th graders coming from feeder schools, Robert Gray and Jackson MS
* new students for 2022-2023 whose enrollment paperwork has already been completed for the 22-23 schoolyear

August 23, 9am-4pm Juniors/Seniors
August 24, 9am-3pm Sophomores/Make-Up for Juniors and Seniors
August 25, 9am-3pm Freshman
Enrolling a new student
For information regarding how to enroll a new student (anyone coming from a new district or has been enrolled in a PPS school in the past) please click HERE
First day of school, 2022-2023
Tuesday, August 30, 8:30-10:30am, 9th Grade Orientation; Late Start for 10th - 12th graders
Other Important Dates
August 8, Adm. and Main Office Staff return and regular office hours resume
August 15, First day of Fall Sports (see below for more information)
August 15-18, Theater Boot Camp (see below for more information)
August 18, Counselors return
August 24, Teachers return
August 27, Campus Clean-Up (see below for more information)
August 29, Band Camp (see below for more information)
September 1, Freshman 101 for parents
September 22, Back to School Night
Summer Meals
In partnership with Portland Parks and Recreation, daily free lunch and activities will be offered throughout the city in the 16 parks from June 21 through August 19. Lunches are free for all children in the community ages 1-18. Please note, all lunches must be eaten within the designated eating area at the park. Grab and go meals are no longer available per USDA regulations and all children must be present to receive a lunch. No food may be taken home. We appreciate your cooperation and understanding with this transition in rules from last year's services. In the SW area, meals will be available at Stephens Creek Crossing and Holly Farm Park. Here is a link to all the parks and times meals will be served. https://www.pps.net/Domain/59
Summer Hours at Mult. County Student Health Center
The Multnomah County Student Health Center at Parkrose High School will be open all summer. If you do not have a regular medical provider, this is a good no/low-cost option for all health care needs. Call for appointments. Please see this FLYER (English and Spanish) or their WEBSITE for more information.
Campus Clean Up, Saturday, August 27, 9am-12pm
Join us for our annual Fall Campus Clean Up on August 27th from 9am-12pm. Some tools are provided, but also please bring your own clippers, rakes, wheelbarrows, etc. and help make the campus ready for school. Lunch will be provided.
ACADEMICS
Student Leadership Classes - Fundraiser Success!
Thank you to all the students and families that donated to some very important causes this year through our Student Leadership classes. We wanted to share with you the results of your generosity as we close out this year.
COMMUNICARE
We started the school year off raising money for local organizations geared towards helping our houseless community within the Portland Metro area through the CommuniCare program. Our students were able to create a mission statement based on what students at IBW wanted to raise money towards, created various fundraisers, and interviewed numerous local organizations before deciding on what nonprofit organizations they would donate their funds to.
2nd Period Mission Statement: "We, the Ida B. Wells Barnett High School 2nd period Leadership Team, recognize how houselessness in our city affects the cleanliness of and adds pollution to our community. We will be granting money to organizations in the Portland Metro area that support the environment through trash clean-up or provide mental health services to the local houseless population. We believe that we can help make Portland cleaner and improve the issue of houselessness in our city. We would like to see better lives for houseless people and a less polluted, more well-kept local environment."
3rd Period Mission Statement: "Ida B. Wells-Barnett High School period 3 CommuniCare will be granting money to organizations that provide mental healthcare in the Portland Metro area. We believe there needs to be more accessible support for those struggling with mental health. Although we are open to and will consider organizations that provide direct support and care for all communities, we will prioritize organizations that support sexual assault and rape survivors, foster children, and domestic violence survivors. We would like to see these routinely ignored communities receive the help and support they need."
Here are the results of how much money was raised and what organizations the students decided to donate to
UKRAINIAN CRISIS FUNDRAISER
In May, the student leadership classes also started another fundraiser to help support Ukraine during this tragic crisis. Students chose to donate to The CARE Foundation and were able to raise $506.20 to donate to their Ukraine Crisis Fund which will provide immediate aid including food, water, hygiene kits, support services and direct cash assistance. The foundation says it will prioritize women and girls, families and the elderly. CARE's crisis response aims to reach 4 million with our help.
Thank you again for your generous contributions.

AP English for 2022-2023 School Year

Are you taking an AP English class next year? Be sure to read the info letter and check out your summer reading assignment! Pay attention and make sure you do the correct assignment for the class you signed up for. We look forward to seeing you in class! Sincerely, IBW English Teachers
AP English Info Letter
AP English LANGUAGE and Composition Summer Assignment
AP English LITERATURE and Composition Summer Assignment
French Students - Summer Practice

Students going into French 3-4 and above are asked to review and practice over the summer. Merci! Here's the document:
French Summer Practice Plan
2021-2022 Credit Recovery Options/Summer Scholars

PPS Summer Scholars registration is now open. This is for students who earned an F or NG in a class needed for graduation. Counselors have to register students for classes, this is not something you can register for on your own. If you have questions about your credits, please see your counselor before/after school, at lunch or during flex time. Here is a link to the Summer Scholars website for more detailed information:
https://www.pps.net/domain/4358
Locked Student Chromebooks and Summer Technical Support for Students

If your Chromebook is locked over the summer, please call IT support at 503-916-3375 for assistance. Teachers, library staff, and office staff do not have the ability to unlock your Chromebook for you. Your Chromebook could be locked for any of these reasons:
You did not fill out a permission slip to keep your Chromebook over the summer.
The IT asset tag was left off of the permission slip.
The IT asset tag you entered did not match the Chromebook that was checked out to you.
A different student entered the IT asset tag of your Chromebook into their permission slip.
Any other error in the permission slip that prevented us from confirming that the Chromebook in your possession was checked out to you.
If you need technical support over the summer for any other reason, you can also call IT at 503-916-3375.When calling, please have the following ready:
Your name, a call back number, school email and your chromebook
Leap into 9th Grade - June 27- July 15