Dear Ida B. Wells Students and Families,

Welcome to the 2022-2023 school year! We are so glad you are part of our community.
This year we continue to use the amazing legacy of our namesake to inspire and educate our young people to become the leaders and scholars of today and tomorrow. Several teachers are joining forces this summer to develop an engaging curriculum about Ida B. Wells that we will incorporate in various courses. We will continue to build a school culture that promotes equity and inclusion, and we will use our new mascot, the Guardians, to remind us all to take care of each other and our communities. Please join us in honoring our namesake by using her full name, Ida B. Wells, when referring to our school and by engaging in personal learning, too, about her remarkable life.
Our commitment to educational equity extends to academic excellence, too. This year we will be offering nearly 30 Advanced Placement courses, multiple college dual-credit courses, and 12 comprehensive programs of studies, Ida B. Wells Pathways, in Fine and Performing Arts, Computer Science, Construction Technology, Business and Marketing, Engineering, Journalism, Health Sciences, World Languages, Mass Communications and Engineering. We encourage our students to explore at least one pathway of study for three or more years. Last year's graduating class included nearly 200 Pathway Completers. Members of the Class of 2022 also received more than $3.5 million in scholarships and will be represented at 72 different universities and colleges, including Harvard, Yale, Princeton, Howard, and more. I look forward to seeing our future graduating classes exceed these impressive achievements.
This is an exciting time to be part of the Ida B. Wells community. I am grateful to serve in such a thriving school and I look forward to seeing you and your students in the weeks to come!
With Gratitude,
Filip Hristić, Ed. D.
OUR SCHOOL
Important Up-Coming Dates!
Mark your calendars for all these important dates. You will find detailed information about each event throughout this bulletin.
August 15 - Fall Sports Begin
August 15-18 - Theatre Boot Camp
August 23-25 - Back-to-School Preparation Days
August 23 - Sports Kick-Off Night
August 27 - Community Care Day - Campus Clean Up
August 29 - Band Camp
August 30- 1/2 day Special Schedule, 9th and 12th grade ONLY
August 31 - First day of school for all grades;
Make-up Day for School Photo/Student ID
September 1 - Freshman Parent 101
September 12 - Booster Club Meeting
September 14 - Club Fair
September 14 - PTA Meeting
September 22 - Back-to-School Night
Back-to-School Preparation Dates!
At our Back-to-School Preparation Days, students who are already enrolled and have a student ID #
- will take their yearbook/student ID photo and receive a free TriMet HOP bus pass
- will receive their course schedule
- can pay costs and contributions
- can meet with the college and career counselors in Room 149 (JR and SR, 8/23 only)
- can take a tour and attend a mini Club Fair (Freshman, 8/25 only)
August 23rd
Juniors and Seniors: 9:00am - Noon OR 1:00pm - 4:00pm
August 24th
Sophomores and Make-Up for Juniors and Seniors: 9:00am - Noon OR 1:00pm - 3:30pm
August 25th
Freshmen with last names beginning A-M: 10:00am -12:30pm
Freshmen with last names beginning N-Z: 1:00pm - 3:30pm
August 31st
School Picture/Student ID Make-Up Day
8:00am - 4:00pm in the Auditorium Foyer
This is for students who missed our Back-to-School Preparation Days.

To volunteer for our back-to-school preparation events, please visit: https://signup.com/go/wVGrUif
Back-to-School Preparation Information
Class Contributions and Fees
Families who can are asked to help contribute funds to classes and programs each year. Many of the contributions are voluntary and some are required based on what the student receives, such as art materials. Please contribute if you can to increase the resources and opportunities for our students. Our operational budget does not cover all course supplies and costs, so we rely on contributions from families to enhance the classroom experience for students. We are very fortunate at IBWHS to have a high level of parent commitment to our instructional programs and extracurricular activities. Your support is greatly appreciated.
Classes that have a cost/contribution associated with it are listed here. Students will need to have their class schedules available before logging on to Schoolpay to make the payment. All school payments can be made online through Schoolpay.com or in person with check/cash or credit card at our back-to-school preparation days on August 23, 24, or 25th.
We also understand that paying fees and contributions for classes can be a hardship for some of our families. No student will be denied access to PPS classes based on ability to pay. Students receiving free and reduced lunch may have fees waived or reduced.
Associated Student Body (ASB) Membership
There are many benefits to purchasing ASB membership. ASB membership gets students into all home IBWHS athletic events for free (and faster entry though the ASB gate!) and includes a free ticket to the homecoming dance that follows the football game on October 13th. The funds collected go right back to our students through supporting dances, assemblies, student clubs and activities.
ASB Membership is available to purchase now on SchoolPay for $25. However, you must purchase the ASB Membership by August 22nd for this price and to be able to have ASB printed on the Student ID card at the Back-to School Prep Days or the make-up day on August 31st. Students must bring a receipt (either electronically or printed) to show to Lifetouch to get this membership printed on their ID card. ASB Membership WILL NOT be available for purchase during Back-to-School Preparation Days. On August 26th, ASB membership will re-open on SchoolPay and the price will increase to $30 and you will receive a sticker for your StudentID card that can fall off.
To purchase ASB membership, login to schoolpay
2022-2023 Yearbooks
You will be able to begin pre-ordering/purchasing the 2022-2023 Yearbook during Back-to-School business days for $65. We highly encourage you to pre-order the yearbook now so you won't forget later. Pre-order numbers are used when ordering the yearbooks and we don't want to sell out! The price will also increase later in the school year.
Free and Reduced Lunch at Ida B. Wells High School
Free and Reduced Lunch affects much more than just lunch! Students on Free and Reduced Lunch can receive reductions in class fees, athletic participation fees, ACT, SAT and AP test fees. Reductions may also be available for college application fees. In addition, having accurate data on the percentage of students qualifying for FRL may affect our ability to qualify for grants or other funding.
The nationwide waiver to provide all K-12 students with free meals regardless of income expired June 30, 2022. Meals will no longer be free to all PPS students in the 2022-23 school year. Families can submit an online or paper Confidential Family Application to see if they qualify for free and reduced-priced meals.
Yearly Verification
Each year, parents and/or guardians are asked to review and update the information on file for their students. This information can be reviewed, edited and submitted online via PPS ParentVUE. See more information on these flyers:
Online Verification Information_English
Online Verification Information_Espanol
Online Verfication Information_Soomali
Student ID Card - REQUIRED FOR ALL STUDENTS
All students are required to have and carry a Student ID card. Our building doors are open before school and at lunch but remain locked all other hours. Students must show their Student ID card to get into the building during locked hours at either the Main Entrance (Vermont) or the north entrance by the gym.
School Photos for Student ID card and Yearbook
A school photo will be taken of each student. This photo will be used on the Student ID card and in the yearbook (the exception is that Seniors can submit their own photos for the yearbook). Lifetouch is our school photo vendor and photo packages can be purchased here.Lifetouch Order Form The Picture DayID code to use is EVTCWQ2BW. There will be a photo retake day in October but this will only be for yearbook photos and photo orders. Photos will not be re-taken for Student ID cards.
Student ID Number
All students have a six-digit number that is their assigned student ID number. Whenever you call or email the school, please have the student ID number available and use it if you are leaving a message or sending an email. We want to ensure we are assisting the correct student. You can find the Student ID in StudentVUE or ParentVUE
Other Back-to-School Dates
Saturday, August 27, 9:00am-12:00pm - Community Care Day
Project Community Care is a wonderful opportunity for community members to help beautify our school grounds before students return for the school year! Volunteers come together to complete tasks from weeding, to picking up litter, to spreading mulch around flower beds. Together we can grow a sense of community and school stewardship. Volunteers of all ages are welcome. Your time and energy will make a direct impact on students, families, teachers, and the neighborhood. Ida B. Wells High School appreciates all of the effort and enthusiasm that goes into making this event possible! Please meet on the front patio of the school by the flagpole on Vermont. Please bring your garden gloves, loppers, hoe, rakes, electrical or battery powered hedge trimmers, wheelbarrows, shears, shovels, leaf blowers, and any other items that support our efforts to get Ida B. Wells HS looking nice for the first days of school. Lunch is provided by our school for all volunteers. Hope to see you there!
August 30th, Special schedule for Freshmen and Seniors only 8:30am - Noon
More information regarding this special day for Freshmen and Seniors will be available next week.
August 31st, First day of School, All Students, A Day
School begins at 8:30am. Before school on the Vermont patio, students will receive a brand new schedule with any updates and their locker information (locker number and combination).
School Supplies
Students just need to arrive on the first day with a favorite writing tool and a spiral notebook and/or binder and a water bottle. Teachers will let students know if they have any special supplies that are needed during the first days of school. The costs/contributions also cover many of the supplies that are needed in classes. Textbooks and Chromebooks will also be handed out during the first week(s) of school.
September 1, 6:30pm IBWHS Cafeteria - Freshman Parent 101
Parents are invited for an overview of freshman year to help you better understand and engage with the programs, staff and services that are available for you and your freshman. The 9th-grade year is an important transition both socially and academically. We want to make sure we are working together to ensure the best possible outcome for each student. Students are welcome to attend with their parents.
September 22nd, 6:30pm - Back-to-School Night
Meet each of your student's teachers in their classroom and learn about curriculum, course requirements, policies, and expectations.
Communication
We have several communication channels where you can obtain information about what is happening around Ida B. Wells High School
Our Website https://www.pps.net/ibw
Visit the Ida B. Wells website for many resources, including a comprehensive daily calendar of school events, contact information for teachers and administrators, study and test preparation resources, college and career information, and much more. Use the School Directory to help navigate the website Our School Directory
The Weekly Student Newsletter
The link to the Student Newsletter will be sent via email to our students and families each Monday. Items/Updates in the newsletter are categorized under headers that are the same as the main tabs on the website:
Our School
Academics
Counseling
Families & Community*
Library
Athletics
Student Activities
Teachers and Staff
The link to the newsletter takes you to the home page of our website, so you can also always find the Student Newsletter posted there.
NEW! The Weekly Family and Community Newsletter
The Family and Community Newsletter will be sent to parents and/or guardians each Thursday.
This will include information from our parent groups (Boosters, PTA, Foundation, etc) on how to get involved, volunteer opportunities, fundraising, etc. Information about these groups is included in this bulletin today, but beginning next week, it will go out separately.
Trivory https://trivory.com/
Last year we began using the Trivory App (developed by a former PPS student!) as a tool to deliver school news and reminders quickly and easily. Students, parents and any other community members can download the Trivory App on your phone or iPad from your App Store to stay in the loop! It can also be accessed on your computer. We highly encourage all students to use the Trivory app as an easy way to see the day's schedule (A, B, Flex, All 8, etc) and the bell schedule for that day and all the calendar events for the day (see the photo below)
Be sure to go into settings and ensure all notifications are turned on to get the most out of Trivory.
Students and families in Grades 10, 11 and 12 who already have the app, be sure and change your grade level from last year as we send news and reminders to specific grades when applicable.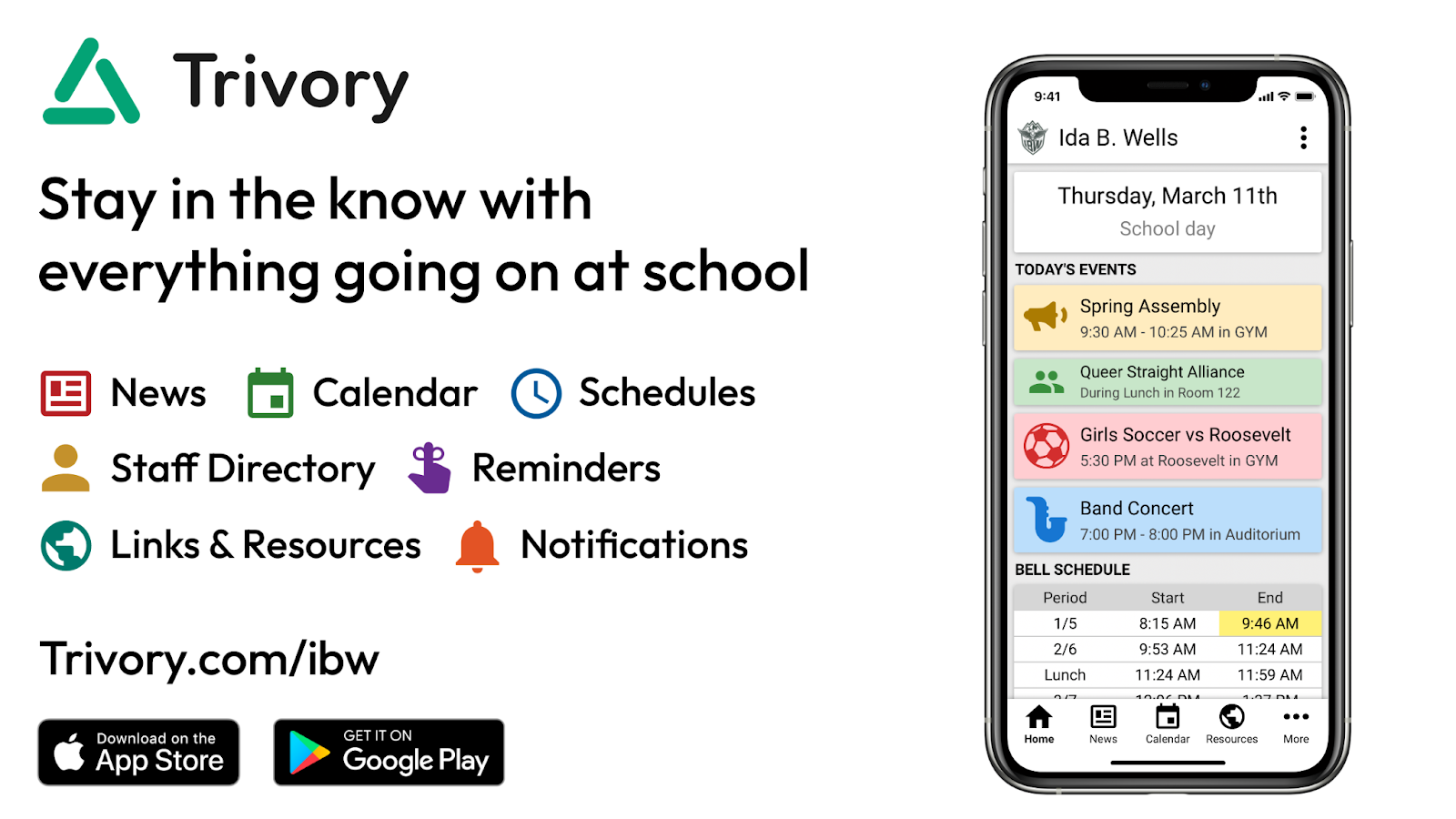 Social Media
Follow us on Facebook and Instagram. While many of our clubs, athletic teams and other groups have their own social media handles, these are the official social media sites for IBWHS with news and updates coming from the main office.
Facebook: idabwellshighschool
Instagram: ibwhs_schoolnews
Important School Contacts
You can find contact information for our entire staff on our website: Staff Directory
Main Phone Line: 503-916-5280
Principal Hristić fhristic@pps.net
Principal's Secretary, Halima Ali hali@pps.net
Principal Hristić to oversee the Senior Class
Vice Principal of Junior Class, Dr. Gandarilla, sgandarilla@pps.net
Vice Principal of Sophomore Class, Ayesha Coning aconing@pps.net
Vice Principal of Freshmen Class, Jill Altman, jaltman@pps.net
Vice Principal Secretary, Abby Menashe, amenashe@pps.net
Business Manager, Erica Caldwell ecaldwell@pps.net
Athletic Director, Mike Nolan, mnolan@pps.net
Athletic Assistant and School Communications, Leanne Van Horn, lvanhorn@pps.net
Attendance Secretary and Data Clerk, Kathy Lommen, klommen@pps.net
Bookkeeper and Finances, Ana Curtis, acurtis@pps.net
School Nurse, Mary Corcoran, mcorcora@mesd.k12.or.us
Social Worker, Britni Locke, blocke@pps.net
Attendance Coach, Juan Medina jmedina@pps.net
Attendance
We have a great attendance system in place at IBWHS! Please check out our procedures on our webpage: https://www.pps.net/Domain/6916 Please use the Absence Reporting Form to report/excuse all absences to our Attendance Clerk (Kathy Lommen). This data is used to update synergy. Once you fill out this form, you DO NOT need to call or email with the same information. You may use this form for past, current or future, full-day or partial-day absences. Please clear absences within 3 school days. Please note that the parent or guardian must excuse an absence or tardy even if the student is 18 years old.
Student Parking
We only have 118 student parking spots available for SENIORS on campus (pickleball courts to the food cart park) AND 30 additional student parking spots at Rieke Elementary School, which are designated for JUNIORS. In order to park in any of these spots, YOU MUST HAVE A PERMIT. These are all first-come, first serve parking spots so having a permit does not guarantee a parking spot. Students who get to school earlier will have a better opportunity to find parking. Please consider carpooling, busing or biking to school. Sophomores and freshmen who drive will need to find parking in the neighborhood.
Staff are assigned parking spots. Staff parking includes the Vermont parking lot around the east side of the building until just past the pickleball courts in the north parking lot. Please do not park in staff-assigned parking. We have a few visitor spots in the Vermont parking lot for appointments or volunteers only.

Seniors who would like to apply for a parking pass to park in one of the senior parking spots on campus can complete this google form. Juniors also complete this form to get a pass to park in the 30 designated parking spots on the Rieke campus. The form needs to be completed by the student using their PPS email. We will be passing out passes at the Back-to-School Prep Days and the first week of school.

Technology
Student Accounts & Equipment
All students will receive a PPS student account for access to Synergy StudentVUE, email, G-Suite for Education, Destiny library system, and to sign onto school computers. All students will receive a PPS purchased chromebook that will be issued during the first week of school. Do not leave your device unattended. There is a $450 fee for lost chromebooks.
Wi-Fi Access
Students can access school Wi-fi by using the password "pps-wifi-guest".
Digital storage
Digital storage is available through Google Drive. Students are responsible for keeping their own backups and are strongly encouraged to purchase a USB flash drive (available at many local retailers for $5 and up) to store and access all of their assignments. When students graduate, their Google accounts are deleted.
2022-2023 Bell Schedules/Calendars
2022-2023 IBWHS Calendar
2022-2023 Bell Schedules
2022-2023 PPS District Calendar
The Trivory App is the best way to keep track of the schedule for the day and the associated bell schedule. See above for more information.
Health Information
Our school nurse is Mary Corcoran, mcorcora@mesd.k12.or.us, 503-916-5280, ext 7526
Out of respect for our community, please stay home if you are feeling ill. School excludable symptoms are:
* Fever (100.4 F or above)
* Cough
* Shortness of breath or difficulty breathing
* New loss of taste or smell
* Chills
* Vomiting (48 hour exclusion)
* Diarrhea (48 hour exclusion)
* Rash
* Positive COVID-19 test
* If your student has a health condition and/or needs to have medication at school, please click here for more information: Notifying the School Nurse of Your Child's Chronic Health Condition & Medication at School
* Please review the following document that outlines the required immunizations for school attendance by the State of Oregon Immunization Requirements 2021-2022
ACADEMICS
Stay Involved through ParentVUE
Synergy ParentVUE/StudentVUE is a tool to help families stay informed about their student's progress, including grades and attendance information. User ID and password remain the same each year. If you have not set up your account or if you are having trouble accessing StudentVue or ParentVue,contact our data clerk, Kathy Lommen, at klommen@pps.net or (503)916-5280 extension 75265. Also, you can download and install the mobile application from the app store.
Theatre Boot Camp, August 15 - 18
The Creative Team and Student Council of your friendly neighborhood Theatre Company will be here to ease your fears and educate your minds about how to get involved with the great things that we do, through a series of workshops designed to bring you up to speed on the skills and mindsets necessary to be productive members of the (SW)2 team...exciting opportunities for new students and for those who want to expand their skills!

Any student in incoming Grades 7-12 is welcome…polish up your skills, learn something new, or just get involved with the award-winning (SW)2 theatre company! All sessions will be mixed age, giving a one of a kind educational theatre experience! https://www.southweststageworks.com/sw2-bootcamp.html
Band Camp, August 29
If you are part of our band program, please join us for Band Camp, August 29th from 9:00am - 3:00pm. To sign up, please email Nick Caldwell ncaldwell@pps.net or complete this Google form: https://forms.gle/j1EjtAsDDhUbFAaC6
COUNSELING
Ida B. Wells School Counselors and College & Career Counselors keep students on track to graduate and achieve their goals beyond graduation. Students are assigned a school counselor at the beginning of their freshman year and generally stay with the same counselor throughout their time at IBWHS. The College & Career Center (CCC) is in room 149, run by college and career counselors and volunteers to help students fulfill career related learning graduation requirements, research careers and colleges and assist with college and financial aid applications.
Our school counselors will return from summer break on Wednesday, August 17th and will be working hard to have all student schedules finalized for our Back-to-School Preparation Days.

For information about schedules, changing schedules, making appointments with your counselor and much more, please review the Counseling Department Basics
Counseling Department Contact Information



Student Last names A-C Sheila Kendall skendall@pps.net
Student Last Names D-H Malcolm Simonoff msimonoff@pps.net
Student Last Names I-Mi Julie Fleming jfleming1@pps.net
Student Last Names Mj-Sch Danny Bradach dbradach@pps.net
Student Last Names Sci-Z Lauryn Files lfiles@pps.net
Counseling Secretary, Sharon Dailey, sdailey@pps.net
College Counselor, Kelly Milford, kmilford@pps.ne
College Counselor, Winston Rivas, wrivas@pps.net
Career Counselor, Jessica Wade, jwade1@pps.net
ASPIRE Program
IBW is an Aspire Site. Aspire is the state of Oregon's mentoring program to help students access education and training beyond high school. IBW Aspire Volunteer mentors are trained volunteers in College and Career readiness, and work to support students in developing their plans after high school, editing college essays and completing FAFSA applications. Ida B. Wells High School is an opt-out school. This means all students are eligible to receive support from our Aspire Program unless a parent or guardian wishes to have their student opt-out of the program. If you do not want to have your student receive support from an Aspire Volunteer Mentor, please contact Winston Rivas or Kelly Milford.
*Please note that students can receive support from our College and Career Counselors even if they wish not to participate in the Aspire Program.
Social Worker
Our Social Worker is Britni Locke blocke@pps.net Please see the IBW resource website with all sorts of valuable resources for Food, Rent and Utilities, Mental Health, Healthcare and Title IX as well as Culturally Specific and LGBTQIA+ student support. IBWHS Resources
FAMILIES AND COMMUNITY
Booster Club
The Ida B Wells High School Booster Club supports all lBW extracurricular activities, programs and clubs. They provide financial grants to sports, programs and student clubs, plus the school administration and athletic department. Each year they provide tens of thousands of dollars in grants, covering items such as club or team equipment, player scholarships, camps, trainers, rental fees, transportation, guest speakers, and so much more! Their funds come from your tax-deductible membership, game concessions, branded school apparel sales and especially our annual Christmas tree sale. Your membership in the Booster Club gives you a voting voice in the allocation of these funds. Visit our website at www.ibwboosterclub.org
for more details. Join Boosters for the school year at Schoolpay.com under NonProfit Groups on the left side menu or at www.schoolpay.com/link/JoinIBW
Meetings
The first Booster Club meeting for this school year is scheduled for Monday, September 12th, at 6:30pm. Find us in the IBW Library! Booster Club meetings are held on the 2nd Monday of each month.
Ida B Wells Merchandise
Represent Ida B. Wells High School with our collection of gear. Shop online, any time, at www.schoolpay.com/link/IBWgear. Orders will be filled for pickup at the school. Merchandise will also be on sale at pop-ups and at the Field House several times during the first few weeks of school. The first opportunities to purchase in person will be at the Sports Kick-Off Night on 8/23 and Freshman Back-to-School Preparation Day on 8/25. Go Guardians!
Sign up to help sell concessions for fall sports!
Concession sales are a great way for IBW teams and clubs to raise money, but volunteers are needed to work during the games/activities. The revenue from concessions benefits ALL students of IBW High School. Please choose a day and time that fits into your schedule! https://signup.com/go/ycboLia
Foundation
The Ida B. Wells Foundation funds teaching positions, raising funds to decrease class sizes and provide a diverse range of electives.The Foundation is the only entity that can pay for staff, and contributions help mitigate cuts to our school due to district and state shortfalls. Foundation receives direct contributions from families in the form of monthly contributions on a credit card, matching gifts from employers,contributions made at House Parties, responses to direct fundraising appeals and the Auction. Last year, the Foundation was able to provide funding to restore teaching positions.
Foundation House Party Extravaganza: October 8, 2022
The party is on, and everyone's invited! Every year at around this time for the past 10 years, parents have opened up their homes to bring the community together in support of Ida B. Wells High School. This year the tradition continues, with multiple parties going on at the same time around SW Portland. All funds raised will benefit IBW Foundation. Watch your inbox for more details on how to RSVP.
Foundation All-School Auction: Spring, 2023
A fun and informal evening of fundraising to benefit Ida B Wells Foundation and all student groups, clubs and teams.Ida B. Wells biggest fundraising event of the year! We are currently looking for an auction chair to start forming their committee. If you are interested in helping with our fall house parties or our spring auction, please contact Foundation Chair, Brad Nelson at foundation@ibwhs.com
Monthly Giving
We hope you will consider a recurring monthly donation of $10 or more to the Ida B Wells Foundation. A little every month adds up to a lot of support for the Foundation! Establish a recurring monthly donation or make a one-time contribution: www fundforpps.org/donate. Many local employers offer matching programs that could double your contribution, check with yours. Matching gift programs allow you to multiply the impact of your gift-at no cost to you. Ask your company's HR or community relations staff if there's a matching gift program.
PTA
The PTA strives to keep parents informed, advocates for the entire parent community,and provides you with a way to make a difference in your child's school and educational experience. We all want our children to have a high school experience that prepares them for their next adventure in a safe environment where they can learn and grow. Parent participation is a very important piece of this equation. Here are a few things PTA fundraising supports: classroom support, staff development, scholarships, PTA Clothes Closet, Portland Council Student Aid Fund, and more.
Membership Matters!
Join us Online at www.SchoolPay.com Find us under NonProfit Groups in the left side menu. Choose from multiple ways to join PTA whether as an Individual or at the Family level. Combined membership or pick your preference. We're looking forward to a great school year ahead or visit www.schoolpay.com/link/JoinIBW
Meetings
The PTA will have 3 - 4 regular scheduled meetings for the 2022-2023 school year with the first scheduled for September 14, 6:30pm in the IBW Library.
LIBRARY
Returning Materials from prior School Years
You can return any library books, chromebooks, textbooks, or other materials during registration. We can take materials that belong to other schools as well. Please bring them to the library. If you have any questions about your checkouts or fines, please email IdaBWellsLibrary@pps.net.
We do not charge overdue fines and any fines will be deleted when materials are returned. If the item is lost or destroyed, we appreciate payment because it allows us to replace the textbook. Fines can be paid using SchoolPay. However, if you do not want to or are unable to pay, please email IdaBWellsLibrary@pps.net to make arrangements.
Distribution of Materials for the 2022-2023 School Year
Textbooks and other materials for the 2022-2023 school year will be checked out during classes once the school year begins. No books will be checked out during registration.
GUARDIAN ATHLETICS
IBWHS is part of the Portland Interscholastic League (PIL) and we offer 14 different sports that are governed by the Oregon State Athletic Association (OSAA). We also support several club sports. More than half of IBW students participate in one or more sports!
Fall Sports: Football, Soccer, Cross Country (XC), Volleyball and Cheer
Winter Sports: Basketball, Wrestling and Swimming (Club Ski and Snowboard Teams)
Spring Sports: Baseball, Softball, Track and Field, Golf, Tennis Club Lacrosse, Dragon Boat Racing, and Ultimate Frisbee)

In order to participate in a sport at IBWHS, all students must complete an eligibility/registration process for each sport, each season & year. For example, a senior who has competed in 3 sports each year, would end with 12 total registrations. Please see our website for complete instructions/details. https://www.ibwathletics.com/
2022 Fall Athletic Registration, First Day of Fall Sports is 8/15
Today is the first official day of Fall Sports. Tryouts are now underway for soccer and volleyball and the cheer team has already been selected. However, it is NOT too late to register for football or XC as both are non-cut sports. All levels are welcome!
SchoolPay link now open to pay for the required Fall PIL Fee
Please note that SchoolPay and FamilyID are 2 separate platforms that are NOT connected. You register on FamilyID and pay on SchoolPay. The required PIL Pay-to-Play fee link is now open on SchoolPay. However, for cut-sports, please hold off on payment until after teams are announced. Payment is REQUIRED for all participants before playing in the first contest (not jamborees).
Sports Kick-Off Night
We are so excited for this 2022-2023 athletic year to begin! We are having a Sports Kick Off Night on Tuesday, August 23rd, at 6:30pm in the Auditorium. Coaches from all our programs will be on hand to answer questions and we will be letting you know what to expect this year. If you are a parent or student-athlete participating in any of our sports this year, join us! Go Guardians!
Stay in touch with Athletics
Website: www.ibwathletics.com
Phone: 503-916-5280, ext 75318
Athletic Director, Mike Nolan, mnolan@pps.net
Athletic Assistant, Leanne Van Horn, lvanhorn@pps.net
Instagram: ibw_athletics
Facebook: Ida B Wells HS Athletics
Mike's Weekly Athletic Newsletter. Be sure to watch for it here in the Student News each week! It includes a recap of the prior week, what's on tap and includes Student-Athletes of the week and more!
Weekly Athletic Schedule
For a complete listing of the weekly athletic schedule, please visit the athletic dept. website: IBW Athletics/THIS WEEK. Links to team schedules can also be found on their team pages on the athletic website.
STUDENT ACTIVITIES
Student Clubs
The selection of student-run clubs changes every year. There are many clubs to choose from, representing a dizzying array of interests, from knitting to chess, hiking, or mock trial. Some clubs are serious, with either an intellectual or political focus (for example, the French club, Model United Nations, Feminists' Union). Some are just for fun, whether it is Hybrid-ball or dragon boating. Whatever the focus, IBW's clubs add variety and fun to life in high school. Join a club, meet new friends! See our website for a list of last year's clubs 2021-2022 Student Clubs
Students interested in forming a new club will need to complete a registration form. All clubs need to have an adult advisor. 2022-2023 Club Registration Form
Club Fairs
There will be a "mini" Freshman Club Fair on Thursday, August 25th at the Freshman Back-to-School Preparation Day and the "main' Club Fair for all students will be held on Wednesday, September 14th. You will have a chance to meet with club members and ask questions.
TEACHERS AND STAFF
A few new teachers and staff members have been hired for the 2022-2023 School Year. Stay tuned for bios in upcoming editions of the Student News.