Dear IBW Students and Families,
The final week of this unprecedented school year is upon us. We had a lovely graduation ceremony last night and we look forward to more opportunities to celebrate our students as a community in the months to come. Thank you to the many staff and to all our parent volunteers who leaned in over the last few days to honor our graduating seniors.
All signs seem to be indicating that next year we will be fully in-person. We are planning registration days on August 24 (11th/12th), August 25 (10th) amd August 26 (9th) from 9-3pm. You can expect to receive the registration packet during the second week of August. Students will take their photos and get their IDs and schedules at registration. First day of school next year is September 1.
Before we wrap up this year, I want to thank our families for the support you have given our students and staff this year. I can say both as a parent and as an educator that this year has been trying in more ways than one. I know that we all collectively experienced something that will take many years to fully comprehend and process. One thing that is abundantly clear to me, though, is that your notes of appreciation, your affirming feedback, your gestures of gratitude made a world of difference to our staff here at Ida B. Wells. Thank you for taking the time to express your appreciation for our staff and their hard work this year. I hope that you and your loved ones have a wonderful summer. To those of you who are returning next year, I look forward to seeing you all in August. And to those of you who are fortunate to claim one of our amazing Class of 2021 graduates - Congratulations, and please stay in touch.
With Gratitude,
Filip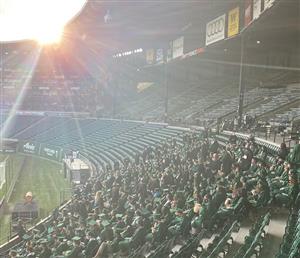 The sun shines down on our 2021 Graduates just as the Commencement Ceremony begins
OUR SCHOOL
The Headlight, Ida B. Wells Student Magazine
Check out Ida B. Wells new online magazine, The Headlight. Many new articles have just been added! https://ibwhsmag.com/

Here is one article that was also a focus of the PPS Daily Spotlight https://ibwhsmag.com/912/news/woods-and-metals-class-builds-community/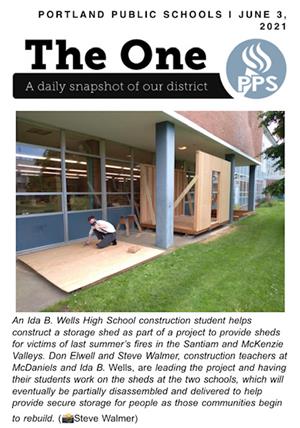 Yearbook Information
2020-2021 Yearbooks - now is the time to order!!
Many years from now it will be interesting to look back at this unprecedented school year through the lens of a yearbook. Purchase your 2020-21 yearbooks now before they sell out! Quantities are limited so to guarantee that you will have a 2020-21 yearbook, please visit SchoolPay pps.schoolpay.com to purchase yours today! Cost is $45. If you can't remember if you have ordered one, you can also go to your SchoolPay account under History (upper right hand corner) to check on purchases.

Past Yearbooks Available

If you missed out on the 2018 or 2019 yearbook, we recently discovered a few extra copies that will be sold for $20 each via SchoolPay (see links below). Quantities are limited (about 34 of the 2018 book and 17 of the 2019 book) and will be sold on a first come, first served basis while supplies last.
2018 Link: https://pps.schoolpay.com/pay/for/School-YearBook--2018/ScDLG08
2019 Link:
https://pps.schoolpay.com/pay/for/School-YearBook--2019/SsoW6C

ACADEMICS
Summer Scholars
Does your student need to recover credit needed for graduation? If they did not pass a core class then Summer Scholars may be the way to go. Up to 1.0 credit can be recovered over the summer. Session 1 is June 28-July 15 and Session 2 is July 19-Aug. 4. In-person classes will be available at Ida B Wells from 9-noon and online courses will be offered during the morning session- 9-noon, and also 1-4 pm and 5-8 pm.
In Person classes at Ida B. Wells
Limited classes are available from 9-noon during Summer Scholars. Subjects may include Biology, Chemistry, Physics, Modern World History, and English. Students need to check with their counselor to register and to verify course availability.
Online Class Offerings and Schedule
Online classes options for both sessions (June 28-July 15 and July 19-Aug. 4)
9 am-noon
1-4 pm
5-8 pm
Classes include Algebra, Geometry, English 1-8, Modern World History, US History, Gov/Econ, PE 1-2, Health 1-2, Chemistry, Physics, Biology. For a full list of courses offered throughout PPS and online, click HERE.
The first step in registering for Summer Scholars is to contact your IBW counselor:
Sheila Kendall (last names A-C): skendall@pps.net
Keith Brown (D-H): kbrown@pps.net
Julie Fleming (I-Mi): jfleming1@pps.net
Danny Bradach (Mj-Sc)(: dbradach@pps.net
Lauryn Files (Sch-Z): lfiles@pps.net
The deadline to register is Friday, June 18.
Seniors - Transcripts
Just a reminder that once grades have been input for 2nd semester a final transcipt will be sent to the college you indicated on your exit survey. If anything needs to change, please contact Sharon Dailey at sdailey@pps.net
Leap into 9th and 10th Grade - Summer Opportunity
LINK to PPS website where you can gather info and sign-up FREE; August 2-20th 9am-12:30pm
Focus is on growth mindset, academic skill building, future career exploration, field trips and team building with peers.
AP Seminar Summer Work
Summer Homework Assignments for AP Literature
IBW Dance Classes - Annual Showcase
This has been an unprecendented school year but our students have persevered in many ways. Sit back, relax and enjoy the immense talent of the IBW Dance Classes right from the comfort of your home. This year looked a little different and we had to think outside the box for our annual showcase. Students investigated and explored dance film, which integrates film technique and choreography. Each dancer worked diligently to create these thoughtful and insightful dance films exploring themes of both abstraction and reality. We hope you enjoy! View this flyer for more information 2021 Dance Showcase
Here is a link to SchoolPay to make a donation https://pps.schoolpay.com/pay/for/Dance-Film-Fest-2021-Ida-B-WellsBarnett-/SbiwlS2
All donations will go directly toward the Ida B. Wells-Barnett Dance Program. These funds will help pay for costumes, props, lighting designers, videographers, and photographers for future performances. Funds may also be used for students who need assistance in purchasing dance attire for class. We thank you so much for your generosity and support of the IBW Dance Program.
Please note that you can donate now and receive the link to the show on Friday, May 28th. You can also register at any time between Friday, May 28th and Friday June 11th to receive the link and view The IBW Dance Film Fest.
AP Exams
The last of the AP exams finish up this week. For complete AP information, please review this slide presentation AP Information or visit the AP page on the website https://www.pps.net/Page/17021. For any additonal questions, contact Brian Covey bcovey@pps.net or Abby Menashe amenashe@pps.net
If you checked out Chromebooks and/or kept textbooks for the test(s), please return the materials to IBW as soon as possible after testing.
News from the College & Career Center
Graduating Seniors - Summer Help
Graduating seniors who may need additional support with college and financial aid during the summer can reach out to College Coordinator Mr. Rivas
via appointment, phone or email. We are here to support you!
Winston Rivas(College Coordinator),
Email: wrivas@pps.net,
Phone: 503-939-2571
Ida B. Wells College Prep Program

Registration for our week-long in-person Summer College Prep Program at Ida B. Wells High School from July 12th to 16th is still open! During the week you will have the opportunity to attend workshops, explore colleges, find scholarships, work on your college essay, and much more. Complete the registration form below and please provide feedback to help support the planning.
Link to registration: http://bit.ly/ibwsummer
Our new College and Career YouTube Channel!
Our new College and Career YouTube channel is live! On it you will find recordings from our Lunch and Learn Series and we will be updating it with more College & Career related videos.
https://bit.ly/3fMm2nT
Summer jobs for teens
The job market for teens is super strong this summer! Jessica Wade, our Career Counselor, has been compiling opportunities. You can find out more HERE
From our Social Worker, Britni Locke
My last day of work is June 15th, returning to work on August 24th.
If your family is in need of some support before then, please reach out to blocke@pps.net We have a pantry full of household items such as laundry detergent, toothpaste, toilet paper, cleaning supplies, toiletries and more. We also have a limited number of gift cards available to families in need of emergency support. Please email, call or text if you could use any of these items and we can schedule a time for you to pick them up from the school or I can bring them by your home.
If you anticipate needing food support over the summer, Neighborhood House's Food Pantry continues to be a resource. All you need to do is fill out the google form, which can be found on this page (multiple languages available). Deliveries are done every two weeks, but the form must be filled out each time you need a delivery.
Households financially impacted by COVID-19 may be able to qualify for SNAP. Find out if you are eligible by clicking here. For more information or support you can contact the Nutrition Services department at 503-916-3399.
Additionally, if you need rent or utilities assistance, please call 211.
Adulting IRL
Our Student Success and Health Department has partnered with Adulting IRL, a non profit organization run by three women of color with the goal of fostering safe environments for young adults. Adulting IRL will be running a youth training titled "You Good Fam?" on Wednesday June 16th from 2:30PM to 4PM. It is for children ages 12 to 18 and will occur on Zoom. The training is intended to provide youth with the knowledge on how to support their friends who are struggling with thoughts of suicide. Topics will include: What signs to look for with depression, How do I ask my friend if they are suicidal, What do I do if the answer is yes, and Who can I call for help? Food will be provided via Grubhub gift cards.
IBW Community Resources
Check out this website created by Britni that includes many different resources for our community: IBW Community Resources
PTA Clothing Center
The Portland Public Schools PTA Clothing Center has begun to reopen! From April - June 2021, if families would like to access clothing from the clothing closet, they need to connect with Britni Locke, our school social worker, to submit a request. PTA supervisors will fill requests for clothing and have clothing sent to Ida B. Wells for pick up
.
Boosters Club

Get your Ida B. Wells Merchandise
The Booster Club now has new Ida B. Wells merchandise that also includes the Guardian mascot.
You can order online at www.schoolpay.com/link/ibwgear! Order now for pickup at IBW High School. You do not have to have a student at Ida B. Wells to use this link and as a tip, click on the Add to Cart button to see images larger.

PTA Hospitality/Boosters - Year End BBQ for IBW Staff
We are coordinating an end of the year BBQ for the IBW teachers & staff. There are many

ways to participate - volunteer at the lunch on June 14th, donate food or beverages, or donate towards the food and beverages (Venmo @jchrist18). https://volunteersignup.org/YWJ8F

Contact Jessica Christiansen at jess_jon@msn.com or 503-317-9962 with questions or concerns.
LIBRARY
Library Materials Return
Please remember to return all library materials this week. Chromebooks and hotspots may be kept over the summer. Textbooks and library books can be returned to the book cart outside the main school door any day this week, 9am-4pm. In addition, library staff will be on the patio outside the front door on Friday from 12:30-2:30 and Monday from 1-3pm to check in library materials (including any unwanted Chromebooks or hotspots). Many thanks for returning your books so they can be checked out to others!
Multnomah County Library is hosting a virtual Teen Author Event with Portland authors David Walker and Kim Johnson. Thursday, June 10th, 4:00 - 5:00 p.m.
Local authors, Kim Johnson and David Walker, in conversation with teens, will talk about their latest works: This Is My America and The Black Panther Party: A Graphic Novel History. Both authors will explore ways that teens can and are demanding social justice, the current crisis with police, and how writing can facilitate change. This discussion will be led by teens for teens. Win a copy of one of the authors' books by attending! Register/join on Zoom.

Summer Reading
Play Multnomah County Library Summer Reading to earn prizes and be entered into a drawing for a $250 Visa gift card. More information located at https://www.pps.net/Page/17566
IBW Athletics Update

Greetings Sports Fans!
We took a break from publishing a weekly update this past weekend due to the fact that it was a holiday weekend and our family was in Bend for our son's baseball tournament as well. I hope everyone had a great Memorial Day weekend and to those who have family who have served or are serving in our Armed Forces, thank you for all you do. To say that we have not been busy the past couple of weeks would be an understatement. We had a great signing day ceremony for our seniors. We had a somewhat normal evening of basketball when we hosted Lincoln for the Battle of the Birds contest. Our seniors had their official last day of school and we announced our Athletic Department Awards:
Scholar-Athletes: Jack White and Emma Leland
Sportsmanship: Trae Avant and Mekena Moragne
Athletes of the Year: Jayden Brannan and Melea Triplett
To read what our coaches had to say about our winners and a re-cap of Season 4 sports, click here for Athletic Director, Mike Nolan's Athletic Update, Week of June 7
Athletic Schedule, Week of June 7
For a complete listing of this week's athletic schedule, please visit the Athletics Website/THIS WEEK https://www.wilsonathletics.com/page/show/3803298-this-week
Looking ahead to the 2021-2022 Fall Season
We will be opening up FamilyID registration for the 2021-2022 Fall Season no later than June 11.
We can not stress enough the importance of early registration. Do not wait until August to register. Coaches and the Athletic Department use FamilyID registrations to be in touch with families about summer opportunities and physical expiration dates, etc. If you don't register, we don't know you are planning to participate. And speaking of physicals, summer months are a really good time to get physicals completed. Remember that physicals are only good for 2 years and athletes MUST have a valid physical on file to participate in practices. This is super important for any of our cut-sports like soccer. For all information about registration, please visit the IBW Athletic Department website IBW Athletic Registration Information
If you have an article for the Student and Family News, please submit to Leanne Van Horn at lvanhorn@pps.net