Dear Ida B. Wells Students and Families,
I hope that you and your loved ones are doing well. We are starting our third week of school and I continue to be impressed by how well our students are adjusting to in-person instruction. Students are doing a great job of wearing masks, staying socially distanced, and eating lunch outside. I am hopeful that as we continue to follow these and other safety protocols we will minimize the risk of exposure and will increase the likelihood of sustaining in-person schooling.
As a reminder, students should stay home if they do not feel well. We want students and families to please air on the side of caution. Most teachers have school assignments posted on Canvas so students can keep up with their school work if they need to stay home.
I also wanted to let you know that our Back to School Night will be virtual. We were hoping that we could welcome our families back to the building next Wednesday, 9/22. In order to keep everyone safe, we will have an asynchronous Back to School Night similar to what we did last year. Families can expect to receive a comprehensive Back to School Night program by Wednesday, 9/29. The program will include videos and presentations from teachers, counselors, and support staff. I hope that you will find this format both accessible and informative
Filip Hristic
Ida B Wells High School, Principal
OUR SCHOOL
Freshman and Sophomore 101 - Recording
Thank you to those of you who attended our Freshman and Sophomore Parent 101 last week. It was a great group of attendees and we hope you found it helpful. If you were unable to attend, following is the link and password to the recording of the meeting: Freshman/Sophomore 101 Recording Passcode: y7!dU JVj
COVID-19 Testing
There is no Covid-19 testing at IBWHS unless symptoms appear after a student arrives at school and a COVID-19 Testing Consent Form is on file for the student. A new form needs to be completed for the 2021-2022 school year. Completed forms can be turned into the Main Office.
COVID-19 and Flu Vaccination Clinic, September 21, 3:30-6:00pm, Gym Foyer
Costco Pharmacy will return on September 21 to administer the Covid-19 Vaccine for 1st dose, 2nd dose and 3rd immunocompromised meeting CDC guidelines.
For the flu shot, be sure to bring your insurance ID card with you. If you do not have your ID card when you attend, or your insurance doesn't cover flu shots, Costco Pharmacy will charge $25 for a regular flu shot and $57 for the 65+ years of age dose. If you will be paying for your flu shot, please bring a credit card, as cash payment will not be accepted. Please see this Flyer for complete details.

For BOTH vaccines, parent consent is needed under 18. Please complete this form in advance if not accompanied by a parent at the clinic.

2020-2021 Yearbook Distribution
Current students, if you still need to pick up your yearbook, please see Mr. Higbee in Room 142 before or after school or at lunch. Please bring a receipt of purchase. You can still purchase 2020-2021 yearbooks, $45 cash or check only in Mr. Higbee's room. You can also pick up or purchase a yearbook in the Bookkeepers Office

before school or during lunch

. Debit or Credit cards can be used in the bookkeepers office.

In addition, if you know a 2021 Graduate, Mr. Higbee will be on the front patio this Thursday from 3:40-4:30pm to hand out yearbooks (purchases can also be made with cash or check).

Attendance Updates

We had some attendance glitches as we transitioned to our new 8 period schedule.
Please be patient as we continue to work through these issues. Kathy Lommen is our new attendance clerk. She can be reached at klommen@pps.net or 503-916-5294
(Please DO NOT leave messages regarding attendance on the main line, 503-916-5280 as those may not be received in time)

Here are a few attendance pointers:

ABSENCES
Please email Kathy within 3 days to excuse an absence.
ARRIVING LATE

Students, if you are late to school for any reason (tardy, arriving late after an appointment, etc), please go directly to your class. DO NOT STOP IN THE OFFICE. Parents, please email Kathy to notify her this late arrival is excused.
LEAVING SCHOOL EARLY
If an appointment during the day is unavoidable please call Kathy as far ahead as possible with the details. Students need to come by the office and sign out. Parents should not enter the building to pick up students.

School Breakfast and Lunch

During the 2021-2022 school year, school breakfast and lunch is free for all students. Breakfast is available from 8:00-8:30am in the cafeteria and you need to enter through the cafeteria doors in the courtyard.
Trivory App
We highly recommend that all our students and parents download the Trivory App on your phone or Ipad (it can also be used on your computer). Communication channels can become overwhelming but the Trivory App is "one stop shopping". There are links from Trivory to all the other applications we use - our websites, social media, StudentVue and ParentVue and Canvas to name a few. Be sure to check your Settings under More to receive notifications so you don't miss any important updates. In addition, Trivory is also now available in Spanish! In addition, this App was developed and is managed by a 2021 Roosevelt Grad and is already being used by other PPS schools!
Student ID Cards/ASB stickers

Students, if you still need to pick up your Student ID card or a pre-purchased ASB sticker, they can be obtained in the Bookkeepers Office (located inside the Main Office) before school or during lunch. You can not obtain these during class time. For pre-paid ASB stickers, please bring a receipt (paper or on your phone).

Student ID numbers
All students have a six-digit number that is their assigned student ID number. Whenever you call or email the school, please have the student ID number available and use it as well as your student's full name if you are leaving a message. We want to ensure we are assisting the correct student.

Back-to-School Night - Update

Back-to-School Night, originally planned for September 22nd has been changed. It will be a virtual event where you can hear from your student's teachers and learn about curriculum, course requirements, policies and procedures for each class. It is expected to be available by September 29.
ACADEMICS

AVID Family Night, September 14, 6:30-8:00pm, Cafeteria

We are so excited to meet you! Please join us for an evening of getting to know each other, learning about what to expect in high school AVID, and sharing a pizza dinner! Any questions? Please email the AVID Coordinator, Megan Jackson at

mjackson1@pps.net

.
PSAT Exam Day - October 13
The PSAT exam will be administered on Wednesday, Oct. 13 starting at 8:30am at Ida B. Wells, at no charge to all Sophomores, and those Juniors who sign up by Sept 22.
Sophomores: All sophomores will take the exam at no cost. There is no registration needed. You will do pre-administration in class as it gets closer.
Juniors: PPS will provide the exam FREE to Juniors as well this year as long as you sign-up by Wednesday, September 22 at 5pm at the link below:
Want to start preparing for the PSAT? Use the PSAT/NMSQT Student Guide for information, test-taking advice, tips and practice tests.
There will be school for all students on this day. Details of the schedule will be coming shortly.
StudentVue/ParentVue
StudentVue/ParentVue is the platform where you can view schedules and grades. If you are having trouble accessing StudentVue or ParentVue, please contact Kathy Lommen at klommen@pps.net
Canvas - Parent Access

Canvas is the platform teachers use to post assignments. Here are the directions students need to follow to allow their parents to observe their classes. Parent Access to Canvas
Schedule Changes
Students, if you have a schedule issue, please email your counselor OR you can now drop in before or after school or during lunch. There is no guarantee your counselor will be available if you drop in. Click here for Counselor Information

College and Career Center

Welcome to our In-person College and Career Center! Learn about who we are and what we offfer - College and Career News - Fall 2021

IN PERSON AND VIRTUAL COLLEGE VISITS BEGIN THIS WEEK

We will be hosting both District Wide Virtual College visits and in person visits on campus. To view the full list of College Visits, please go to your Maia Learning and select the

"Events"

tab.
MAIA LEARNING

This year we will be utilizing
Maia Learning
University & Career Research Tool. Maia Learning is the college and career platform students will use to plan their futures Welcome to Maia Learning

CAREEER INTEREST SURVEY

Students, we need your voice! Complete this Career Interest Survey to impact the career learning opportunities available to you in 21-22 through PPS Future You! It's your chance to be entered into a drawing to win one of 15 prizes.

Chinese: https://bit.ly/CI21-22Ch
English: https://bit.ly/CI21-22Eng
Russian: https://bit.ly/CI21-22Rus
Somali: https://bit.ly/CI21-22Som
Spanish: https://bit.ly/CI21-22Spa
Vietnamese: https://bit.ly/CI21-22Vietn

GUEST SPEAKERS FOR AARON OLSEN'S HEALTH OCCUPATION CLASS
I'm Jessica Wade, the Career & Community Partnerships Coordinator at Ida B. Wells HS. I want to thank this amazing community for all the ways that you step up year after year to support our students.
I also want to thank all of you who already responded to teacher Aaron Olsen's request for Health Occupations guest speakers and partners. The response has been overwhelming in the most fantastic way. And I know that some of you have already been in further contact with Mr. Olsen.
For ease of information management, scheduling, and to comply with both school and COVID safety protocols this year, I'd like to ask those of you who already responded to the call or are interested in supporting our career learning to please take a few minutes to complete this IBW HS career partner google form.
Thank you so much and please let me know if you have any questions.
FAMILIES & COMMUNITY

One of the greatest attributes of Ida B. Wells HS is our parent involvement. For descriptions about each of our 3 parent organizations - Boosters Club, Foundation and PTA and their role at Ida B. Wells and how you can get involved, please click here:
Ida B. Wells HS Parent Organizations
Booster Club
IBW BOOSTER MEETING IS TONIGHT!


Please join Boosters as we kick off the school year with our first meeting on Zoom. We have grant requests to discuss and are actively planning ways to support Ida B Wells students and staff in the year ahead. Want to be able to vote in the meeting? Make sure you've gotten your membership at www.schoolpay.com/link/joinIBW. Zoom Link: https://us02web.zoom.us/j/81683180228
Meeting ID: 816 8318 0228

IDA B WELLS MERCHANDISE


All the latest IBW gear is now available to order online for pickup at school or by other arrangement. Check out what we're wearing at: www.schoolpay.com/link/IBWgear In addition, IBW gear will be on sale at the first home football game this Friday!
PTA

IBW PTA MEETING IS SEPTEMBER 27TH, 6:30PM
The first meeting PTA meeting has been changed to September 27 (orginally scheduled for September 15). It will be virtual with the PTA business meeting from 6:30-7:00pm and a Q and A with Principal Hristic from 7:00-8:00pm. Zoom link: https://us02web.zoom.us/j/4086262115?pwd=MldTOGlCdzVCZzFYbTZEaVRDY1p4QT09 Password: PTA
LIBRARY
Chromebooks

Please bring your fully charged

Chromebook

to school daily. If you missed the

Chromebook

Distribution

, please come to the library to check one out before school, after school, or lunch. You may also come during class but we are checking out many textbooks to classes. There may be a long wait.
If you have a

Chromebook

from a prior year, please return it to the library and get a new one. Some models from prior years are not powerful enough to run all of your learning apps.
ATHLETICS

Athletics Weekly, Mike Nolan, Athletic Director
Greetings Sports Fans! What a great week to be an Ida B. Wells Guardian! Both of our soccer programs continue to battle it out in a tough pre-season schedule with some really exciting soccer on the pitch throughout all levels. Our Volleyball Program had an exciting week with a truly competitive match with our cross-town rival, the Lincoln Cardinals. The Cross-Country Program had a great showing at Lents Park this past Wednesday with the Varsity Women's Team cruising to a victory at the meet. We had our first taste of Friday Night Lights when our football program hosted the Dallas Dragons. While the score wasn't in our favor, the program continues to build a solid foundation. It was great to see our Cheer Program for the first time this year at the game on Friday as well! A huge thanks to our staff of EMS, ticket-takers, CSA, and admin team for all of their support on Friday night. We are looking forward to another exciting week ahead!To continue reading this week's Athletics Weekly, click HERE
Stay in touch with Athletics
Athletic Website: www.ibwathletics.com
Instagram: ibw_athletics
Facebook: Ida B Wells HS Athletics
Trivory App: A great new place to find team schedules! Download from the App Store!
Fall sports - deadline to sign up is Friday!
Football and Cross Country are both non-cut sports and it is still not too late to sign up! However, the deadline is September 17th. To participate in a sport at IBW, you must register on FamilyID and have a valid physical on file. For complete athletic registration information, visit the athletics webpage.

Athletic Schedule, Week of September 13

For a complete listing of this week's athletic schedule, please visit their website: IBW Athletics/THIS WEEK. Links to team schedules can be found on their team pages on our website. The athletic schedule is also linked to the Trivory App Calendar.

Sign up to help sell concessions for Fall sports!

Concession sales are a great way for IBW teams and clubs to raise money, but volunteers are needed to work during the games/activities. The revenue from concessions benefits ALL students of IBW High School. Please choose a day and time that fits into our schedule! https://signup.com/go/ycboLia Thank you for making a difference and supporting our school!

STUDENT ACTIVITIES
No Place For Hate - 10th and 11th grade peer facilitators
We are a NO PLACE for HATE high school and the first school in Portland, Oregon. We train a cohort of 35 students to do anti-racist and social justice work with their peers. Our Peer Facilitators have accomplished a lot the last two years including delivering 9th grade anti-racist lessons, which taught fellow students how to be an ally and how to respond to bullying and discrimnation. You can see and hear more of our work on our school web page: https://www.pps.net/domain/5738
If you are interested in being a trained peer/student facilitator, please sign up in office #139 with your name and student pps email by Friday, October 1st. We have room for 25 new facilitators and it is a 2 year commitment. Trainings will occur during the school day on Oct. 18th, 19th, 25th, and 26th in the Media Center. If you become a NPFH Peer Facilitator, you will miss each of your 8 classes one time over two weeks to participate in the required training.
We encourage BiPOC and LGBTQ+ youth to please apply. See Vice Principal Coning or VP Secretary Ms. Menashe in office #139 if you have any questions.

US Senate Youth Program - Deadline THIS WEEK
The Oregon Department of Education (ODE) administers the United States Senate Youth Program (USSYP) for the State of Oregon. The U.S. Senate Youth Program is an annual scholarship competition available to juniors and seniors who demonstrate leadership through public service in elected or appointed positions in student government, civic or educational organizations. This year, the delegates will receive a $10,000 college scholarship and attend an all-expenses paid trip to Washington, D.C., on March 5-12, 2022. If interested, please review scholarship details and send your resume and cover letter to Principal Hristić by September 17.
Dragon Boats - Practices begin this week! Sign up now!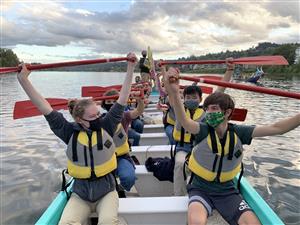 2021 Fall Dragon Boat Team on their first paddle, September 10
Have you ever seen the Dragon Boats on the Willamette River? These beautiful
boats were gifted to the people of Portland by our sister city in Kaohsiung,Taiwan. Every year
teams gather and compete in dragon boat racing during the Rose Festival. This year, however,
there will be a special Fall season and the opportunity for the Ida B Wells Guardians Dragon Boat team to get on the
water and learn the sport. NO PREVIOUS EXPERIENCE IS NEEDED
We need 25 students to make a team and fill our boat. Do you and your friends want to join?
Email Mr. Butterfield, abutterfield@pps.net, to get the registration information. Registration Fee is $20. P
ractices will be on Monday, Wednesday and Friday (This is a change from past communications)
from 4:30-6:00 pm. I hope you will join us on the river this fall. Here's a look at a race from the past: https://www.youtube.com/watch?v=D370wufx9BU&list=PLFPmhQY0Q8528oDtb-l9HfMrY_Uw2FLi9&index=14