And now, while supplies last, we are offering this book for the lower than ever price of $30. Do your future self a favor and pick up your copy now. These can be purchased from Mr. Higbee in room 142 with cash or check, or from Ana Curtis in the main office with a card. Get yours before it's too late!
News for Seniors, Class of 2022

STAY INFORMED
24 days remaining until Graduation Day! Make sure to check your PPS email, school Social Media and Trivory often for information. And be sure to reach out to your counselor, administration or the main office if you have questions or concerns.
SENIOR NEWSLETTER

The
May 2022 Senior Newsletter
is hot off the press! Please read this newsletter carefully as it is filled with all the important dates and details you will need to make this last month go smoothly.
GRADUTION TICKETS

Complete the Graduation Ticket Form
here
(or in the newsletter) Tickets are electronic-only and we need important information from
all
families that plan to attend Graduation on June 9th.
ADA/LIMITED MOBILITY SEATING AT GRADUATION
All tickets will be issued as general seating. However, if anyone in your party needs assistance with seating or ADA seating, Providence Park Guest Services will be available at the gate to assist you to appropriate seating. You do not need to request special seating on the Graduation Ticket Form.
SELFIE NEEDED NOW!

Visual Impressions is our photographer at Graduation this year and they need your help! Last week they sent a personalized email to your PPS account. Find it and upload a selfie by
May 27
to the personalized link in the email! They have an amazing facial recognition software that will allow quick and accurate linking of your graduation photo to your account, letting you and your family receive and order photos quickly. Don't find the email from Visual Impressions? Check your spam/junk folder for the email. If not located, email
Schools@visualimpressions.org
immediately.
GRAD NIGHT - VOLUNTEERS NEEDED!

Would you or your business be willing to make a tax-deductible donation to the Ida B Wells Community Equity Council so we can celebrate these students and their families who have worked so hard for much-needed change, but who have often been given so little in return? Even small donations can make a big difference!
Online donations can be made to the PTA here: https://www.schoolpay.com/link/IBWAffinityGroupsCommunityEvent
ACADEMICS
IBWHS Art Fair
Thank you to our Art Department Team of Matt Carlson, Marie Pearson, Katie Sullivan and Andrew Butterfield for overseeing the 2022 Art Fair, a first since 2019! And thank you to the IBW Band, Simpleton, for providing entertainment!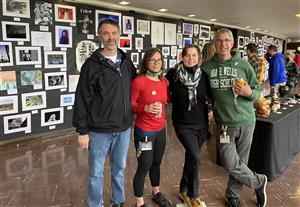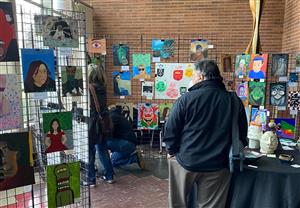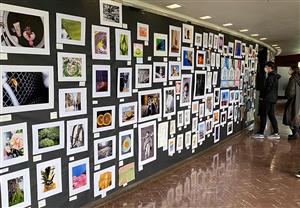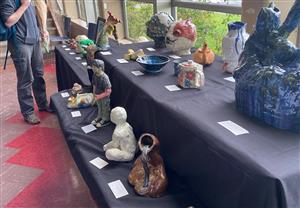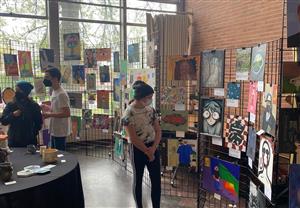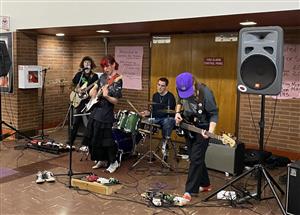 Summer Scholars - Credit Recovery Option
PPS Summer Scholars registration is now open. This is for students who earned an F or NG in a class needed for graduation. Counselors have to register students for classes,this is not something you can register for on your own. If you have questions about your credits, please see your counselor before/after school, at lunch or during flex time. Here is a link to the Summer Scholars website for more detailed information: https://www.pps.net/domain/4358
Credit Completion Camp:
Students will be invited by their teacher to attend our Credit Completion Camp that will run from June 15th to the 22nd. They will be invited if they are receiving an incomplete for a class and need a little more time to finish up. There will be teachers here to support students in finishing assignments or assessments.
9th Grader wins Grand Prize
9th Grader Quinlyn Black has won the Grand Prize for Writing in the 2022 Jakob and Sala Kryszek Art & Writing Competition. This is a statewide competition through the Oregon Jewish Museum and Center for Holocaust Education. Quinlyn's short story Symphony of the Sky was top submission for writing in competition across all secondary grades and private and public schools, she completed this assignment in addition to normal course load. Congratulations, Quinlyn!
Success at State Solo and Ensemble Music Competitions
Congratulations are in order for all of our musicians who represented Ida B Wells in State Solo and Ensemble music competitions this weekend. Our State winners are:
Nico Vilches - 2nd place for Baritone solo voice
Clara Cywinski - 3rd place for solo Trombone
George Ramsey - 5th place for Tenor solo voice
WAVE - 4th place for Large Mixed Vocal Ensemble
Oregon Game Project Challenge
This weekend we had 4 teams of students participate in the Oregon Game Project Challenge. OGPC is a year-long event where students design games based on a theme (this year it was Symbiosis). The students did amazing work that combined programming, art, music, writing and more! This year the game Roped Together, developed by Andy Franck, Max Richter and Miles Anderson won the Judge's Choice award! If you'd like to see a trailer of their game follow this link: https://youtu.be/cZ8O7uAnTFI.
The full list of participants:
Andy Franck, Max Richter, Miles Anderson
Thomas White, Carter Kroenke, Roland Armstrong
Zoe Sidener, Grant O'Conner
Kaleb Rice-Eisenbraun, Jesse Mitchell-Reese, Dorian Kodesch, Mati Moore
Leadership Class raising money for Ukraine Crisis Fund
Donation boxes can be found in classrooms and in the main office. The picture below is on each box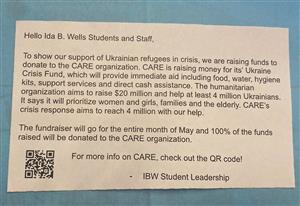 LEAP into 9th grade
When: June 27-July 15, 9am-12:30pm
Details:The Leap into 9th Grade summer program prepares incoming ninth grade students to excel in high school by building a foundation for success before starting high school.
COUNSELING

News from the College Center for Juniors
COLLEGE 101 WITH STUDENT PANEL: MAY 18TH DURING FLEX IN CAFETERIA
We are hosting another College 101 presentation where we will be going over all the nuts and bolts of the College Application process including Letter of Recommendations, how to find your college fit and resources to make your college application process successful! After our presentation, we will have a short Q&A with graduating seniors to talk about their College Application process.
COLLEGE APPLICATION ESSAY WORKSHOP: MAY 24TH
Join Ida B Wells College Center, Kenyon College, Sarah Lawrence and Reed for a College Application Essay Workshop.
This event is meant to be more inspirational and informative for students who may have never considered a private school as well.
Event description:"What makes a college application essay successful? Join this session to learn how to brainstorm topics, discover a writing process that works for you, and understand what admission committees are looking for in an essay. Join Chris Renaud, Kenyon College - Senior Associate Director of Admissions; Duncan King, Reed College - Assistant Dean of Admission; and Liam George, Sarah Lawrence College - Associate Director of Admission, to get tips on writing your strongest college application essay."
Event Details: May 24th, 2:05 p.m. - 3:05 p.m.
Zoom Link: https://pps-net.zoom.us/j/86475181543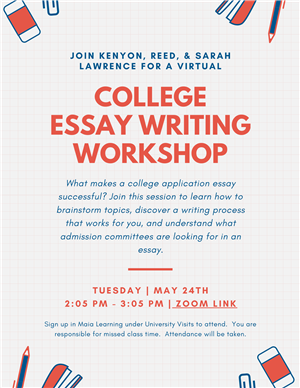 IBW SUMMER COLLEGE PREP CAMP FOR RISING SENIORS
We are excited to offer a new opportunity to help support your post-secondary plans. IBW Summer College Prep camp will be offered over July and August. We will be exploring colleges, finding scholarships, helping write your college essay, and much more. Complete the registration form below and please provide feedback to help support the planning. Registration Form: https://forms.gle/2wDXpXRWbrue86h97
Current Programs Dates
July 26-28: Times 11:00a.m-1:00pm
August 2-4: 11:00a.m -1:00p.m
News from our Social Worker
SUPPORTING IBW'S PANTRY
Our social worker, Britni Locke, would like to restock the IBW Pantry one more time before Summer. Not only is her daily snack inventory very depleted, but she would like to have the inventory to send some bundles home for families to use over Summer months. The signup link includes what is most needed, instructions for delivery and options to have items shipped. All your contributions go directly to students at Ida B Wells. If you need additional support, please message blocke@pps.net.
FAMILIES & COMMUNITY
Boosters
CONCESSIONS - VOLUNTEERS NEEDED!
Spring Sports concessions will be open and we need volunteers to work the shifts. Here's the schedule and link to sign up: https://signup.com/go/ycboLia
IBW MERCHANDISE
You can purchase gear online https://www.schoolpay.com/parent/mip/MdCF
Pick up is in the Main Office after you receive notification that your order is ready

By popular demand, we now have YOUTH hoodies! They are available now on Schoolpay for $30. Same hoodie quality and graphic as the adult version. Youth sizes Small through Large. We don't carry XL because it's the same as an adult Small.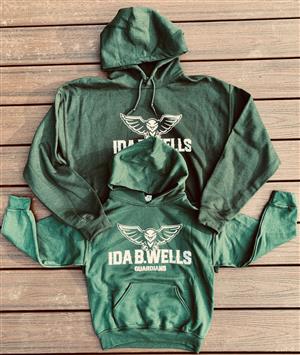 PTA
PTA MEETING -THIS WEDNESDAY!
We're planning to meet in person (!!!) in the IBW library on 5/18/2022 at 6:30pm.
New from around our Cluster
RIEKE RETIREMENT
Come celebrate the beloved Laura Nelsen (Taiby) who has worked as a kindergarten teacher at Rieke Elementary since 1992. We are celebrating in the Rieke Gym on Saturday, May 21st from
1-3pm (Open House).
LIBRARY
Verselandia and Poetry Slam Winners
Congratulations to Emma Hayes, Cara Weathers, and Anisa Ali who placed at our school slam. They each received a Visa gift card, courtesy of the PTA. Emma Hayes and Anisa Ali represented Ida B Wells at Verselandia by performing their prize winning poetry from the stage of the Arlene Schnitzer Concert Hall. Both poets performed a moving poem with poise and fervor].
Additionally, please join me in congratulating the winners of Verselandia:
First Place: Nykole Jackson, McDaniel High School
Second: Kendell Brown-Clay, Jefferson High School
Third: Shala Santa Cruz Krigbaum, Franklin High School
Fourth: Sera Lang, McDaniel High School
Fifth: Piper Harmon, Cleveland High School
Special thanks to the PTA for supporting our school slam.
ATHLETICS

Athletic Weekly

Greetings Sports Fans!

What a great week in Guardian Athletics! We hosted the PIL Youth District Track Meet on Saturday. The IBW Youth Track Teams performed well!
6th grade - boys 2nd; girls 1st
7th grade - boys 1st; girls 2nd
8th grade - boys 1st; girls 2nd
In the PIL District High School Track and Field Meet, our women finished 2nd and our men 4th in both the Varsity and JV Levels. Our tennis teams both finished 2nd at the PIL District Tennis Meet. Finally, the Varsity Baseball Team finished 2nd in the PIL. Great time to be a Guardian Athlete! To continue reading the Athletic Weekly, click
HERE
Guardian Athletes of the Week

To see who was named Guardian Athletes of the Week, click
HERE
Athletic Contests

Week of May 16:
https://www.ibwathletics.com/this-week
Guardian Cheer tryouts are this week!
This is your only chance to join Guardian Cheer! There will not be any fall or winter signups allowed
We are a no-cut program and no experience is necessary to tryout!
Tryout clinics for current HS students
Thursday May 19th 6:00 - 7:30pm
Friday May 20th 4:00-5:30pm
Tryout clinics for 8th graders
Thursday May 19th 4-530pm
Friday May 20th 6-730pm
Tryout performances Saturday May 21st
Athletes do not need to attend both days of the clinics, however, you can only attend the session(s) for your grade level. Video submissions for tryouts will be allowed. Email: Ibwcheerpdx@gmail for more information.
Flag Football Jamboree
- Friday, June
3rd
Join us for a fun-filled evening of flag football! There will be three flag football games throughout the evening. Grab your friends and sign up to join a team to participate in one of the games:
❖ 5pm – Jackson vs Robert Gray 7/8th Graders
❖ 6:30pm – 11th Grade Boys vs Alumni
❖ 8pm – IBW Girls - Seniors vs 9th-11th Graders

Please see this flyer for more information and how to sign up! Flag Football Flyer