Fidelity of Implementation Tool (FIT) Assessment

The FIT is:

a

research-based

assessment from the University of Kansas SWiFT Center that measures the extent to which a school implements MTSS for

equity-based inclusive education

a tool that is used across the district in all of our comprehensive K-12 schools and some Multiple Pathways to Graduation (MPG) schools, providing reliable information about current systemic practices to inform improvement planning at the school and district level

a full-day, on-site, annual event including perspectives from

students, caregivers, community partners, and certified, non-represented and PFSP staff

facilitated by someone outside of the school - in our case, a FIT TOSA and an MTSS TOSA

a comprehensive tool that is organized into five domains:
FIT Team
Program Administrator - MTSS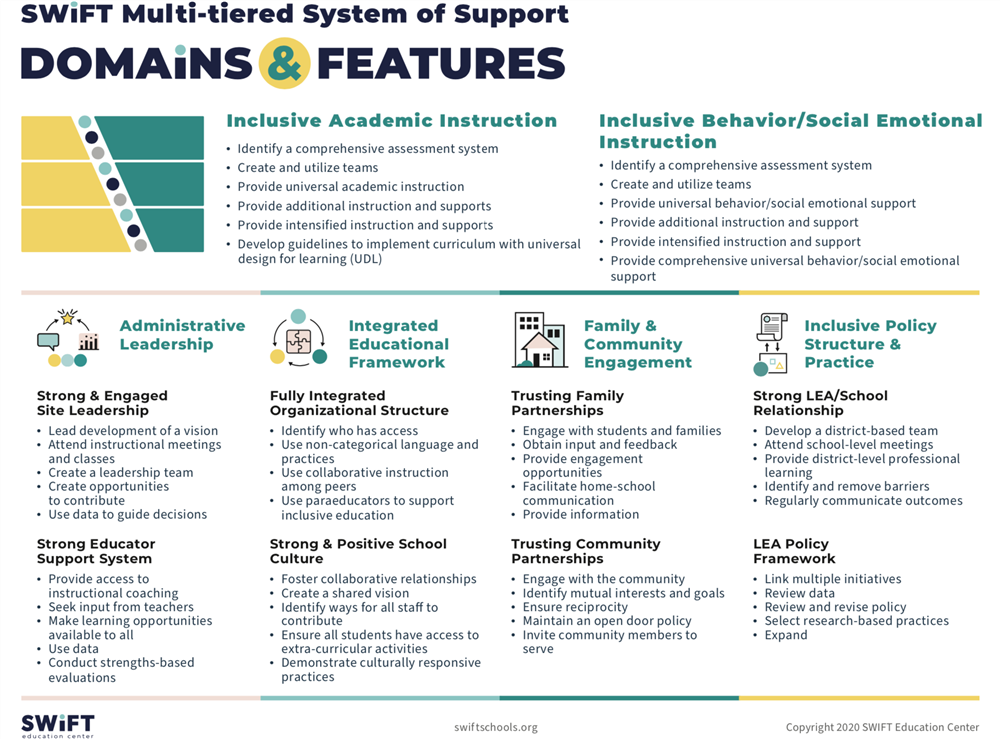 The FIT provides:

schools with a broad range of focused feedback aligned with the

science of education

input from

multiple perspectives

, which can be difficult to collect in other ways

opportunities to celebrate success

process information to enhance school and district systems; it helps guide teams toward potential next steps

a district-adopted common framework fostering aligned support for

positive student experiences and outcomes

accountability information to the state for designated schools

Implementing the SWiFT Framework (MTSS) alongside the FIT assessment leads to improved experiences and outcomes for all students:

SWIFT PARTNER SCHOOL STUDENT OUTCOMES

STUDENT INCLUSION STEADILY INCREASED

Students with disabilities were included in general education 80%+ of the time at rates above the national average in each year and schools with stronger implementation of SWIFT features had higher rates of inclusive placement

Partner schools experienced a steady increase in the percent of students receiving services in general education settings for 80% or more of the day, and a decrease in removals of students with disabilities from general education settings

For specific students with IEPs at the start and three consecutive years in SWIFT schools, 15.7% exited from special education services and were fully supported by their school

ACCESS TO ACADEMIC INSTRUCTION DUE TO GREATLY IMPROVED BEHAVIOR OUTCOMES

In- and out-of-school suspension days per 100 students decreased by 32% or 26.9 days from baseline to project end for students with disabilities

In- and out-of-school suspension days per 100 students decreased by 35% or 19.2 days from baseline to project end for all students

ACADEMIC PERFORMANCE IMPROVEMENTS

SWIFT (MTSS) implementation is a significant predictor for both reading and math performance

SWIFT (MTSS) implementation has a strong, positive correlation with larger increases in student reading scores

Students in schools with the same state assessment for two consecutive years overall reading proficiency rate rose to 13% of students, a full percentage point over prior year

Students in schools with the same state assessment for two consecutive years math proficiency rate increased 11%, 1.34 percentage points over the prior year

FIT Schedule Template

- This is the only template that should be used when creating a school's FIT Schedule.

FIT Intro Slide Deck

- This is available for administrators to use with school staff, if interested.

Do you wish more resources were provided? Do you have questions? Contact Niki Johnson at njohnson@pps.net.