Upcoming Events & Announcements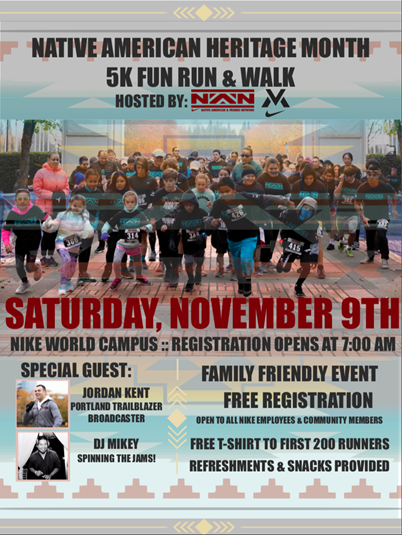 N7 5K FUN RUN/WALK - SATURDAY, NOVEMBER 9TH, 2019, 7:00 AM – 10:00 AM

Location: Nike World Campus

One Bowerman Drive

Beaverton OR, 97005

REGISTRATION OPENS: 7:00 AM

REGISTRATION CLOSES: 8:30 AM

OPENING WELCOME: 8:30 AM

5K RUN/WALK BEGINS: 9:00 AM

*MUST HAVE RACE BIB TO BE ON COURSE*
---

COMMUNITY SHOPPING DAY INFORMATION -

SATURDAY, NOVEMBER 9, 2019

STORE HOURS: 10:00 AM – 8:00 PM

Location: Nike Company Store

3485 SW Knowlton Rd

Beaverton, OR 97005

To RSVP, email Trish Chee with your name (matching a form of ID), address, and affiliation with the PPS Title VI Indian Education program. Deadline: Thursday November 7th, 2019 end of day - no Expectations.

Please read the following stipulations for entry:

On November 9th, The Nike Company store check-in area will have a full listing of members for that day. All members will need to bring a photo ID for check in. The names on their ID must match the names provided to me.

Members will receive discount of 40% on most merchandise in the store.

Invitation is valid for ONE-TIME entry on November 9th, 2019. (No re-entry allowed)
Members are allowed to bring spouse, permanent partner and/or their own dependent children, all who much check in at the same time as the member. Those guest must meet the following criteria:

Member's guest must provide proof of the same address to accompany the member into the store. (If there is some reason the ID's do not have the same address as the member, the guest can bring in a piece of mail that confirms they share the same address).
They are 22 years or younger with the same address as the guest. Children 15 or older are required to show some form of identification (Children 14 and under do not require identification) Children that are 24 or younger with a valid college identification card can also accompany guest in the store.
All other visitors require their own separate guest pass.

Attendees are kindly asked to refrain from wearing any competitor brands in the store.

Select merchandise may be available to employees only.

Photographs and autographs are strictly prohibited

Returns with receipt will be refunded based on original method of payment within 30 days of purchase. NO EXCHANGES maybe made.

** NOTICE TO ALL STUDENT-ATHLETES: National Collegiate Athletic Association rules strictly prohibit high school student-athletes from receiving special arrangements or "extra benefits" based upon athletic ability. Shopping the Nike Company Store is considered by the NCAA to be an "extra benefit", which may lead to the ineligibility of a student-athlete.

November 9 – 16, 2019

Official hashtags:
#RockYourMocs
#RockYourMocs2019

Why a week? To create more event opportunity days, especially for schools, people who work M-F, and people organizing events.

Do we have to wear our Mocs the whole week? Nope, choose a day or days, or the whole week

Is there a main day? The original day will always be November 15th

What is Rock Your Mocs? Established 2011, Rock Your Mocs, is a worldwide Native American & Indigenous Peoples social media event held annually and during National Native American Heritage Month in the U.S. A. People wear their moccasins, take a photo or video or story, add the hashtag #RockYourMocs and upload to social media. This creates an online photo album for the world to see and others to enjoy. Additionally individuals, organizations, casino's, schools, museums and tribes are taking the initiative to create their own independent events throughout the world. Rock Your Mocs was founded in 2011 by Jessica Jaylyn Atsye (Laguna Pueblo, NM U.S.A.) and beginning 2013 has been organized and produced by Native American event producer Melissa Sanchez(Acoma/Laguna Pueblos NM U.S.A.) of Emergence Prod Uctions

Why: We, as Indigenous people stand united through our tribal individuality, symbolically wear our moccasins, honor our ancestors, and indigenous peoples worldwide, during Rock Your Mocs and National Native American Heritage Month

Where is RYM held? Where ever you may be and wherever your day takes you or there may be an event in your community ;)

How to join in:

Wear your moccasins or a turquoise Awareness Ribbon or a T-shirt or organize an event
Take a pic, video or story and upload to social media and use the hashtag #ROCKYOURMOCS and/or #RYM2019
Click on the #RockYourMocs to see what's happening worldwide!
Follow us on Facebook, Instagram & Twitter