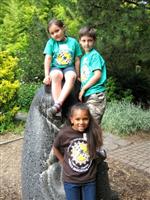 Klahowya! Osiyo! Halito!
Title VII Indian Education serves as the bridge between families and the district, by providing a rich array of programs and services for students, teachers and parents curriculum and instruction that support District staff.
We support Native parent/family involvement by promoting parent empowerment and advocacy to ensure fair and equitable access to educational services throughout the Portland Public Schools.
The Indian Education Project office is located at: Jefferson High School, 5210 N. Kerby, Portland, OR 97217
An extensive collection of Indian Education resources is located in the Project's Resource Library which is used by Native families, students, and district staff to access enriching curricular and instructional materials and support resources.
Title VII Indian Education Act Project
The work of the Indian Education Project mirrors the mission of Portland Public Schools Strategic Plan to support "all students in achieving their very highest educational and personal potential, to inspire in them an enduring love for learning, and to prepare them to contribute as citizens of a diverse, multicultural, and international community."
Online Survey:
http://www.questionpro.com/a/TakeSurvey?id=4473136