Good Afternoon IBW Families,
I hope that you had good conferences last week and I hope you were able to find some peace and joy during the rest of your week. I had the great pleasure of spending time with my family, including my dad who is visiting from Serbia. I appreciated the opportunity to slow down a bit and be thankful for the many fortunes in my life. This year I'm especially grateful for the colleagues, students, and families I get to work with. I am now feeling recharged and ready for the next three weeks! Here are a few announcements for the days ahead
Filip
OUR SCHOOL

Giving Tuesday - November 30

"GivingTuesday, often stylized as #GivingTuesday, is the Tuesday after Thanksgiving in the United States. It is touted as a "global generosity movement unleashing the power of people and organizations to transform their communities and the world" (Wikipedia). There are many ways to give here at Ida B. Wells High School beginning with the Winter Gift Baskets we put together for those most in need in our community. Look through this bulletin for details on multiple other ways you can contribute - helping to restock our food pantry; purchasing a tree or IBW gear at the annual tree sale at A-Boy or purchasing a brick or just becoming a Booster member are all ways to support our Booster Club; using the Scrip program supports PTA or you can still donate to the Fall fundraiser for Foundation. This has always been a very generous community and we thank you for all you have already contributed!
Winter Gift Baskets

Last year, just before we left for winter break, we were able to put together some pretty amazing winter gift baskets for around 50 families. This was only able to happen with the help from you all -- our amazing IBW families and community members. I am here again to ask for your support. We are asking for donations of gift cards, which can be done a few different ways.
One suggestion of how to do this is through the PTA scrip program. Here is the link for that form and here is the link for more information about the scrip program !
Another option is to contribute a money donation through SchoolPay and our PTA will then purchase gift cards using those funds. To contribute in this way, simply click here. Or, you can log into school pay here, click "non profits" on the left hand side and then select the option that says "Ida B. Wells Winter Gift Card Drive."
Lastly, if you would like to purchase gift cards yourself some suggested stores are Fred Meyer, Target, Walmart, Adidas and Nike. If you would like to drop off gift cards, please email me (blocke@pps.net) and we can coordinate a time for drop off at IBW and/or your student can drop them off at my office (room 146B) or in my box in the front office.
If you are a family in need of support during the holiday season, please submit your information via this form. If you need additional support, please email our Social Worker, Britni Locke at blocke@pps.net or call/text me at (971) 712-3621.
IBWHS 8th Grade Family Information Night - December 9th
It's already time to be thinking about the 2022-2023 School Year! Do you know a family with an 8th grader? Please spread the word to join us on Dec. 9th for a virtual webinar starting at 6:30 PM Check out our agenda here for the list of events.
COVID-19 Vaccine Clinics
Multnomah County Student Health Centers are holding weekly vaccine clinics for students 5 and older and their families. Please see this flyer (English and Spanish) for more dates/times and how to make an appointment: Vaccine Clinics
Grad Night 2022
TICKETS ON SALE NOW!
PTA Grad Night 2022 is a safe all-night celebration free of drugs, alcohol, tobacco and weapons, for the graduates of Ida B. Wells High School. Grad Night 2022 will begin after the Commencement Ceremony on June 9th, 2022. This traditional event is a wonderful night filled with fun activities, prizes, great food, and memories our students will keep for years to come. The graduates will leave on buses from IBWHS at 10ish pm (more details to follow) to a secret location. Graduates will be returned to Ida B. Wells High School no later than 6 am on June 10th.
Save Money, Register Early! All students need to sign up for the event to attend.
*Sign Up by March 15th, 2022 tickets for the event are $99
*Beginning March 16, 2022 tickets for the event are $125
*Full and Partial Scholarships are available- students must fill out a registration forms to apply
Questions? Please email ibwhsgradnight@gmail.com
GRAD NIGHT 2022 - WINTER SPORTS TEAMS - PHOTO BUTTON FUNDRAISER
Hello Winter Sports Teams and Clubs! Its time for Photo buttons. As a fundraiser for the Grad Night Party, we will be selling buttons – 2 for $10
If you would like a photo buttons of your student, please email the following:
· Photo of the student in their uniform. It works best to take from the waist up and further back.
· Number of buttons you would like. (minimum 2)
Photos can be emailed no later than Friday, December 3rd to jillmartini@ymail.com
If you are a parent willing to help take photos for your team and help collect the money, please reach out to me. Please email with any questions. Thanks, Jill Martini
See Website For More Information
Attendance
Chromebooks
COVID-19 Updates
Lost and Found
Yearbook Information
For more topics found on our website, see Our School Directory
ACADEMICS
Tutor.com - Personal homework help for AP Students
Students in AP classes get free one on one tutoring and homework help. Available online 24/7. Trained professional tutors with college degrees available whenever you need help. whenever you want it! Log in for 3 minutes or an hour, it's your choice.
-Ask for feedback on a thesis, essay or lab report
-Get help solving those few problems you can't work out
-Work through a confusing point in your homework
-Revise a quizscore you aren't happy with
College and Career Center

CAREER LEARNING EVENTS THIS WEEK- EARN A CRLE!
Emergency Services Careers Focus Event - Wednesday, December 8th, 9:00am-10:30am
Featuring: EMT-AMR, Firefighter - Portland Fire Bureau, 911 Dispatcher-Bureau of Emergency Communications
Pre-Registration is required by Monday, December 6th at http://bit.ly/ESCFE-R
Careers in Technology - Thursday, December 9, 2021, 12:25pm-1:55pm
Featuring: Technology Association of Oregon, VP Engineering-Cvent, VP of Product-Radar First, Co-Founder & CEO-Easeenet.com
Pre-Registration is required by Monday, December 6th at https://bit.ly/Tech-R

Health Insurance Portability and Accountability Act (HIPAA) Training - Wednesday, December 15, 10:30am-11:30am
Hear from Patient Care professionals how to reduce healthcare fraud and abuse, and enforce standards for health information. Learn how health care professionals guarantee security and privacy of health information. At the end of training, participants will be given the opportunity to take a quiz to earn a certificate. Please note: This is a required training for IBW Health Sciences students wishing to apply to Health Occupations 5/6 for 2022-2023.
Pre-Registration is required by December 12th at http://bit.ly/HIPAA-R
IDA B WELLS CAREER HAPPENINGS NEWSLETTER
https://www.pps.net/Page/16186 for all of the latest seasonal and part-time job, internship, and career learning opportunities or via our College & Career Slide Deck updated weekly. Please contact Jessica Wade for more information. Thank you!
BLACK UNITED FUND ACCESS SCHOLARSHIP - DEADLINE NOVEMBER 30
The deadline for Early Action Scholarships to Reed College, Willamette University, and Lewis & Clark college are fast approaching. All Applications must be submitted by November 30, 2021 by 11:59. NO EXCEPTIONS! Visit www.bufor.org/scholarships to apply today.
ALUMNI COLLEGE PANEL - SEEKING VOLUNTEERS
Ida B. Wells Community, we are thrilled to bring back the annual Alumni Panel this winter and need your help! The Alumni Panel is a chance to have our former students share what their path has been after leaving Ida B. Wells - what have they studied, what the transition was like, were they prepared, how did the pandemic affect those plans? We like to have a variety of students that have chosen different paths to share their experiences and pass on the wisdom they have gleaned over time. Participants should be from the class of 2019 or 2020. The event will be held on Wednesday Jan 5th, 2022 in person at Ida B. Wells from 6:30-8pm. Please email kmilford@pps.net if you have an interested student. This is truly one of our favorite events, parents and students learn so much from hearing from former students!
From our School Psychologist, Emilee Refvem
SUBSTANCE ABUSE COUNSELOR AVAILABLE
Beginning
Monday 11/29, IBWHS will have an adolescent substance use counselor on campus one day a week. For more information, please see this FLYER
From our Social Worker, Brittni Locke
I am also excited to share that Meals4Kids is now delivering on the west side in Portland! The Meals 4 Kids program serves qualified children and families within the City of Portland experiencing food insecurity who are also experiencing any of the following:
Chronic condition or illness of caregiver or child

Lack of facility to prepare meals

Lack of ability and/or transportation to access food resources such as foo pantries

Other barriers impacting access to food resources and/or ability to prepare meals
The Meals 4 Kids home delivery program delivers nutritious meals, milk, bread and fresh fruit directly to the homes of families in need each week on weekdays between 9AM and 2PM.
To request service, complete the form at the bottom of this linked page. Meals on Wheels People staff will call you to review your eligibility in the program. If you had additional questions, please call 503-953-8115 or email meals4kids@mowp.org.
Additional resources available:
One of the greatest attributes of Ida B. Wells HS is our parent involvement. For descriptions about each of our 3 parent organizations - Boosters Club, Foundation and PTA and their role at Ida B. Wells and how you can get involved, please click here:
Ida B. Wells HS Parent Organizations
Booster Club

ANNUAL CHRISTMAS TREE SALE

The IBW Booster Club will be hosting its annual Christmas tree sale every weekend from November 26-December 18 at A-Boy on Barbur. All proceeds from the sale go directly to funding Ida. B. Wells clubs and sports. IBW Merchandise will also be available. Sale hours are November 26-December 18, Fridays, 4pm to 530pm, Saturdays and Sundays, 10am to 530pm. Get your tree with us and support the Booster Club!

TREE SALE VOLUNTEERS NEEDED
This effort takes many volunteers and is a great way to give back to the community. We ask the individual clubs/teams to take shifts to staff, so you if you are associated with a specific club/team, look for them on the schedule. Otherwise, please look for a shift that says "Anyone". https://signup.com/go/FTDoZtg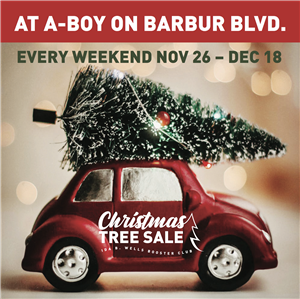 IBW GEAR - MAKES A GREAT GIFT!
Ida B. Wells gear is a great gift idea for this holiday season!After that they will also have merchandise for sale at their annual Tree Sale at A-Boy which opens on Friday, November 26. Please note that until further notice, online ordering is not available.

BUY-A-BRICK PROGRAM

BRICK SALES Makes a great holiday gift! Buy a Brick Program! Leave your legacy with the purchase of a personalized, engraved brick installed by the Ida B. Wells Boosters in the Stadium Plaza. Proceeds will be used to benefit students in sports and clubs. Bricks are LIMITED! ! Makes a great graduation gift, memorial, or tribute! Please be sure you complete a Buy a Brick form. Order here!
https://www.bricksrus.com/

donorsite/ibwboosterclub
FALL FUNDRAISER

Our "Giving Guardians" Fall Campaign is still underway. As a reminder, the mission of the foundation is to enhance the classroom experience for our students and the foundation is the only way to raise money to increase staffing at IBW. We ask families to donate what they are able to help fund additional teachers and staff at IBW.

IBW Foundation Direct Donations: Donate to IBW Foundation
SPRING AUCTION EVENT
We have begun planning for our spring auction event. While we do not yet know exactly what that will entail, we are looking for parents and community members able to contribute. We are specifically look for:
-Graphic Designers—to help coordinate and develop school related content
-Procurement coordinators/assistants
We look forward to sharing more information about the spring auction event in the coming weeks.
Questions? Email Brad Nelson, IBW Foundation Chair, bknelson@cascadeautoglass.com.
PTA
SCRIP PROGRAM
Are you planning to buy any gift cards for the winter holidays? Purchase them through the PTA Scrip Program and you can support IBW at the same time. Or buy scrip for yourself to use at the places you plan to purchase presents. There is no extra cost to you and both ways are a win for IBW!
The scrip program works with local and national vendors, including some of your favorite grocers, restaurants and retailers (see order form for a complete list - 2021-2022 Scrip Order Form). Participants receive gift cards and the vendors give a percentage of the proceeds back to Ida B Wells.
Our volunteer coordinator generally orders cards weekly and will make arrangements to mail or deliver them to you. We happily accept orders by phone, postal mail, e-mail, or text (we can fill out the paperwork for you). Send us a list and then mail a check to our coordinator payable to Ida B Wells HS PTA.
To order or for questions regarding the Scrip Program, please contact our Scrip coordinator, Martha Schulte at schulte@easystreet.net or 503-936-6770.
ATHLETICS

From Athletic Director, Mike Nolan
Winter Speed Training, Starts Today!
Every Monday, Wednesday and Friday from 3:50-5:00pm. See Coach Olsen in Room 18B for more information
STUDENT ACTIVITIES

SouthWest StageWorks
-
Auditions today for Midsummer/Jersey!

Hi there, IBWHS community! Your IBWHS theatre company, SouthWest StageWorks is going to be approaching its first auditions for a live, in-person stage play coming up right after the Thanksgiving break! If your student (or you, if you are an IBWHS student-artist) have waited and waited to get involved with a live show again, here's the opportunity:
When: November 29-December 2, from 400pm-630pm
Where: IBWHS Auditorium
What: Monolgue and Cold Reading auditions
Who: YOU!
There's a bunch more information about this fun romp through Jersey Shore Shakespeare (?!) on our show site: http://ibwhsdramamidsummer.blogspot.com, including perusal scripts and audition information packets with tons of specific information about getting into show work again.
You in, IBW?
2022 Spain Cultural Journey
I am so excited to share this incredible opportunity with Ida B. Wells Spanish students* for the summer of 2022. In collaboration with Walking Tree Travel, I am planning to chaperone a student trip to tour the north of Spain for twelve days in June, 2022.
The itinerary includes hiking on the Camino de Santiago, visiting the Basque country, kayaking in the Bay of Biscay, visiting some of Spain's most renowned museums and experiencing the unique art and architecture of Barcelona. This adventure will be packed with culturally rich and memorable activities!
The following link has detailed information about costs, dates, itinerary, accommodations, safety and support.
https://walkingtree.org/programs/2022-ibw-spain-cultural-journey/