Requesting a Field Trip Bus
When requesting a field trip, please complete a Staff Request Field Trip Approval form at least 3 weeks before you need the bus. Give the completed request form to your Principal's Secretary for entry into our TripTracker Requests System. The Principal's Secretary must enter the trip request at least 10 working days prior to the date of the field trip; 30 days for wilderness and/or overnight trips; 90 days for international trips.
Trip Request versus Scheduled Trip
A request entered into the TripTracker Requests system isn't a guaranty of a scheduled trip. It is only the start of our process to determine if there are buses and drivers available at that date and time.
Once your trip request has been entered into the TripTracker Requests system it will be sent out for bid each Thursday at noon. The bus or motor coach contractors will then have 3 business days to respond with quotes and their vehicle available. Only then will a trip be scheduled and in place. Any trips entered after noon on Thursdays will have to wait until the next bid cycle, so it is very important to request trips 3 weeks before the trip occurs.
Please complete a Staff Request form and submit it to your Principal's Secretary as soon as you know the date of your trip. Requests will be taken on a first come first serve bases. We have a very limited number of Prime Time vehicles as a majority of our fleet is doing home to school trips.
A request is not a guarantee of a field trip. A trip is not guaranteed until we are able to confirm with our contractors that a bus and driver are scheduled.
All District Field trip forms can be found here. https://www.pps.net/site/default.aspx?PageID=2486
Types of Requests that will be Automatically Denied
In an effort to limit District liability due to risky activities the District will not allow the use of its resources for these types of activities. Please contact private organizations for these services:
Sports Club trips. Student Clubs AD 4.40.050-AD

Ski or Snowboarding trips

HS Graduation Parties
Limited Prime-Time Bus Availability
A District's bus fleet is financed and staffed to transport student trips from home-to-school and school-to-home. There is no funding or a business model to dedicate extra buses and drivers for field trips. Because of this limitation we have a very limited number of Prime Time vehicles as a majority of our fleet is doing home-to-school trips in the morning and afternoon.
Please schedule your trips in the Non-Prime Times whenever possible to preserve the few Prime Time vehicles and drivers we have.
Availability

Between 9:45 a.m. and 1:30 p.m. Mon – Fri

There is limited availability before 9:30 and after 1:30, as these are the windows where school busses are running their home-to-school routes ("Prime Time"). Requests during these windows are limited and will be filled on a first-come-first served basis.

After 4:45 p.m. weekdays

all day on Saturday and Sunday
Please schedule your activities to fall in these time frames. Work with your destination contacts to coordinate your trip within the time frame vehicles are available.
Closed Days
Within the TripTracker system dates are closed when we receive more requests than vehicles or drivers are available. If the date you would like to request is highlighted pink in the TripTracker calendar then that day is closed to Prime Time Trips. Please DO NOT continue to enter Prime Time trip requests on the closed dates. If you do schedule a bus on this date and your trip is not scheduled, Transportation is not liable to help retain a refund.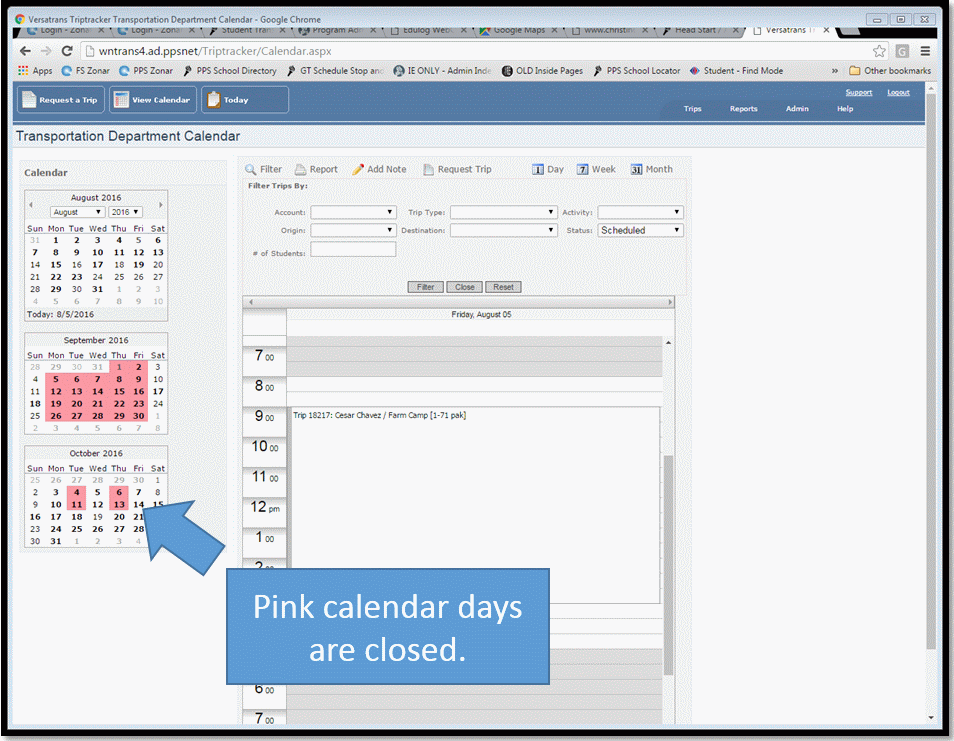 Please see your Principal's secretary regarding Field Trip questions or issues. They may refer you to the Transportation Department with questions.
Teachers & Administrators Review of Field Trip Details and Request Status
Each Wednesday Transportation Staff will post a list of all Field Trip Requests on our website for your review. Please review this list to determine that we have the details of your trips are correct.
There are six field trip statuses that your field trip request will cycle though. These will help you determine where your field trip is in its "life cycle"
Requested – Status that a trip defaults to when a trip is initially entered.

Approved – The trip

request

has been approved by transportation staff allowing the Contractors to review and bid on the request. The trip is not guaranteed until after it has been bid and accepted by the Contractor.

Scheduled – The trip has a driver and vehicle assigned to it by the contractor. The trip is guaranteed by the Contractor to run.

Completed – The trip has been completed. This status is part of the invoicing process.

Awaiting Payment – The trip has been invoiced.

Cancelled – This status occurs if a trip has been cancelled for some reason. There is no option to delete trips.
Please help us insure quality by double checking the details of your trips. Let us know if a request is missing, the status is incorrect or if there are duplicate trips. Times, pickup/drop-off addresses, bus capacity, wheelchair lift, dates. Here is a link to the Field Trip Request Queue.
Canceling the Bus
A bus must be canceled at least 24 hours prior to the time the trip departs in order to avoid cancellation charges. Please send this in writing via email to fieldtrips@pps.net. You are responsible to confirm that your trip is canceled. Otherwise your school will be charged. You can do this by viewing the weekly Google document that will be posted on a weekly basis.
Changes to Your Trip
Please submit any changes to your trip via email fieldttrips@pps.net at least 48 hours prior to your leave time. No changes will be accepted less than 48 hours prior to trip day.
Weather related issues – Call at least 2 hours before trip to avoid cancellation charges
Field Trip Bus Estimates
We provide price estimates as a courtesy only; they do not reflect the final cost as each trip request is a custom quote via our procurement process. Your trip is billed after it is completed.
2016–2017 School Year Rates
Standard weekday rates

Quote Formula
Total hours of the trip + 1.5 (to represent deadhead) = Total Trip Hours

Total Trip Hours *Hourly bus rate ($40.95 – Standard 72 pak bus or $48.89 – Large 83 pak bus) = Total Cost per Bus

Total Cost per Bus * number of busses needed = Total Trip Cost
Field Trip Rules
The safety of your pupils is in your bus driver's hands. This requires that the driver's attention be on the road at all times. The behavior and discipline of the students is the responsibility of the teachers and chaperones. We ask your cooperation in preventing loud or excessive noise and in maintaining good bus discipline according to the rules as established by the Oregon Board of Education that are posted in each bus.
Please see that your students are ready to return to the bus at the scheduled time. A bus returning late from a field trip is then late on its' entire afternoon route and this could incur an extra charge to your trip
Each field trip bus is required to have an adult chaperone on it.
It is the intent of the Transportation Department, and your driver, for your field trip to be fun and enjoyable.
School Bus Capacity