Summer 2022 SpEd Programs
The Special Education Department will be having two summer programs occurring this year.

Extended School Year (ESY)-Students who are invited to attend ESY are those who qualify through their IEP. This is done via data taken on goals before and after school breaks. During ESY, students receive direct instruction related to their IEP goals that supports the maintenance of that skill. If you have additional questions, please contact your child's case manager.

Special Education Recovery Services- Students who are invited to recovery services are those who qualify through their IEP. The department is reviewing multiple opportunities and modes for which recovery services could be accessed, in conjunction with the district Learning Acceleration Program. During recovery services, students will receive direct instruction in areas related to their IEP. Students and families that qualify for recovery services will receive direct communication from the district office.
The Portland Public Schools conducts specific activities for the purposes of locating, evaluating and identifying students ages birth to twenty-one (21) with suspected disabilities and who reside within the district's boundaries. This includes students attending private schools within the Portland Public School's attendance area.

Evaluations birth to 5 years The Early Childhood Team conducts comprehensive developmental evaluations for children birth to 5 years old who are suspected of having a disability. The team determines eligibility for Early Intervention, Early Childhood Special Education and school age eligibilities. Once children are determined to be eligible for services, Multnomah Early Childhood Program (MECP) will work with families to develop an Individual Family Service Plan. For more information about early childhood services, contact MECP at 503-261-5535.

For children ages 5-21 years of age, please call Special Education Department at (503) 916-3152
Multilingual Special Education Family Toolkit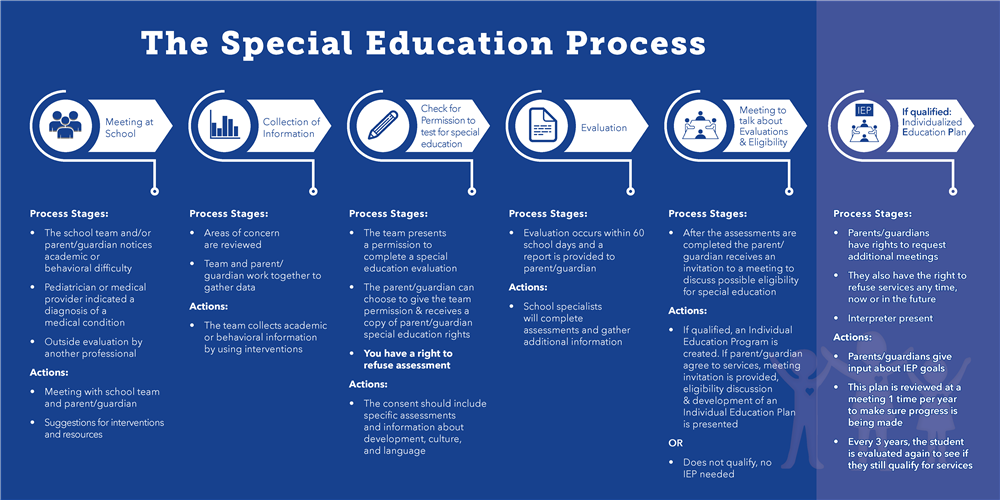 The Multilingual Special Education Family Toolkit is a set of cards that show the Special Education process, eligibility categories, and placement/services options in PPS. These procedures and concepts are often complex and create barriers for families that prevent their meaningful participation which is critical to positive outcomes for their students.

The Toolkit currently consists of 4 main components: a Special Education overview, A Roadmap for the evaluation/IEP process, Eligibility cards that describe all of the Disability Categories in PPS and a Placement/Services card.

The cards represent these important ideas in a visual way using universal graphics along with the implementation of language access principles, including: family-friendly terms, plain language and translations.

The cards are available in the six supported languages at PPS: English, Spanish, Vietnamese, Simplified Chinese, Russian, and Somali.

English/Español | English/Tiếng Việt | English/中文 | English/Soomaali | Русский

The roadmap for the evaluation/IEP process | El proceso de educación especial | Quy Trình Giáo Dục Đặc Biệt | 特殊教育过程 | Habka Waxbarashada Khaaska ah | Процесс получения услуг инклюзивного образования
Special Education Assistant Director School Assignments
Special Education Office:

503-916-3152

Special Education Records Requests: sped-records@pps.net

Join Our Team! For employment opportunities see PPS Jobs
Early Childhood and Kindergarten Transition

Outside Agency Resources and Parent Organizations

Special Education Advisory Council (SPEAC)

Special Education Family and Community Specialist

Special Education Service Delivery Models

Special Education Procedures Manual