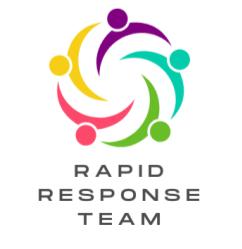 Rapid Response Team (Tier III Support Team)
The Portland Public Schools Tier III Support Team (Rapid Response) is a component of the Multi-tiered Systems of Support Department (MTSS) in the Office of Student Support.

The objective(s) of this team are to:

1. Create a Culturally Responsive and Trauma Informed Action Plan for the referred student

2. Model for and Coach school staff on the implementation of the Action Plan.

3. Increase the capacity and confidence of school teams to sustainably replicate Tier III strategies, tools, and interventions for any student in their school community.
Process
Step 1: School Administrator or appointed staff completes the Tier III Support Team (Rapid Response) Referral Form

Step 2: The Tier III team (RRT) will set up an initial (virtual) meeting with the school team

Step 3: Tier III/RRT will schedule observations, data collection etc. with school team

Step 4: DRAFT Action Plan/Consultation Report reviewed with relevant staff

Step 5: Action items implemented and Action Plan Meeting #2 scheduled approximately 2 weeks after implementation of plan

Step 6: REFINED Action items implemented and Action Plan meeting #3 scheduled approximately 2 weeks after implementation

Step 7: Case closure as indicated, with mutual agreement that Tier III/RRT has fulfilled its duties as agreed upon in the Action Plan